Think being vegan during Passover is challenging? We've got you covered with these fun Vegan Passover recipes. Enjoy!
18 Vegan Passover Recipes We Love
Sephardic Haroset (Charoset) Bites - It is not just a Passover Recipe. Enjoy these Sugar-Free, vegan and Gluten-free date and nut bites all year long. A real energy booster! Great for breakfast or as a snack.
Not a huge Passover cereal fan? Make your own! This granola beats anything you can get in the store. And you can customize with your favorite add-ons!
Quinoa, almond flour, and a dollop of jelly make for the tastiest Quinoa Breakfast Cookies around! Make them for Passover or anytime you're craving a treat that's also nutritious.
These delicious Grilled Tricolor Hasselback Potatoes with Romesco Sauce are a combination of two of our favorite Spanish dishes: "Patatas Bravas" (roasted potatoes with spicy sauce) and "Romesco", a traditional Spanish sauce/spread that is served along with grilled vegetables, or as a dip. This dish can be grilled or roasted and can be served as an appetizer or side dish. This is the ultimate vegan Passover recipe comfort food.
This vegan Passover recipe is a no-mayo Kohlrabi Slaw with and Cashew Cream is loaded with apples, carrots, and freshly squeezed lemon juice.
This Vegan Gluten Free Quinoa Paella is a delicious twist on the Spanish classic. Quick and easy to make, full of flavor and plant-based protein. Great for Passover, holiday dinner or weeknight dinner. One of our most requested Vegan Passover Recipes.
These Vegan Quinoa Stuffed Zucchini boats are great gluten-free entree you can enjoy during Passover and all year round!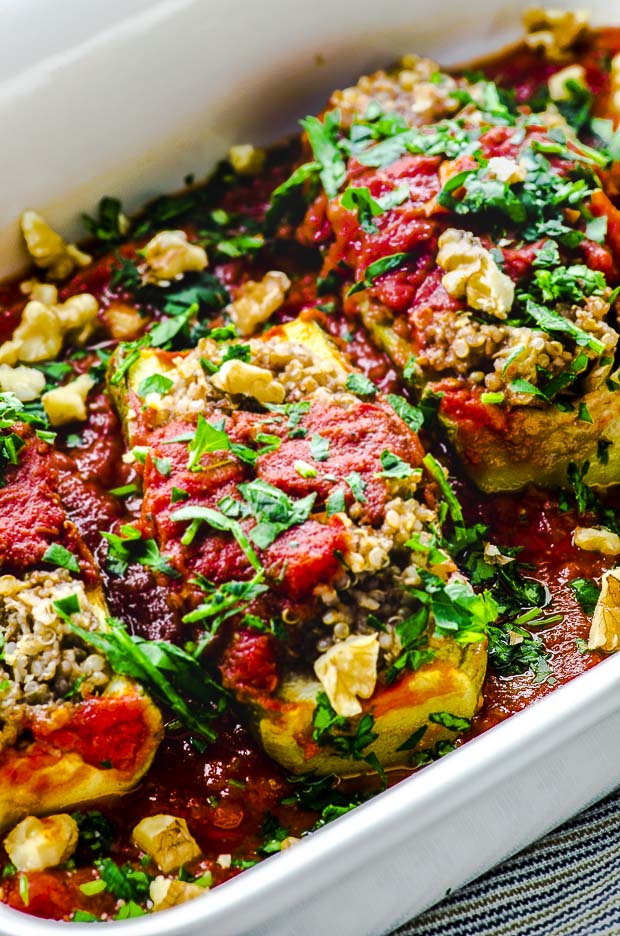 This rich and hearty braised eggplant in fresh tomato sauce is a great way to utilize your fresh summer veggies. Light, nutritious and full of flavor!
This exotic Thai coconut soup is one of the most popular dishes in Thai cuisine and no wonder – it is a delightful blend of creamy coconut milk, mushrooms, and Asian flavorings. Plus, our vegan recipe uses easily-found ingredients to make an exquisite soup!
We take the simple beet salad up a notch with caramelized roasted garlic and horseradish for an intensely-flavored side dish that everyone will love.
You don't have to celebrate Passover to enjoy this grain free, gluten free, vegetarian and vegan quinoa tabbouleh salad! Light, flavorful and perfect for any occasion.
Move over eggs and potatoes. This Cauliflower Fried Rice is about to become your new staple during Passover
This flavorful , grain free Passover Coconut Ginger Carrot Rice is a great side dish to serve during the Holiday and all year long. Vegan and gluten free.
A little sweet, a little savory and bursting with flavor! Serve it as a side, or as an entree with a some quinoa or rice.
This Vegan Shepherd's Pie is the ultimate vegan comfort food. Warm, delicious, comforting and you won't miss the meat!
Chewy and delicious gluten-free almond butter cookies sweetened with dates and with only 5 ingredients!
This spice filled dessert is sweetened with a tablespoon of maple syrup and dates. It's vegan and gluten free, very easy to prepare and can be made ahead of time.
Fudgy and super easy to prepare: mix, portion, bake, done!