Think being vegan during Passover is challenging? We've got you covered with these fun Vegan Passover recipes. Enjoy!
38 Vegan Passover Recipes We Love
Sephardic Haroset (Charoset) Bites - It is not just a Passover Recipe. Enjoy these Sugar-Free, vegan and Gluten-free date and nut bites all year long. A real energy booster! Great for breakfast or as a snack.
Not a huge Passover cereal fan? Make your own! This granola beats anything you can get in the store. And you can customize it with your favorite add-ons!
Simple yet tasty vegan Passover Recipe. Cauliflower rice with fresh herbs and almonds.
Vegan and Gluten-Free Passover Recipe. Plant-forward. Explore new veggies while enjoying a really tasty dinner.
Not all roasted potatoes are created equal. These roasted potatoes are perfectly seasoned with Lemon, Oregano, and Sumac making them full of tangy Mediterranean flavor.
A hearty vegan entrée for Passover and all-year-round, this savory Vegan Sweet Potato Shepherd's Pie brings together ingredients that are incredibly nutritious and comforting at the same time!
One of our favorite roasted eggplant recipes is Caponata, a Sicilian dish that's created with a base of roasted eggplant and peppers. Serve it on Matza or as a topping for your favorite protein!
Colorful, creamy with cumin and fresh lemon, this cauliflower beet dip is perfect for a light lunch or dinner, as an appetizer, or as an indulgent midnight snack. Great Vegan Passover recipe.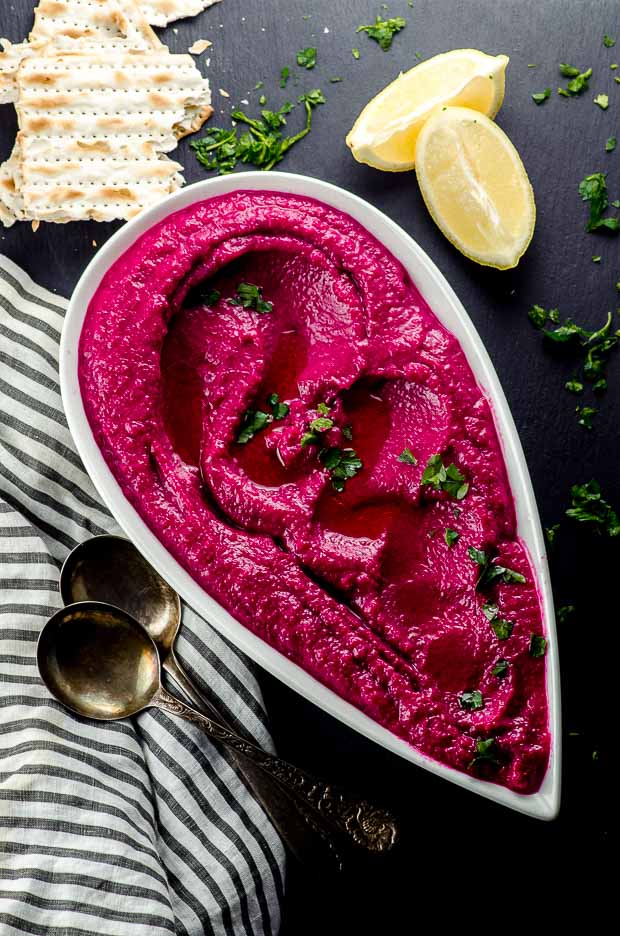 Move over eggs and potatoes. This Cauliflower Fried Rice is about to become your new staple during Passover.

Not only for Passover Recipes: Warm braised celery salad. We have elevated celery to a delectable vegetarian side dish spiced with turmeric, pepper, and cumin with a touch of tangy lemon.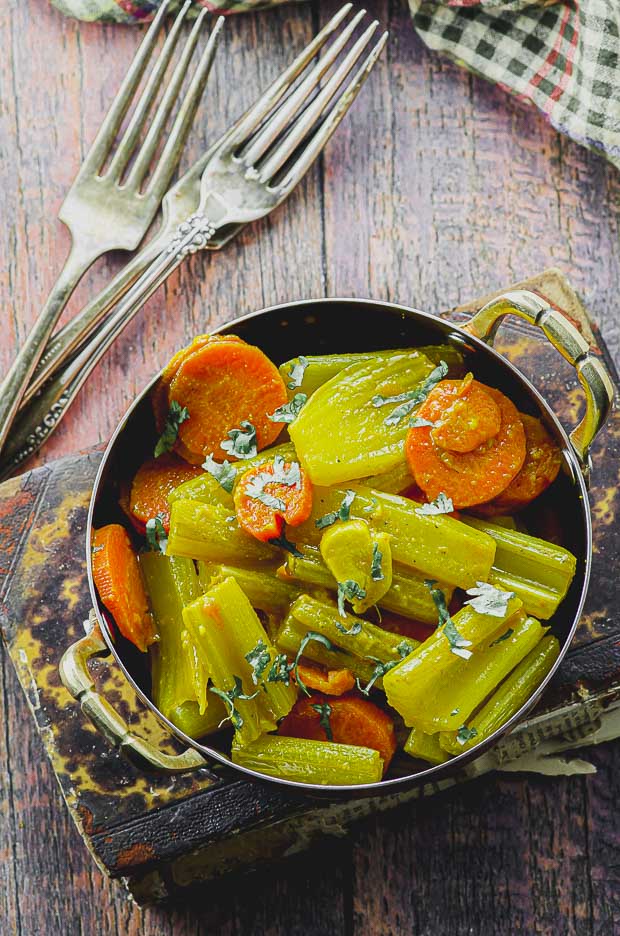 Pickled Carrots and Fennel is an easy, quick, tangy snack. It's a little bit spicy, crunchy, and flavorful! Add them to sandwiches, tacos, green salads, or just enjoy them as a healthy, low-calorie snack.
This is not your everyday vegetable stew! Our Moroccan vegetable stew has a unique spice blend that adds a punch of flavor to this super comforting veggie-filled dish. Enjoy it anytime with our flavorful, comforting, super satisfying stew.
Quinoa, almond flour, and a dollop of jelly make for the tastiest Quinoa Breakfast Cookies around! Make them for Passover or anytime you're craving a treat that's also nutritious.
These delicious Grilled Tricolor Hasselback Potatoes with Romesco Sauce are a combination of two of our favorite Spanish dishes: "Patatas Bravas" (roasted potatoes with spicy sauce) and "Romesco", a traditional Spanish sauce/spread that is served along with grilled vegetables, or as a dip. This dish can be grilled or roasted and can be served as an appetizer or side dish. This is the ultimate vegan Passover recipe comfort food.
This vegan Passover recipe is a no-mayo Kohlrabi Slaw with Cashew Cream. It is loaded with apples, carrots, and freshly squeezed lemon juice.
This Vegan Gluten Free Quinoa Paella is a delicious twist on the Spanish classic. Quick and easy to make, full of flavor and plant-based protein. Great for Passover, holiday dinner or weeknight dinner. One of our most requested Vegan Passover Recipes.
These Vegan Quinoa Stuffed Zucchini boats are a great gluten-free entree you can enjoy during Passover and all year round!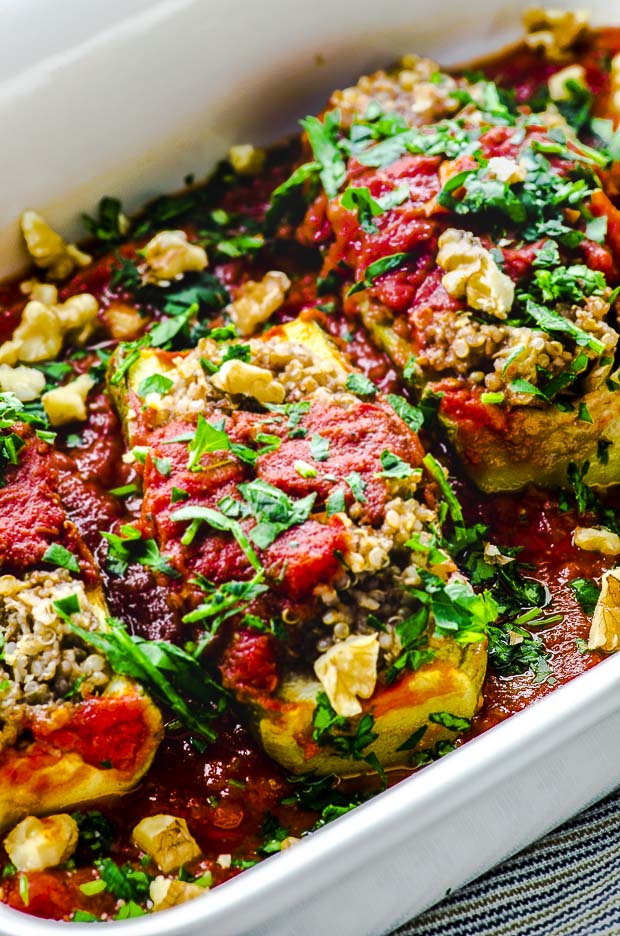 This rich and hearty braised eggplant in fresh tomato sauce is a great way to utilize your fresh summer veggies. Light, nutritious, and full of flavor!
This exotic Thai coconut soup is one of the most popular dishes in Thai cuisine and no wonder – it is a delightful blend of creamy coconut milk, mushrooms, and Asian flavorings. Plus, our vegan recipe uses easily-found ingredients to make an exquisite soup!
We take the simple beet salad up a notch with caramelized roasted garlic and horseradish for an intensely-flavored side dish that everyone will love.
You don't have to celebrate Passover to enjoy this grain free, gluten free, vegetarian and vegan quinoa tabbouleh salad! Light, flavorful and perfect for any occasion.
This flavorful, grain-free Passover Coconut Ginger Carrot Rice is a great side dish to serve during the Holiday and all year long. Vegan and gluten-free.
A little sweet, a little savory, and bursting with flavor! Serve it as a side, or as an entree with some quinoa or rice.
This Vegan Shepherd's Pie is the ultimate vegan comfort food. Warm, delicious, comforting and you won't miss the meat!
A beautiful savory dish that will keep you fully satisfied during Passover.
Romesco is a wonderful, thick, tasty sauce/dip from the Catalonia region of Spain. It's traditionally served along with big, thick spring onions, grilled to perfection, and it works wonderfully well with roasted vegetables.
Our creamy green avocado cilantro dressing is perfect for dressing up cooked vegetables, salads, and bean medley and takes our roasted chili Carrots to a whole new level.
These roasted olives are the perfect addition to a roasted vegetable tray, as a side dish, or even just as a snack with Matzah or Passover crackers.
Patatas bravas is one of the most popular tapas from Spain. This simple, yet delicious tapa is traditionally made with fried potatoes topped with a spicy sauce.
Roasted Rainbow Carrots are an easy-to-make Passover Side Dish that you may serve on your Passover Seder table as well as on regular weeknights. Keep this roasted carrot recipe handy to easily make a batch of perfectly roasted carrots whenever you'd like.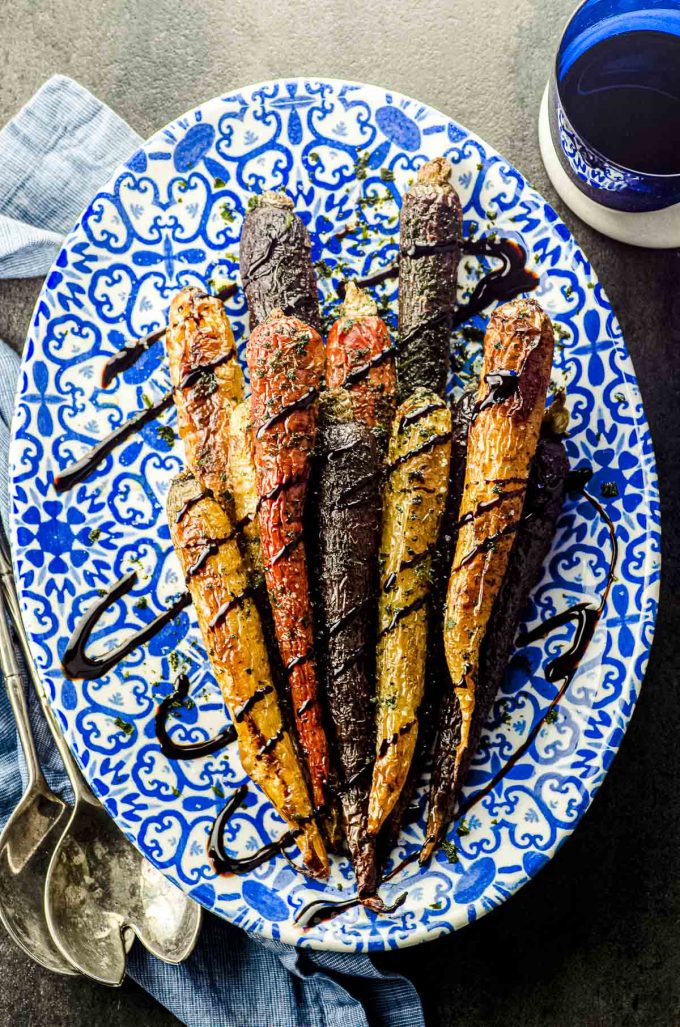 Creamy and comforting, this mashed cauliflower recipe can easily replace mashed potatoes on your Thanksgiving table! And the hearty herbed chestnut topping adds a wonderful punch of flavor.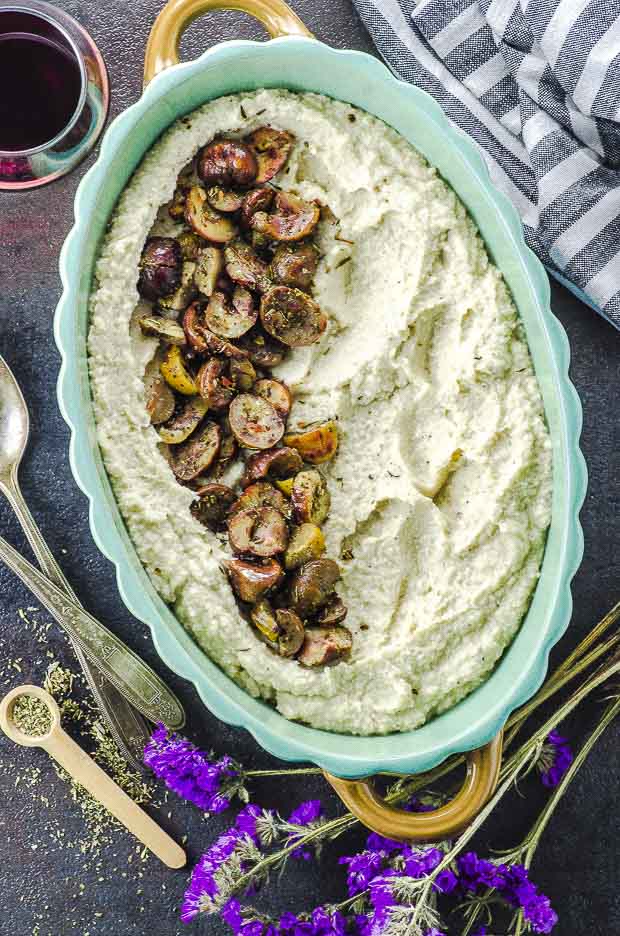 No matter how many batches of sweet potato fries me make, our family always wants more. That's how good our baked sweet potato fries are!
This spicy, colorful, roasted potato medley with harissa sauce combines three different potatoes with smoky paprika for a delicious twist on a Passover roasted potato recipe.
Our warm roasted fennel salad with cabbage and pepitas is savory, warm, crunchy and sweet. Enjoy it for lunch, or as a light dinner with your favorite protein.
This is our go-to hot, comforting, healing vegetable soup. Loaded with healthy vegetables and spices, it packs so much flavor that you don't even need to use vegetable broth.
Make this tomato and roasted eggplant soup when you're craving something super creamy, filling, satisfying, and low-calorie. A pot and a baking sheet are all you need to prepare it! Our roasted eggplant and tomato soup is vegan and gluten-free. Don't like eggplant? Scroll down and you'll find some variations that are just as delicious.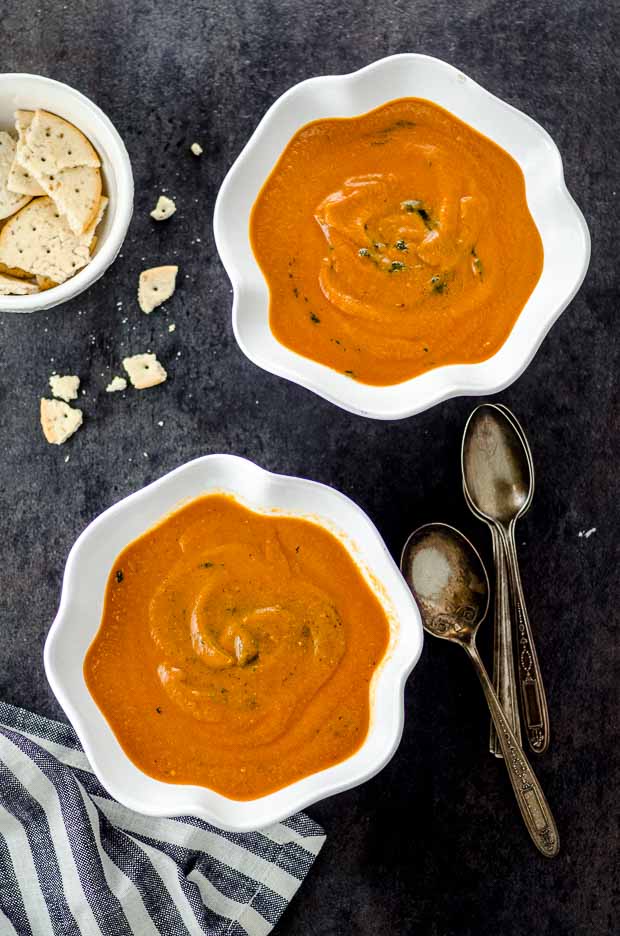 This creamy vegan parsnip and celeriac soup with Moroccan crunchy vegetable chips is a warm and satisfying vegan option for Passover, Rosh Hashanah, or any regular weeknight dinner.
Chewy and delicious gluten-free almond butter cookies sweetened with dates and with only 5 ingredients!
Fudgy and super easy to prepare: mix, portion, bake, done!