No matter how many batches of sweet potato fries I make, our family always wants more. That's how good our baked sweet potato fries are! The ultimate side dish or healthy snack, our homemade sweet potato fries are crispy, perfectly seasoned, and good for you! Watch out; these won't last long!
This baked sweet potato fries recipe is insanely delicious, sweet, savory, and healthier than any French fries you might get at a fast-food joint or in the frozen section of the grocery store.
Baked Sweet Potato Fries Ingredients
Sweet Potatoes. As many as you need to serve your family. You can also use yams or a different variety if that's what you find at the market.
Extra Virgin Olive Oil. Good quality oil is essential for this recipe.
How to Make the Best Sweet Potato Fries
Preheat your oven to get it ready and line a baking sheet with parchment paper. Peel your sweet potatoes. Cut each sweet potato into French fry sticks. Toss the fries with seasoning and oil and place them on the baking sheet. Bake for about 45 minutes until they caramelize beautifully. Broil for a couple of minutes to crisp them up if desired. Serve hot!
How to Cut Sweet Potato Fries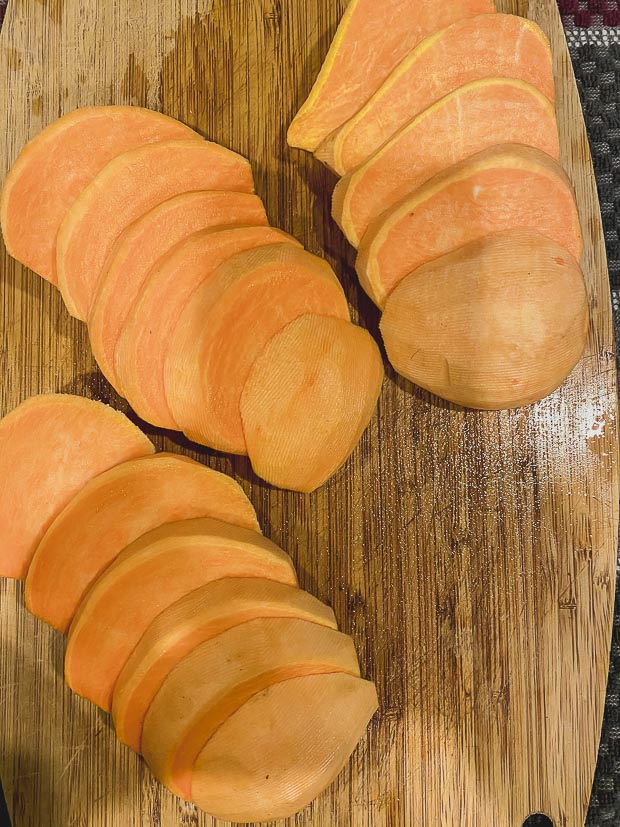 Cutting sweet potatoes is really quite simple when you know the process. First, simply slice the sweet potatoes into rounds. Then cut each round into French fries shape sticks. Don't worry about variations in shape. Make sure to use a good sharp knife to stay safe!
How to Season Sweet Potato Fries
Toss your sweet potato fries in oil, salt, sumac, and oregano or your seasoning of choice.
What To Serve With Sweet Potato Fries
Serve our baked sweet potato fries with Black Bean Chili, our Avocado Chickpea Salad, or any of our veggie burgers.
Variations
Season simply with salt and olive oil spray, or add any other spice or herb you may like.
We love the combination of sumac and oregano, but you can sprinkle them with any spice: za'atar, smoked paprika, garam masala, shawarma seasoning, thyme, garlic powder, freshly ground black pepper, cinnamon, cayenne pepper for heat, or chili powder. The possibilities are endless!
Serve your sweet potato wedges with any variety of sauces depending on your preference: tzatziki, ranch, sour cream, ketchup, honey mustard, or a thousand island dipping sauce.
Make loaded sweet potato fries -- add candied bacon or crumbled bacon.
Tricks and Tips for the Best Sweet Potato Fries Ever
Cut the sweet potato fries about ¼ " thick.
Always line your baking sheet with parchment paper so the fries don't stick to the pan.
Bake the sweet potatoes in a single layer without crowding the pan. You want the sweet potato fries to caramelize, not steam.
Bake them at 400ºF until caramelized. You can also broil them for 2-4 minutes to get some additional crispy edges, but make sure to check them every minute because they can go from crisp to burnt in no time under the broiler.
FAQ
Why don't my Sweet Potato Fries Go Crispy?
These fries are naturally soft, but you can crisp them up using the broiler as long as you are careful not to let them burn. Keep a close eye on them!
Can Sweet Potato Fries Make You Fat?
Anything eaten in too great a quantity can add pounds to your body, but that should never be your focus. Develop a healthy mindset about food instead of worrying about specific foods becoming a huge problem.
Are Sweet Potato Fries Gluten Free?
Yes, this root vegetable and the seasonings suggested in this post are all gluten-free. If you are concerned about a store-bought package of seasoned sweet potato fries, you should always read your labels or make your own from scratch to completely control the ingredients.
Do Sweet Potatoes Need to Be Soaked in Water?
For this recipe, there is no need to soak the sweet potatoes first.
Are Sweet Potatoes Healthy?
Sweet potatoes are a superfood. They're a great source of vitamins and minerals, and they have a low glycemic index. They are high in fiber, Vitamin B, Vitamin C, Vitamin A (beta carotene), iron, potassium, calcium, selenium, manganese, and magnesium. And as a bonus, they taste great!
It is a tangy lemony, tasting spice red spice made from grinding the berries of the non-poisonous sumac plant. Sumac is becoming very popular with chefs and home cooks in the US. It can be used to flavor many dishes including soups like our Cauliflower soup with sumac oil, to dust cauliflower steaks, and to add even more flavor to our fattoush salad.
Other Awesome Sweet Potato Recipes
Did you like these baked sweet potato fries?
If you enjoyed this recipe, it would help us tremendously if you left us a star rating in the comments below or on the recipe card. Do you have any questions about the recipe? Do you need a swap for any of the ingredients? We are here to help, just leave us a question in the comments below.
Print
Insanely Good Baked Sweet Potato Fries
---
Description
No matter how many batches of sweet potatoes fries me make, our family always wants more. That's how good our baked sweet potato fries are!
---
---
Instructions
Preheat the oven to 400F. Line a large baking sheet with parchment paper
 Place the cut sweet potatoes, olive oil, salt, sumac and oregano in a large bowl and toss well to coat
Place the sweet potatoes in a single layer on the prepared baking sheet.  Do not crowd the pan (you might need to use a second baking sheet)
Bake for 45 minutes or until soft and caramelized.  For crispier edges, broil the sweet potatoes for 2-4 minutes, making sure to check them every minute because they can go from crisp to burnt in no time under the broiler. Serve warm
Nutrition
Serving Size:

½ cup

Calories:

117

Sugar:

2.8

Sodium:

424

Fat:

7

Saturated Fat:

1

Unsaturated Fat:

5

Trans Fat:

0

Carbohydrates:

13

Fiber:

2

Protein:

1

Cholesterol:

0