Fattoush is a Lebanese bread salad made with a combination of fresh lettuce, tomatoes, cucumbers, bell peppers, fresh herbs, and crunchy pita croutons in a lemony dressing.
Our fattoush salad recipe is easy and is one of our favorite Middle Eastern recipes from our childhood. We grew up in Barcelona in a Jewish Lebanese home where we ate a lot of eating Middle Eastern food.
What is Fattoush?
Have you ever had a Fattoush Salad? If you haven't, you should definitely try it! This simple yet delicious fresh chopped salad is packed with fresh herbs, pita croutons, and a ton of flavor.  When you taste it you'll wonder why it was hidden from your tastebuds for so long!
How to Make the Pita Croutons for Fattoush
Fattoush is the Lebanese version of the Italian Panzanella salad. It was created to use leftover or 2-3 day old pita bread. Traditionally, the pita bread is cut into bite-size pieces and fried in abundant olive oil. We have opted for a lighter, healthier version by drizzling olive oil into the pita bread and baking it until crispy.
Perfectly toasted pita bread is the key ingredient of a good fattoush. You might be tempted to use store-bought pita chips, and you may, if you choose, but we encourage you to make your own. We love the flavor of homemade pita croutons and they are incredibly easy-to-make homemade pita croutons.
Drizzle the pita with olive oil and salt. Then bake your pita at 375º for 15 - 20 minutes. Let the pita cool (so it gets crunchier) and cut it into small bite-size pieces for your bread salad.
[youtube=http://www.youtube.com/watch?v=481TBZVGuYA]
How to Make Fattoush
Our fattoush recipe is pretty easy! Start by baking your pita bread croutons following the directions in our recipe card. Then rinse and chop or dice all of your vegetables. When the pita is ready, your other ingredients will be ready to go! Toss the salad and add pita chips and dressing. You can use this beautiful salad as a meal on its own or serve it as a side dish. It's the perfect light and fresh addition to a Middle Eastern meal!
Fattoush Salad Dressing
The fattoush dressing should be kept simple. Olive oil, lemon, and salt are all you need for this fabulous salad.
Fattoush Ingredients
Pita Pockets
Extra Virgin Olive Oil
Salt
Romaine Lettuce Hearts
Cucumber
Yellow Bell Pepper
Red Bell Pepper
Orange Bell Pepper
Tomatoes
Parsley
Mint
Olive Oil
Lemon
Tips On How to Make the Best Fattoush
Make your own pita croutons for this Lebanese Salad. It's worth the time!
Make extra pita croutons, freeze them for up to a month and use them for your next Fattoush or just as pita chips.
Use the best-tasting tomatoes.  If it's not tomato season, find the best-tasting grape, cherry, or Kumato tomatoes.
Use the best-tasting cucumbers, in the wintertime, you may opt for English or Persian cucumbers
Always use fresh herbs.
Make sure to use sumac.  It will give the salad that extra punch of flavor and tanginess. I've described sumac in greater detail below. If you are unfamiliar with sumac, you should know that it's what makes this a Lebanese salad and not just a regular chopped salad. It's worth the effort to find some.
In addition to lettuce, tomato, cucumbers, and bell peppers, you can add sliced radishes, scallions, or red onions.
The Fattoush salad dressing should be kept simple: olive oil, lemon, and salt is all you need for this fabulous salad.
Make sure you dress the salad right before serving, so the pita bread stays crunchy.
 If you don't think you'll be able to finish the whole salad in one meal, only dress the amount you're going to eat. Store the veggie and pita croutons separately in the fridge for 1 to 2 days.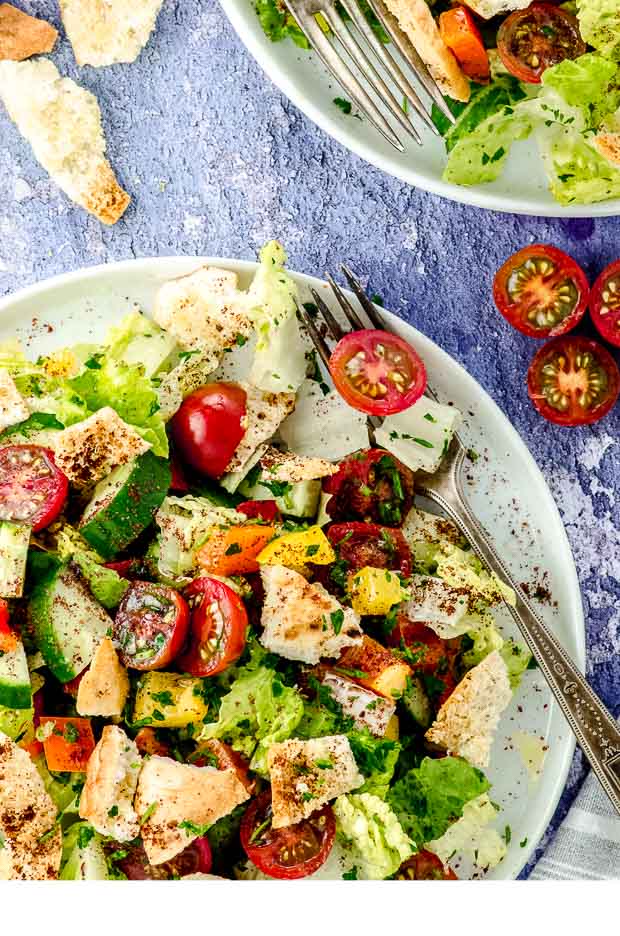 FAQ
Sumac is a tangy, lemony-tasting red spice made from grinding the berries of the non-poisonous sumac plant. It brings a unique, bright tangy flavor to Middle Eastern dishes and beyond. Lately, using sumac in recipes is becoming very popular among chefs and home cooks in the US.
The flavor of this spice melds with the dressing to make this dish amazing. Many people call it sumac dressing. I prefer to add the sumac directly to the salad. Sumac enhances the flavor of soups like our Cauliflower soup with sumac oil, to bring sweet potato fries to the next level, dusted on cauliflower steaks, and adds even more flavor to our Lebanese bread salad: Fattoush.
Where can I buy sumac?
In the U.S., sumac is becoming more common in local grocery stores. However, if you cannot find it - try looking at a Middle Eastern market in your nearest big city or purchase online.
Can I put the sumac and other spices directly in the dressing before adding them to the salad?
You certainly can use this method, and many great cooks do make a sumac dressing. However, I find that mixing the spices into the salad separately from the dressing mixture gives you a more even flavor. Spices tend to cling to the sides of the jar or mixing bowl when mixed with oil, and all of that flavor never makes it into the salad.
What else can I put in my Fattoush?
green onions
radishes
scallions
red onions
crushed garlic
What to Serve with Fattoush
Other Middle Eastern Recipes
Print
Fattoush - Lebanese Bread Salad
---
Description
Fattoush is a Lebanese pita bread salad made with a combination of fresh lettuce, tomatoes, cucumbers, bell peppers, fresh herbs, and crunchy pita croutons in a lemony dressing.
---
2

pita pockets

6 tsp

extra virgin olive oil to drizzle on the pita (

1 ½ tsp

per half pita)

⅛ tsp

salt for the pita bread

2

romaine lettuce hearts, shredded

1

large English cucumber, diced or

4

Persian Cucumbers

½

large yellow bell pepper, diced

½

large red bell pepper, diced

½

large orange bell pepper, diced

2

medium tomatoes, diced, or

1

-pint grape tomatoes, sliced in half

1

small bunch of parsley, chopped

1

small bunch of fresh mint, chopped (optional, since it is not always available)

¼ cup

olive oil or more to taste

⅓ cup

freshly squeezed lemon juice (or to taste)
Salt to taste (we used 1 tsp)
---
Instructions
Preheat the oven at 375F. Separate each pita pocket into 2 halves. Place them on a cookie sheet, drizzle 1 ½ teaspoon of extra virgin olive oil on each half, and season with ⅛ teaspoon of salt
Bake for 15 or 20 minutes or until golden.  One half of the pita bread is always thicker than the other half.  Watch them closely so the thinner pieces don't burn. Set aside to cool ( the pita bread will get crunchier as it cools)
In a large bowl, combine the lettuce, cucumber, peppers, tomatoes, parsley, and mint (if using), sumac and salt.
Right before serving (it's important to wait until you're ready to serve), brake the toasted pita into small bite-size pieces and sprinkle them over the salad. Add the lemon and olive oil and toss well. Serve immediately
Prep Time:

15 mins

Cook Time:

15

Category:

Salad

Method:

Raw

Cuisine:

Lebanese
Nutrition
Serving Size:

1 ½ cups

Calories:

174

Sugar:

4.7

Sodium:

392

Fat:

10.6

Saturated Fat:

1.5

Unsaturated Fat:

9

Trans Fat:

0

Carbohydrates:

18.5

Fiber:

5.2

Protein:

4.3

Cholesterol:

0
Keywords: How to make fattoush salad, what is fattoush salad, Fattoush, Lebanese, kosher,