From fresh kale salads to comforting kale soups and creamy kale pesto, we have recipes that will teach you how to cook kale and help you enjoy this healthy green cruciferous vegetable.
How to cook kale
Even though kale stems are edible, they're tough and fibrous and take a long time to soften. For recipes other than kale soup, we prefer to cut and discard the stems below the leaves. The stem part, where the leaves are attached, is usually thinner and not as tough. You can either keep the kale ribs or discard them by running a knife along the sides, see images below. That would depend on how thick the stems are and how you're preparing the kale.
Here are some ideas on how to cook kale. From kale soups to salads and pesto, there are many ways to make it part of your healthy diet.
Kale soup: You can add kale to any vegetable, bean or lentil soup. A tough vegetable like kale works great in soups because it softens while the soup cooks. Adding kale to your soups is a great way to get your daily serving of healthy green leafy vegetables. Check out our Veggie Sausage and Kale Soup
Kale Salad: for a more tender raw kale salad we recommend that you remove the kale leaves from the stems and massage them with olive oil, salt and lemon to break down some of the kale fibers, for a softer, easier to digest salad. If you don't mind a little extra chewiness in your salad and don't want to take the time to separate the kale leaves from the stems, you can blanch the kale first, as we did in our Kale Salad with Chickpeas Tempeh Bacon Bits, and in our Vegan Kale Caesar Salad with Mushroom Bacon Bits.
Sautéed or braised kale: you also have the option to buy the pre-cut and pre-washed kale, (we always give it an additional wash or three) and either braised as we did in our Braised Curried Kale with Spiced Chickpeas recipe or as a filling to our Vegan Garlicky Kale Pizza Empanadas.
Kale pesto: use kale instead of basil to make a pesto check out our Penne Pasta with Vegan Cauliflower & Walnut Kale Pesto.
Green Smoothies: Some people add kale to their green smoothies. To be quite honest, we're not big fans, but if you are, go ahead and enjoy it!


How to prepare kale

Separate the kale from the bunch
Remove and discard stems
Cut along the length of the center rib
Separate ribs from leaves
Chop kale
Discard ribs and stems or save them to flavor a veggie broth
What are the different types of kale?
1. Curly Kale
It is the most common type of kale and easily found in most supermarkets. It has curly frilly dark green leaves. Make sure you remove the ribs and massage it with olive oil salt and lemon before adding it to your salad. Try it in our Cannellini Bean Quinoa and Kale Soup
2. Dinosaur, Tuscan or Lacinato Kale
Different names, same kale. It has dark bumpy green leaves that resemble a dinosaur skin, hence the name. It is a little less tough than curly kale. It can be used interchangeably with curly kale. Try it in our Kale Salad with Chickpeas Tempeh Bacon Bits.
3. Russian or purple kale
It is very similar to the curly kale, but with a stunning purple hue. Try it in our Purple Kale and Farro Salad Bowl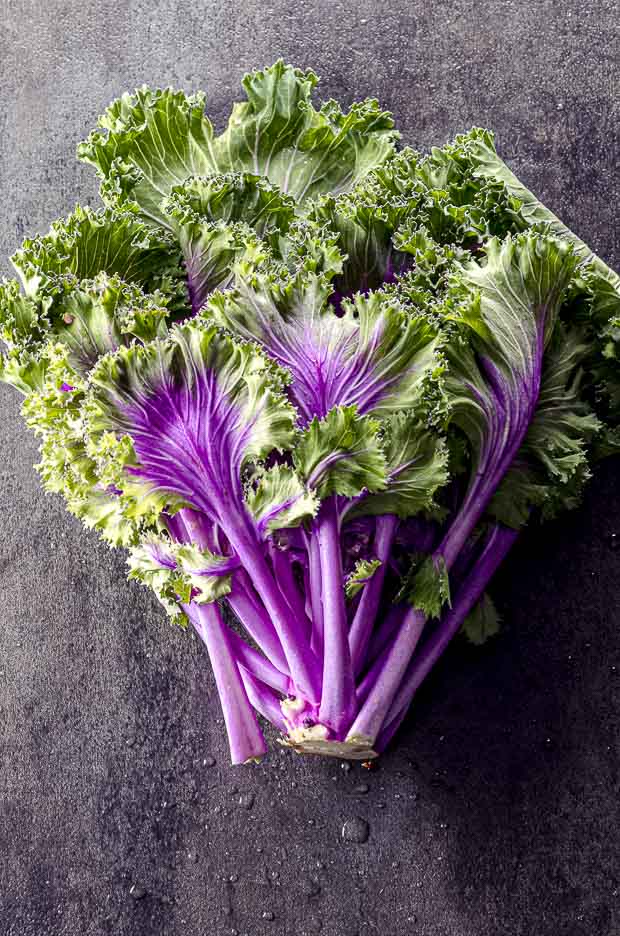 4. Baby Kale
They are the tender small leaves of young kale. They are mild and delicate and it is usually sold in plastic clamshells like spring mix or baby spinach. Use it raw in salads or sauteed in olive oil and garlic. You can try it instead of baby spinach in our Salt and Vinegar Spinach Chips .
Health benefits of kale
It's a green leafy cruciferous vegetable member of the cabbage family
It is loaded with vitamins and antioxidants
Kale is rich in Vitamins A, K, B and C
It also contains Manganese, Calcium, Copper, Potassium, and Magnesium
It is low-calorie, with only 33 calories, 2 grams of fiber and 3 grams of protein per cup
Fabulous Kale Recipes You Must Try
Did you like this post on How to Cook Kale ? Share it or leave us a comment on Instagram, Twitter or Facebook! Wanna see more? Subscribe to our blog and remember to follow us on Pinterest!