Love the taste of butternut squash, but a little bit intimidated by peeling and slicing? You're not alone! Here is our guide for how to peel, cut, roast,and cook butternut squash, ready to walk you through every step of preparing everyone's favorite fall and winter veggie!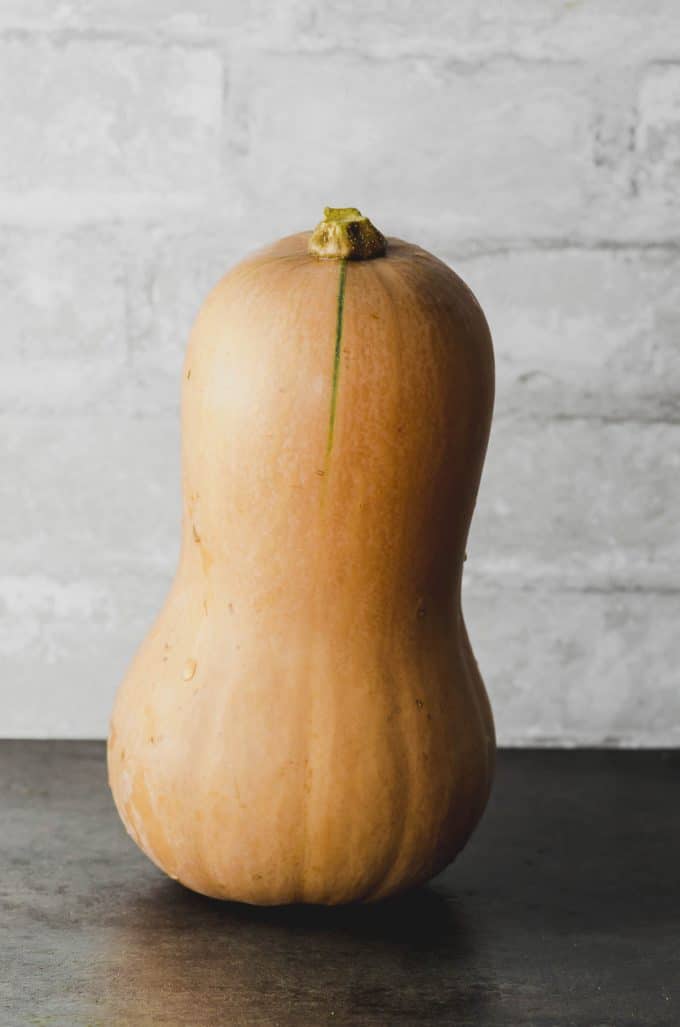 Are you new to cooking with butternut squash or an old pro? Either way, most folks agree that they're a little difficult to work with but so worth it once you have that first bite of sweet, nutty roasted butternut squash! Here you'll find our start-to-finish guide for cooking butternut squash whether you want to use it mashed, baked, or roasted. Cutting, peeling, and cooking butternut squash is easy once you know what to do!
How to Roast Butternut Squash Whole
If you have some extra time on your hands, you can actually cook a butternut squash whole. It's true! No cutting, no peeling, no slicing. Just a whole butternut squash in the oven at 400 degrees Fahrenheit for 1 hour and 20 minutes. When it's finished the flesh will become buttery and sweet, the skin becomes easy to pull off, and the butternut squash seeds scoop right out. It's a perfect option for butternut squash soups!
How to roast butternut squash halves
Cutting a Butternut Squash in Half
Since butternut squash is such a big vegetable, it can feel a little scary cutting one in half! Make sure you're cutting with a heavy, large sharp knife. This is for safety as much as convenience! Dull knives are more likely to roll off your squash, whereas sharp knives slice right through the vegetable. Please use caution when using a knife on a hard vegetable.
Start by removing about ¼" from each end of the squash, it will provide a stable base for the otherwise round vegetable. Then, you can stand the butternut squash upright and cut it straight in half!
After your squash is cut in half, scoop and discard the seeds, then roast the butternut squash with the skin on, until fork tender. You can roast the butternut squash cut side down or cut side up, you will get a more caramelized squash when roasted cut side down. Once it cools a bit scoop the flesh out of the squash halves with a spoon. You could serve the halved butternut squash stuffed with Israeli couscous.
Roasting a whole or half butternut squash creates a wonderful base for soups or recipes that call for mashed butternut squash. You will need to peel, cut, and cube it if you want to use butternut squash for salads, bowls, or veggie platters.
How to Peel a Butternut Squash
This just might be the most intimidating part of preparing a butternut squash! Trust us, though, it only takes a few minutes, you just need the proper tools. We prefer a Swiss vegetable peeler also called "Y" peeler for the task! Just make sure it's sharp and old or dull vegetable peeler will make your job much harder. If you only have a vertical swivel vegetable peeler, then it's best to microwave the squash for 3 minutes before you start peeling. This softens the skin and makes it so much easier to work with!
In order to peel a butternut squash cut it in half, place it on a cutting board, apply pressure on the squash with one hand to prevent it from moving and slide the peeler on the skin with your other hand. We don't recommend using a pairing knife to peel a butternut squash.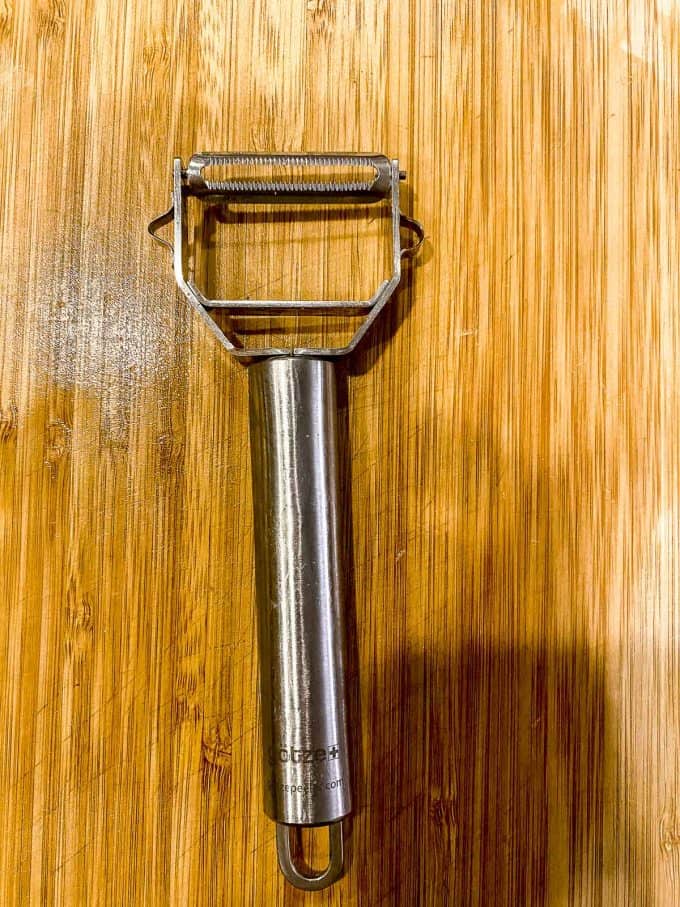 Once you've got the skin off your butternut squash, cut it in cubed, rounds, sticks, etc rub it with olive oil, and season with salt and pepper or any spices you like before baking on a large sheet lined with parchment paper.
Buying Pre-Cut Butternut Squash
If you don't want to fuss with peeling or slicing (hello, weeknights!), many grocery stores sell butternut squash cubes already peeled and diced. This lets you just open the pack, put it on the baking sheet, toss it with some olive oil and spices, and get right to cooking! It's usually more cost-effective to peel and cook your own, and we like being able to control how big or small our slices are, but buying pre-cut is absolutely an option.
The second two methods peeling and cutting before cooking are great to add to salads, bowls, tacos or for use on a vegetable platter.
What Flavors Go Well with Butternut Squash?

One of the reasons butternut squash is so popular is because it's versatile! It's delicious plain, with just a little salt and pepper, but it's also great to season. You could try…
Italian seasoning
Chipotle seasoning (this is a delicious contrast with the natural sweetness of butternut squash!)
Cinnamon and maple
Cajun seasoning
Maple syrup
Curry powder
Once cooked you can store butternut squash in an airtight container in the fridge for up to 3 days. This is perfect for weeknight meal prep or entertaining!
If you like winter squash as much as we do check out our other guides on how to cook spaghetti squash and delicata squash.
Butternut Squash Nutrition
Let's start with why butternut squash is so popular! Aside from the sweet, nutty flavor... Butternut squash is rich in vitamin A, C, and E is high in fiber, potassium, and is low in calories (82 calories for 200 grams cooked squash), and has no cholesterol since it's plant-based. Making it great for your heart health and immune system.
More Butternut Squash Recipes
If you enjoyed this recipe, it would help us tremendously if you left us a star rating in the comments below or on the recipe card. Do you have any questions about this recipe or do you need a swap for any of the ingredients? We are here to help, just leave us a question in the comments below.
Print
How to Cook Butternut Squash
---
Description
Love the taste of butternut squash, but a little bit intimidated by peeling and slicing? You're not alone! Here is our guide for how to roast, peel, cut, and cook butternut squash, ready to walk you through every step of preparing everyone's favorite fall and winter veggie!
---
1

large butternut squash

2

-

3

tablespoons extra virgin olive oil
Salt
Preferred seasoning ( see note #1)
---
Instructions
Cooking butternut squash whole
Preheat the oven to 400F. Line a large baking sheet with parchment paper
Place the butternut squash, whole, on the lined baking sheet and bake for 1 hour and 20 minutes. Remove it from  the oven and set aside, until it's cool enough to handle
Cut it in half length-wise. Scoop out the seeds, turn it skin side up, and remove the skin with your hands. Place the flesh in a bowl and set it aside
Cooking butternut squash halves
Preheat the oven to 400F. Cut off ¼" from the top and bottom of the butternut squash. Stand it on a cutting board and carefully cut it in half, length-wise, with the help of a large sharp knife.  Scoop out the seeds and discard or roast them
Line a baking sheet with parchment paper and place the butternut squash halves cut side down. Bake for 50-60minute or until tender
Roasting butternut squash cubes
You can either buy already peeled and cut butternut squash cubes from the grocery store, or cut and peel your own
Preheat the oven to 400F. Cut off ¼" from the top and bottom of the butternut squash
Place butternut squash on its side on a cutting board and cut in half, separating the neck from the round bottom. Slice each half in half length-wise (you will end up with 4 large pieces)
Using a vegetable peeler, remove the peel. If this is too hard or your peeler is not sharp enough, place the squash in the microwave for 3-5 minutes (start with 3 minutes) to soften the skin a bit.  Once the squash is peeled, cut into even size cubes. (See images in the post above)
Place on the baking sheet, drizzle 2-3 tablespoons of olive oil, depending on how many cubes you have,  season with salt and any seasoning of your choice ( see note #1), and toss well so all the pieces all well coated with the oil and spices
Bake for 25 minutes or longer, this will depend on the size of the cubes
Notes
1. Season the butternut squash simply with salt and pepper to taste or your favorite seasoning. Here are some suggestions:

Italian seasoning
Chipotle seasoning (this is a delicious contrast with the natural sweetness of butternut squash!)
Cinnamon and maple
Cajun seasoning
Maple syrup
Curry powder