Quinoa is a highly nutritious and versatile grain-like seed that has become a staple ingredient in many kitchens. If you are new to this ancient South American superfood, this guide will help you understand what it is, the different types, and how to cook quinoa to perfection in 4 different easy methods.
What is Quinoa?
Quinoa (pronounced KEEN-wah) is a pseudo-cereal, which means that it is a grain-like seed that is often referred to as a superfood due to its high nutritional content. Originating from South America, quinoa has been a staple food for centuries and is now widely popular worldwide. It's a gluten-free grain rich in protein, fiber, vitamins, and minerals. Quinoa is also a good source of antioxidants and has a low glycemic index.
Different Types of Quinoa
There are several different types of quinoa, each with a unique flavor, texture, and color. The most commonly found types of quinoa include white quinoa, red quinoa, and black quinoa. You can use all types of quinoa interchangeably in your recipes. Quinoa works great in place of whole grains such as rice, farro, or barley.
White quinoa has a mild flavor and a light, fluffy texture. It is the most commonly found type of quinoa.
Red quinoa has a slightly nuttier flavor and a crunchy texture. It holds its shape well when cooked.
Black quinoa has a slightly earthy flavor and a firmer texture.
Methods for Cooking Quinoa
Cooking quinoa on the stove, in the oven, or boiling it like pasta all have similar results in regard to taste and texture. Using the Instant Pot or any other pressure cooker will result in a mushier texture.
Cook quinoa using less water than the packaging instructions call for unless you enjoy a mushy texture or plan to use the resulting quinoa in a recipe where the texture will not matter. We find that the ratio of one cup of quinoa to two cups of water, which are the instructions on the package, makes the quinoa too soft and mushy.
Instead, quinoa should be fluffy, and with a little bite, similar to al dente pasta. This improves the flavor. That said, if quinoa is going to be used to make veggie meatballs or veggie burgers, it's perfectly fine to follow the package instructions because softer quinoa will act as an excellent binder in these recipes.
For each of the following methods, you will need the following ingredients:
Quinoa
Water or Vegetable Broth
Extra Virgin Olive Oil
Salt
How to Cook Quinoa on the Stove
Get your skillet and olive oil heating.
Rinse your quinoa thoroughly using a fine mesh sieve.
Toast the quinoa in the skillet, constantly stirring for a couple of minutes to wake up the seeds for water absorption.
Add the water or broth and salt and stir.
Bring it to a boil, cover it with a lid, and reduce heat to a low simmer.
Let it simmer for twenty minutes.
Turn off the heat and let it sit for an additional ten minutes. Fluff with a fork and serve or save it for a future recipe.
How to Cook Quinoa in the Oven
For this method, you will start by preheating your oven and then boiling the water.
You will need one and a third cups of boiling water.
Rinse the quinoa, then add the quinoa to a baking dish.
Next, pour the boiling water, olive oil, and salt into the dish. Stir it up and then cover it tightly with aluminum foil.
Place the dish on a baking sheet to make it easier to handle.
Slide it in the oven and leave it for thirty minutes. Remove it from the oven and let it sit for ten minutes before fluffing.
How to Cook Quinoa in the Instant Pot
Rinse your quinoa and then throw all of the ingredients in the pressure cooker.
Cook it on high pressure for one minute and then let it naturally release the pressure. While this is arguably the easiest and fastest method, it produces a softer texture.
How to Cook Quinoa by Boiling it Like Pasta
The last method is also very easy.
Rinse the quinoa and place it in a saucepan with four cups of water, oil, and salt.
Boil for twelve minutes: strain and fluff.
What to do With Cooked Quinoa
Besides vegan meatballs and burgers, which we've already mentioned, you can also use quinoa similarly to pasta or rice in casseroles, salads, bowls, stuffed squash, or cakes, as a base for stir-fries and stews, in cookies, cakes, and granola.
What Flavors Go Well With Quinoa?
As you can see from the variety of recipes we link to in this post, quinoa is very versatile. It can be used like oatmeal in cookies or granola, like rice in bowls and stir-fries, or as a protein or meat substitute in salads and stuffings. Quinoa can work in savory or sweet recipes and is more of a textural component. Fresh herbs, garlic, spices, honey, and vegetables such as peppers and onions complement quinoa very well.
Tips for Working with Quinoa
One of the critical components of every method for cooking quinoa is rinsing it for at least thirty seconds. This is because the natural coating of quinoa, called saponin, is bitter and difficult on the digestive system. Do not skip this step.
Some of the quinoa sold in the United States is labeled pre-washed. It is not washed with water and is put through an abrasive process that strips off the saponin roughly but also strips off some of the good parts of the seed and degrades the nutritional value slightly.
One cup of dry quinoa makes three cups of cooked quinoa.
Quinoa Nutritional Information
Quinoa is a highly nutritious food that is a good source of several essential nutrients, including:
Protein: Quinoa is a high-quality plant-based protein, with one serving (1 cup cooked) providing approximately 8 grams of protein.
Fiber: Quinoa is a good source of soluble and insoluble fiber, with one serving (1 cup cooked) providing approximately 5 grams of fiber.
Vitamins and minerals: Quinoa is a good source of several essential vitamins and minerals, including B vitamins, iron, magnesium, potassium, and zinc.
Antioxidants: Quinoa is also a good source of antioxidants.
Healthy fats: Quinoa contains a small amount of healthy monounsaturated and polyunsaturated fats, including omega-3 fatty acids.
One cup of cooked quinoa (185 grams) contains approximately 222 calories, 39 grams of carbohydrates, 4 grams of fat, and 8 grams of protein. Quinoa is also vegan and gluten-free.
Frequently Asked Questions
What is the water ratio for cooking quinoa?
One cup of quinoa to one and one-third cups of water is the ratio we prefer.
How much does one cup of uncooked quinoa serve?
This depends on how you will serve the quinoa and whether or not the cooked quinoa will be used in a new recipe. One cup of quinoa makes three cups of cooked quinoa. So if you want to serve it like rice, plan on a minimum of ½ cup of quinoa per person.
Why is my quinoa always mushy?
You are using too much liquid, reduce the amount of liquid.
Is quinoa supposed to be crunchy when cooked?
No. It should be al dente (toothy), similar to rice or pasta, and neither crunchy nor mushy.
How long does cooked quinoa last in the fridge?
You can keep your prepared quinoa in an airtight container for four to five days in the refrigerator. Make extra and keep it for future recipes!
Can I freeze cooked quinoa?
Yes. Store cooked quinoa in the freezer in an airtight container for up to 6 months, just make sure it doesn't show signs of freezer burn.
More Great Quinoa Recipes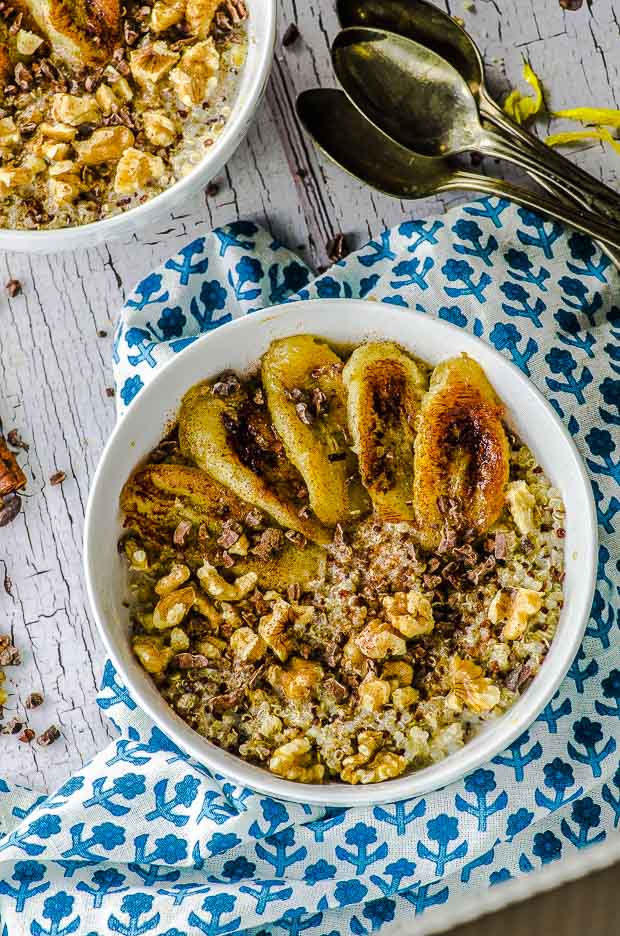 Quinoa Breakfast Bowl with Caramelized Bananas
A deliciously nourishing breakfast bowl with protein-rich quinoa and the deep honey flavor of caramelized bananas.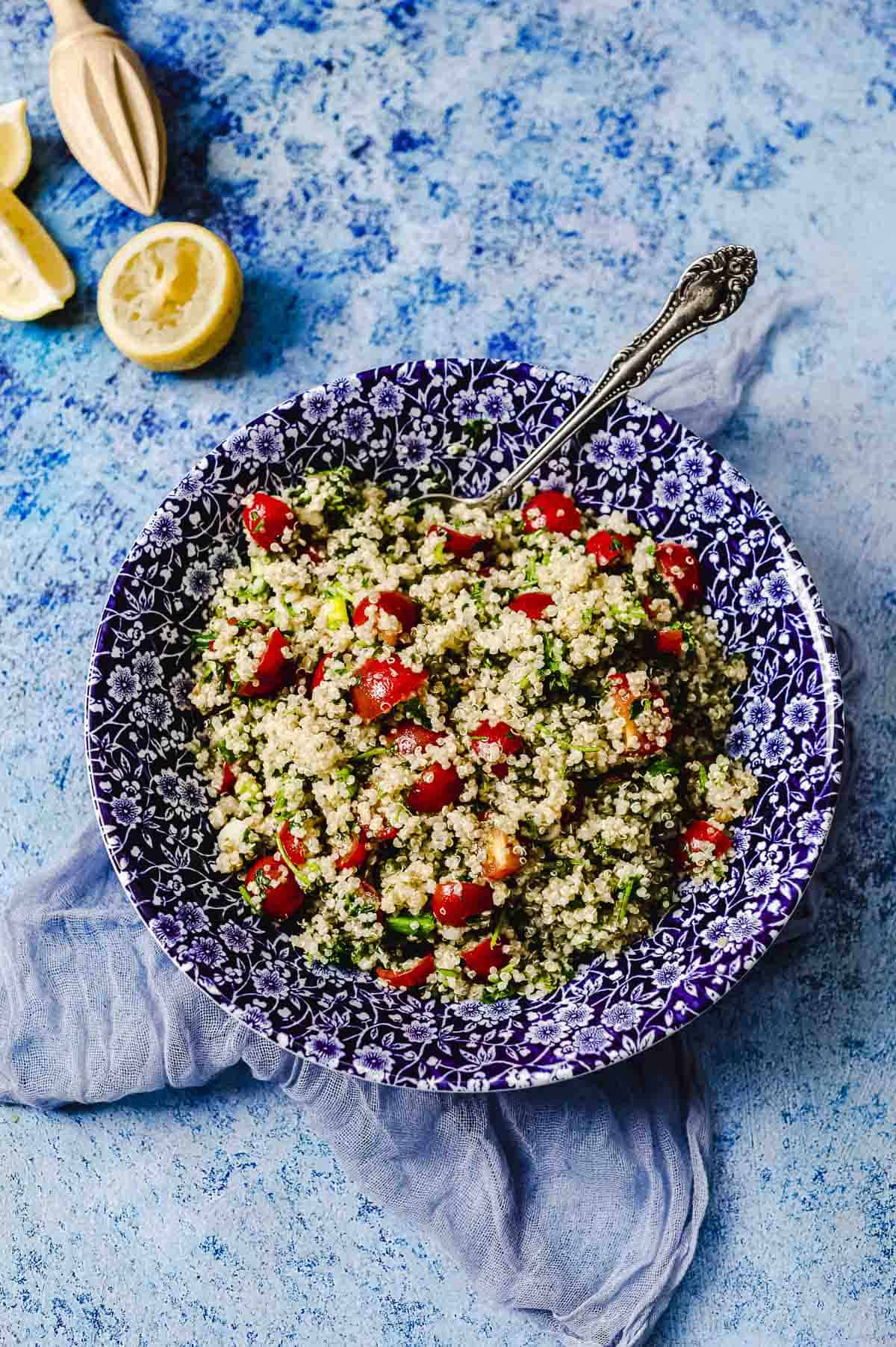 Quinoa Tabbouleh
This delicious quinoa tabbouleh salad has all the amazing authentic flavor of a classic tabbouleh recipe, without the bulgur wheat, making it gluten-free and kosher for Passover. Bright and refreshing, our quinoa tabouli recipe will make a welcome addition to your menu.
Veggie Loaded Quinoa Fried Rice
This super simple and nutritious quinoa fried rice is loaded with vegetables and bursting with flavor. An easy weeknight dinner that everyone will love.
Carrot Raisin Quinoa Recipe - Vegan and Gluten Free
This carrot raisin quinoa recipe comes together quickly with only 5 ingredients if you don't count salt and oil. But don't be fooled by its simplicity it packs comforting flavor and it's a favorite among adults and kids.  Give it a try and please let us know what you think.
Spinach Salad with Strawberries and Quinoa
Enjoy this Strawberry and Spinach Salad with a healthy helping of multicolor quinoa and topped with creamy avocado slices and candied pecans.
Mediterranean Quinoa Salad with Roasted Vegetables
Our Mediterranean quinoa salad recipe is filled with roasted vegetables and fresh cucumbers. It's easy to make, healthy, tasty, and will soon become your go-to salad to serve as a light lunch or as a side for your favorite protein. 
Quinoa Breakfast Cookies
Quinoa, almond flour, and a dollop of jelly make for the tastiest Quinoa Breakfast Cookies around! Make them for Passover or anytime you're craving a treat that's also nutritious.
Passover Cinnamon Raisin Quinoa Granola Recipe
Super easy to make, this gluten-free cinnamon raisin quinoa granola is great for breakfast. Super crunchy, nutritious, and flavorful. Enjoy!
If you enjoyed this recipe, it would help us tremendously if you left us a star rating in the comments below or on the recipe card. Do you have any questions about the recipe? Do you need a swap for any of the ingredients? We are here to help, just leave us a question in the comments below.
Print
How To Cook Quinoa - 4 Easy Ways
---
Author:

Vicky and Ruth

Total Time:

1 hour 15 minutes

Yield:

3 cups

1

x

Diet:

Vegan
Description
In this useful how to cook quinoa guide, you'll learn all about quinoa, the different types of quinoa, and how to cook it in four different fast and easy methods.
---
1

cup

quinoa

1 ⅓

cups

of water, you may also use vegetable broth.

1 tsp

extra virgin olive oil

½ tsp

salt
---
Instructions
How To Cook Quinoa On The Stove
Rinse the quinoa in a fine mesh strainer for at least 30 seconds.
Heat olive oil in a deep non-stick skillet for which you have a lid.
Add rinsed quinoa and toast for 2 minutes on medium-high heat for 2 minutes, stirring constantly
Add water and salt.  Bring to a boil uncovered.
Once the water is boiling, cover the pan and turn the heat to low for 20 minutes.  We usually move it to a smaller burner.
After 20 minutes, turn off the heat and let it sit covered for 10 minutes.
How To Cook Quinoa In The Oven
Preheat oven to 400F
Rinse the quinoa in a fine mesh strainer for at least 30 seconds.
In an 8x8 non-stick baking pan add the rinsed quinoa, 1 ⅓ cups of boiling water, salt, and olive oil
Mix well and cover tightly with aluminum foil.  We like to place the pan on a baking sheet so it is easier to place it in the oven.
Bake the quinoa for 30 minutes.  Remove from the oven and let it sit for 10 minutes. 
Be careful when you lift the aluminum foil, hot steam may escape.
How To Cook Quinoa On The Instant Pot, Multicooker or Pressure Cooker
Rinse the quinoa in a fine mesh strainer for at least 30 seconds.
Add rinsed quinoa, water, oil, and salt to the Instant Pot.  Lock the lid and cook on high pressure for 1 minute.  Let the pressure release naturally.
How To Cook Quinoa With The Boiling Method
Rinse the quinoa in a fine mesh strainer for at least 30 seconds.
In a medium saucepan add rinsed quinoa, 4 cups of water, oil and salt.
Bring to a boil and cook uncovered  for 12 minutes ( while boiling)
Strain the quinoa.
Notes
1 cup of uncooked quinoa makes 3 cups of cooked quinoa
Prep Time:

15

Stuffing the empanadas:

30

Cook Time:

30

Category:

How To

Method:

All

Cuisine:

International
Nutrition
Serving Size:

½ cup cooked

Calories:

111

Sugar:

0 g

Sodium:

195.2 mg

Fat:

2.5 g

Saturated Fat:

0.3 g

Trans Fat:

0 g

Carbohydrates:

18.2 g

Fiber:

2 g

Protein:

4 g

Cholesterol:

0 mg
Keywords: Gluten-Free, Kosher, Passover,