This versatile baked zucchini frittata is light, savory, and ideal for breakfast, brunch, lunch, or dinner. All you need to make a frittata successfully is some cooked veggies and eggs. We used zucchini, eggs, cheese, and some herbs in this case. Easy, simple, and delicious, our egg frittata packs in protein and veggies too!
What is a frittata?
In case you're wondering what a frittata is, it's basically an omelet that can be cooked on the stove, baked in the oven (as we did with our eggplant frittata ), or even baked in a muffin tin pan like our artichoke and asparagus mini frittatas.
If you visit Italy, you will use the word frittata if you order a baked omelet. In Spain, however, the word used is "tortilla." Spain's most popular tapa is tortilla de patatas, an incredibly delicious potato and onion omelet.
What is the difference between a quiche and a frittata?
The most significant difference is the crust or lack thereof. A quiche has a crust, but a frittata does not. This makes a frittata gluten-free since it contains no flour. Another significant difference is the dairy/egg ratio. Quiche has more dairy, while frittata has more eggs. Quiche is actually two parts liquid dairy to one part egg plus cheese. Frittata has a higher concentration of protein because of this ratio. Check out our crustless quiche or breakfast quiche with zucchini or our asparagus and goat cheese quiche
Ingredients for Zucchini Frittata
Large Zucchini. This zucchini frittata recipe is a great way to use up squash that accidentally got way too big in your summer garden. It's so easy to miss them when they reach the perfect size, and it seems like they double in size overnight! You can also use medium zucchini; just increase the number.
Small Onion. Grate this with the zucchini to blend the flavors.
Garlic Cloves. Nothing beats the flavor of fresh garlic.
Extra Virgin Olive Oil.
Spices: Salt, Pepper, and Herbes de Provence. This herb mixture contains thyme, marjoram, rosemary, basil, sage, and lavender.
Eggs. Large whole eggs are used in our recipe, but you can substitute with egg whites if you prefer.
Cheddar Cheese. Mozarella or a cheese blend may also be used.
Crumbled Feta Cheese. It adds saltiness and improves the texture.
How to Make a Zucchini Frittata
Making the frittata could not be easier. Start by shredding the zucchini. We recommend using a food processor since it cuts down on the moisture. Squeeze out as much moisture as you can using a towel. Cook the zucchini in a medium skillet over medium-high heat. If you use a cast iron skillet you can also use that as your baking dish. In a mixing bowl, use a whisk to beat the eggs and then stir in the herbs and seasoning. Combine the eggs with the zucchini in your baking dish or skillet. Top the mixture with cheese and bake it until cooked through and slightly brown on the edges.
Here's the cliff notes version to keep it simple:
Shred the zucchini.
Squeeze as much water as you can out of it.
Cook the zucchini.
Mix it with beaten eggs and herbs.
Top with cheese and bake.
Shredding the zucchini will make it cook faster.
Always use a clean kitchen towel to squeeze excess liquid from the zucchini.
You'll ensure you don't get a watery frittata by squeezing out the excess moisture.
Tips for the Best Frittata
Use lots of veggies, like mushrooms, zucchini, peppers, asparagus, artichokes, corn, peas, onions, potatoes, tomatoes, etc.
Always cook your veggies before making your frittata (trust us, we tried making a frittata with raw veggies; it is so much tastier when the veggies are cooked!).
Some recipes call for adding cream or milk to the eggs, but we prefer not to add any.
It is optional to top your frittata with cheese, but it does make it tastier.
Don't overcook your frittata; cook it until the eggs are no longer runny, and when you insert a knife, it comes out clean.
Variations for Zucchini Frittata
This delicious frittata is great as is, but if you want to add more veggies, of course you can. Shred a red bell pepper with the zucchini and onion to add a flavor variation. Add chopped kale or spinach to replace half the zucchini for a slightly different flavor.
If you don't love herbes de Provence, you can use fresh basil, Italian seasoning, or a blend of fresh thyme and oregano, or even fresh parsley.
The addition of vegan tempeh bacon would be lovely.
Have lemons on hand to add a fresh squeeze of juice at the table.
Add a little heat with diced jalapenos, Aleppo pepper, habeneros, or even ancho chili powder.
Frequently Asked Questions
What other cheese can you use in zucchini frittata?
Almost any melty cheese you love will work! Some that instantly come to mind are gruyere, havarti, gouda, provolone, and swiss. Add parmesan cheese for a little saltiness that doesn't necessarily melt.
Can I keep leftover frittata?
Yes. Refrigerate it soon after finishing it in the oven, and you can store a frittata for two or three days in the refrigerator in an airtight container. It will become watery as it ages.
What to serve with zucchini frittata?
This beautiful dish is perfect for breakfast, brunch or dinner. Serve it with a delicious bread or focaccia such as and our peach caprese for a fresh summer meal.
Can you overcook frittata?
Yes. Cooking the egg mixture for too long will dry it out and dampen the flavor. Keep a close eye on your frittata.
Why is my frittata not fluffy?
Use whole-fat dairy to get a nice fluffy finish on your frittata. It needs that fat. If you must skimp on fat, be prepared for a flat frittata.
Can you freeze zucchini frittata?
Yes. The frittata should be completely cooled first and placed in an airtight container. It will keep for one or two months and can be thawed and reheated in a microwave. The cheese may change texture once it is frozen.
How do you make a frittata not soggy?
Make sure you cook your frittata long enough and that your veggies are not excessively wet when you mix them with the egg. If the are, cook them longer until excess moisture evaporates.

Moisture in hot foods can quickly make them soggy as they cool and the moisture condensates. To avoid this, do not cover your frittata while it cools. If you cooked your frittata on the stove, remove from the pan and let it rest on a wire cooling rack until it is plated so that the underside has air.
Make sure to remove as much moisture as possible from your zucchini and fully cook the frittata.
Other frittata recipes you'll definitely enjoy: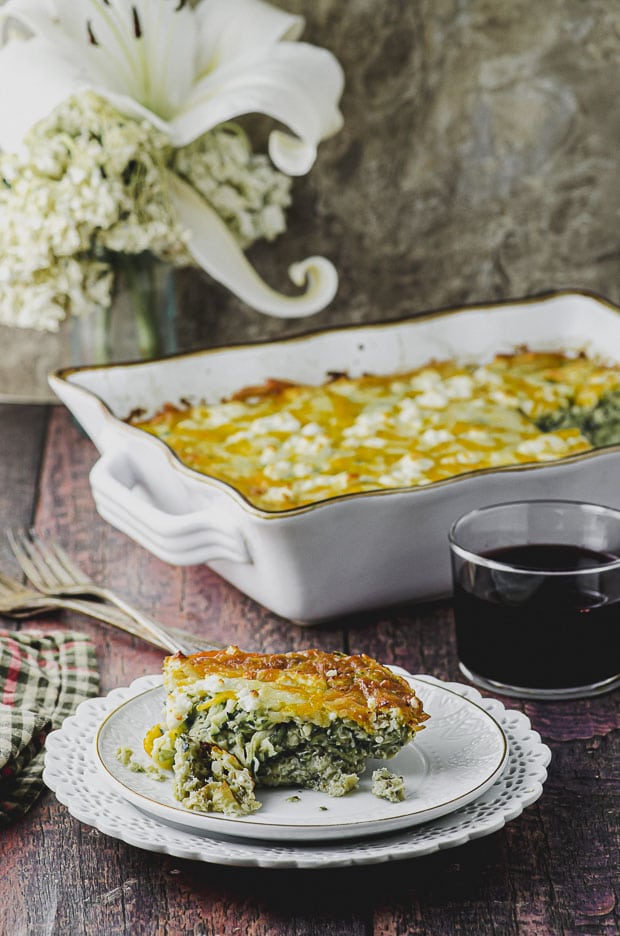 Did you like zucchini frittata? Scroll down to the comments and leave us a rating! Did you love it? Share it or leave us a comment on Instagram, Twitter, or Facebook! Wanna see more? Subscribe to our blog, and remember to follow us on Pinterest!
Print
Baked Feta & Cheddar Zucchini Frittata
---
Description
This versatile baked zucchini frittata is light, savory and ideal as a breakfast, brunch, lunch or dinner. All you need to successfully make a frittata is some cooked veggies and eggs. In this case, we used zucchini, eggs, cheese and some herbs. Easy, simple and delicious.
---
4

-

5

large zucchini, shredded

1

small onion, shredded with the zucchini

2

cloves of garlic, grated

2 tbsp

extra virgin olive oil

1 tsp

salt

1 tsp

herbes de Provence (see Note 1)

⅛ tsp

pepper

6

whole eggs

1 cup

shredded cheddar cheese, a blend of cheddar and mozzarella or your favorite shredded cheese

⅓ cup

crumbled feta cheese
---
Instructions
Preheat the oven to 375F. Generously coat the bottom of a baking dish with cooking spray (we used a 8 ½" x 6" x 2 ½ ceramic baking dish, but you can use a 9 x 13. Just take into consideration  the zucchini frittata won't come out as thick as what you see in the images)
Place the shredded zucchini, onion and garlic in a bowl. Working with 2-3 cups at a time, place the zucchini mixture in the middle of a clean kitchen towel, close it at the top and squeeze out as much water as you can. Repeat until with the rest of the zucchini
Heat the olive oil in a large skillet. Add the shredded zucchini mixture, salt, pepper and herbes de Provence
Cook over medium heat until the zucchini has softened, and all the liquid released has evaporated, 10 to 15 minutes. Set aside and let it cool slightly
Beat the eggs in a large bowl. Add the cooked zucchini mixture and pour it into the prepared baking dish. Sprinkle with the cheese and lastly add the crumbled feta
Bake for 30 to 45 minutes, until the eggs are cooked and the edges are golden brown
Notes
Herbes de Provence are a dry herb mix of thyme, marjoram, rosemary, basil, sage and lavender. If you don't have or don't like it, you can use thyme and oregano, fresh chopped basil or parsley or not add any herbs at all. It's totally up to you!
This post was originally published on August 7, 2020
Prep Time:

5 mins

Cook Time:

60 mins

Category:

Entree

Method:

Oven

Cuisine:

Mediterranean
Nutrition
Serving Size:

1 square

Calories:

195

Sugar:

5.9

Sodium:

510

Fat:

13.8

Saturated Fat:

5.4

Unsaturated Fat:

7

Trans Fat:

0

Carbohydrates:

8.1

Fiber:

2.2

Protein:

11.4
Keywords: frittata, zucchini frittata, eggs, gluten free, cheese