We have selected our best soup recipes for you. From Lasagna Soup to Moroccan Harira soup and Homemade Ramen Soup. A steamy bowl of soup will help keep you warm this winter. These vegetarian soup recipes are filling, comforting and full of flavor. Let us know your favorite soup recipes!
Root vegetables, spices, chickpeas, and lentils come together beautifully in this Moroccan inspired Harira soup, a nutritious and filling and one-pot meal. A gluten-free and Vegan soup.
This is our go-to hot, comforting, healing vegetable soup. Loaded with healthy vegetables and spices, it packs so much flavor that you don't even need to use vegetable broth for this vegetable soup recipe.
This Vegan Ramen Bowl is exactly what you need to get you through a frigid winter! Loaded with immune-boosting ingredients, you'll want to make it every week!
This beautiful orange-colored, nutrient-rich carrot ginger creamy soup is simple enough to serve at any weekday meal, but will also steal the show at your holiday dinner table!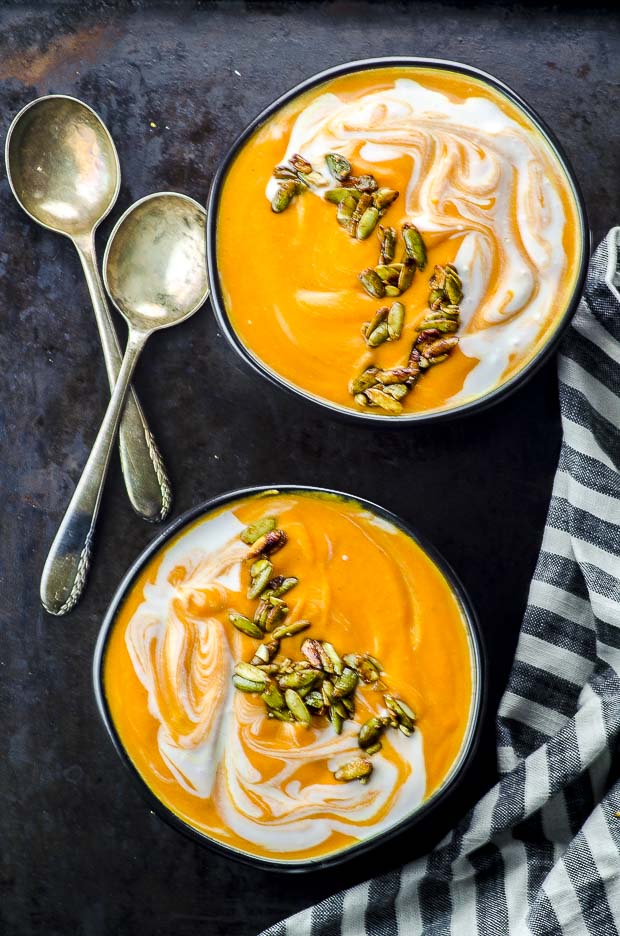 This thick and hearty Lasagna Soup is packed with fiber and plant-based protein. Made with gluten-free bean-based lasagna sheets, is a comforting a satisfying meal in a bowl!
This Easy Lentil Soup is filled with Moroccan spices, tomatoes, and rice for a hearty meal that has everyone coming back for seconds! Serve it with a simple salad or a loaf of crusty bread for the perfect weeknight meal.
Our black bean soup is hearty, warm, comforting, and bursting with flavor. All you need are a few simple pantry ingredients, some veggies, and done! Bonus: it tastes even better the second day ( if you have leftovers, that is... )
Make this tomato and roasted eggplant soup when you're craving something super creamy, filling, satisfying, and low-calorie. A pot and a baking sheet are all you need to prepare it! Our roasted eggplant tomato soup is vegan and gluten-free. Don't like eggplant? Scroll down and you'll find some variations that are just as delicious.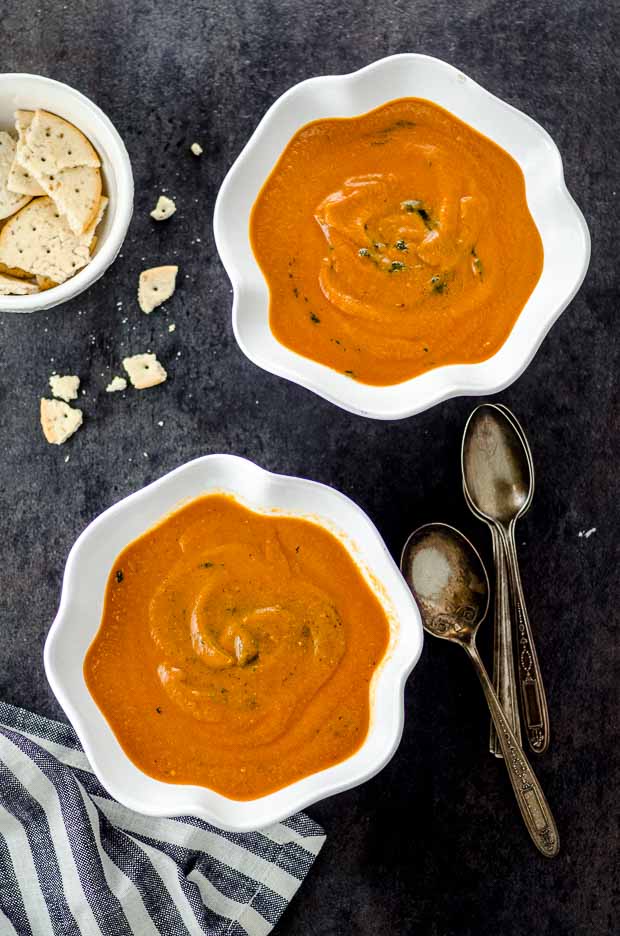 This satisfying and body-warming Wheat Berry Chickpea Soup features the humble and antioxidant-rich chickpea, making it your best defense against flu and cold season.
If you love butternut squash but hate having to peel it and cut it, we have a great trick for you! It will save you a ton of trouble and will make this Roasted Butternut Squash Soup extra sweet and creamy (and as a bonus, you'll get to keep all your fingers..).
This bright and tasty Red Lentil Soup with Lemon and Cilantro will become a quick favorite in your kitchen. It comes together in very little time, and with just a few ingredients, it couldn't be easier to make. A deliciously easy soup recipe.
Who needs takeout when you can have a steamy bowl of ramen on your table in no time? Our super simple vegan coconut miso ramen recipe is ready in less than 30 minutes. No muss no fuss, and kid-approved!
A one-two punch of savory spicy goodness, this one-pot meal kale soup will please your senses and keep you satisfied for hours.
When you're looking for a creamy, nutritious, and deliciously exotic West African soup, our Peanut Soup with sweet potatoes and spinach will impress your guests and satisfy your hunger for hours. A super delicious way to get part of your daily vegetable intake.
This tomato rice soup is quick and easy. It's perfect for those days when you don't have a lot of time to spend in the kitchen, but still want a warm, comforting, simple, and yet delicious soup. All you need is a few common pantry ingredients and 30 minutes. Vegan and gluten-free.
Rich, creamy, and full of flavor, our cauliflower soup is perfect for when you don't feel like spending hours at the stove in the summer! Enjoy it hot or cold!
Hearty, warm, filling, and comforting, this kale soup with cannellini beans and quinoa will keep you full for hours. Vegan, gluten-free, and best of all, you'll only have one pot to clean up!
This super flavorful and comforting Vegetarian Matzo Ball Soup is just what you need to fight the winter blues. Made from scratch, no chicken, no boxed broth, no bouillon cubes needed.
This super delicious Vegetarian French Onion Soup is rich, decadent, comforting it is all you need to be warm and cozy during this winter. We replaced the traditional beef broth with a rich mushroom broth which made this Vegetarian French Onion soup simply irresistible.
As the weather cools off, it's the perfect time for this Super Comforting Fennel and Red Lentil Soup Recipe! It's a new soup in our repertoire, we came up with it one day when we wanted a warm comforting soup, but we didn't have time to chop a whole bunch of veggies. We just searched our fridge and pantry and this crazy good red lentil soup recipe was born.
This creamy vegan parsnip and celeriac soup with crunchy vegetable chips is a warm and satisfying vegan soup.
Set up this Slow Cooker Light No Chicken Mexican Soup before you leave for work in the morning, and come home to a delicious, comforting meal, perfect for a cold winter night.
The creamy combination of hearty sweet potatoes, zucchini, and warming spices make this vegan sweet potato soup irresistibly delicious.
High Protein Minestrone Soup
Warm-up this winter with a big bowl of this Protein-Packed Minestrone Soup. A complete meal in a bowl you'll love!
This is a simple and easy healthy vegetable soup recipe with a  flavorful turmeric-ginger broth. It's a great immune-boosting soup to help fight colds and sniffles!