This flavorful , grain free Passover Coconut Ginger Carrot Rice is a great side dish to serve during the Holiday and all year long. Vegan and gluten free.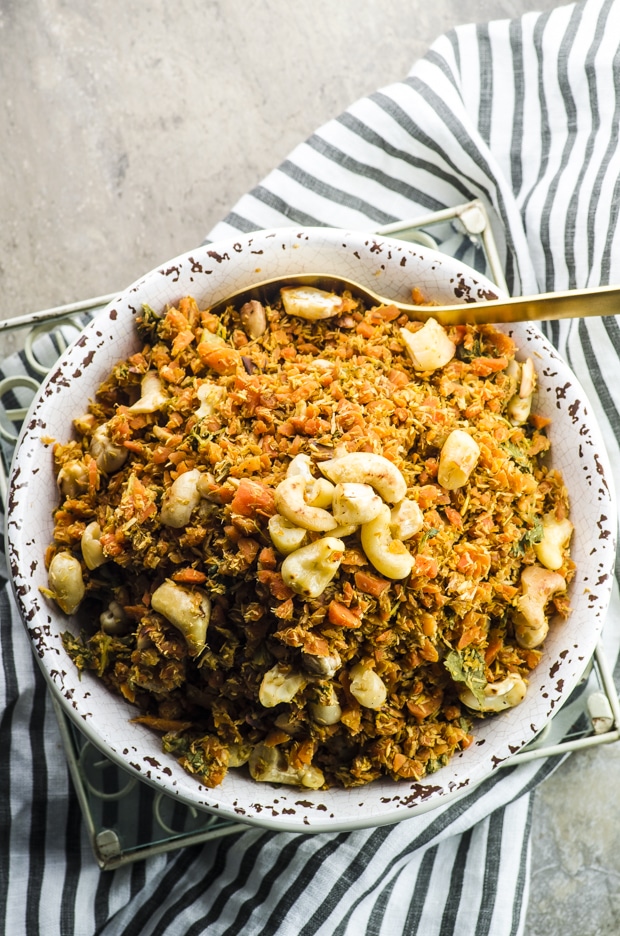 Passover is the time a year where we really, REALLY have to wrack our brains to come up with tasty, sort of unique recipes that go beyond eggs, potatoes and matzah ball soup. For those of you not familiar with the dietary restrictions that come with this holiday, they mainly include: wheat, barley, rye, oats or spelt ( as well as  any products made with these grains), legumes (beans, lentils, peas and peanuts), and in most Orthodox Jewish American households, also rice, corn, mustard and sesame seeds.
So, as you can see, the options are pretty limited. Especially, if you are vegan or vegetarian.
Over the past 5 years we've come up with a lot of recipes that our friends and family loved. From several granola recipes for breakfast, to colorful, tasty sides , fun appetizers and delicious desserts .
Last year we made a super easy cauliflower fried rice that has become one of our most viewed recipes. This year we're switching it up a little bit, by using home made carrot rice instead. Tossed with toasted coconut, ginger and parsley, this delicious dish is:
Low carb
Low calorie
Gluten Free
Vegan
Paleo
Enjoy!
Passover Coconut Ginger Carrot Rice
Passover Coconut Ginger Carrot Rice - Vegan and Gluten Free
Author:
https://mayihavethatrecipe.com
Ingredients
2 lbs organic carrots, peeled and roughly chopped
1 tbsp coconut oil
⅔ cup unsweetened shredded coconut
4 scallions, white and green parts, sliced
2 tbsp grated fresh ginger
¼ tsp salt
⅛ tsp black pepper
2 tbsp Balsamic vinegar
¼ tsp sugar
½ cup fresh cilantro or parsley, chopped
⅔ cup raw cashews, roughly chopped
Instructions
Place the carrots in the food processor and pulse until they start to look like rice (you might need to do this in 2 batches). Set aside
Heat the coconut oil in a large, deep skillet. Add the shredded coconut and scallions and cook over medium heat for 2 to 3 minutes, stirring often
Add the carrots, ginger, salt and pepper and continue cooking for 5 to 7 minutes, tossing often, until the carrots start to soften
Add the Balsamic vinegar and the cilantro and cook for another 2 minutes. Set aside
Heat a small skillet over medium low heat. Add the cashews and cook for 2 minutes, stirring constantly to prevent them from burning. Add them to the carrots and toss well