One of our favorite roasted eggplant recipes is Caponata, a Sicilian dish that's created with a base of roasted eggplant and peppers. Serve it on crusty toasted bread or as a topping for your favorite protein!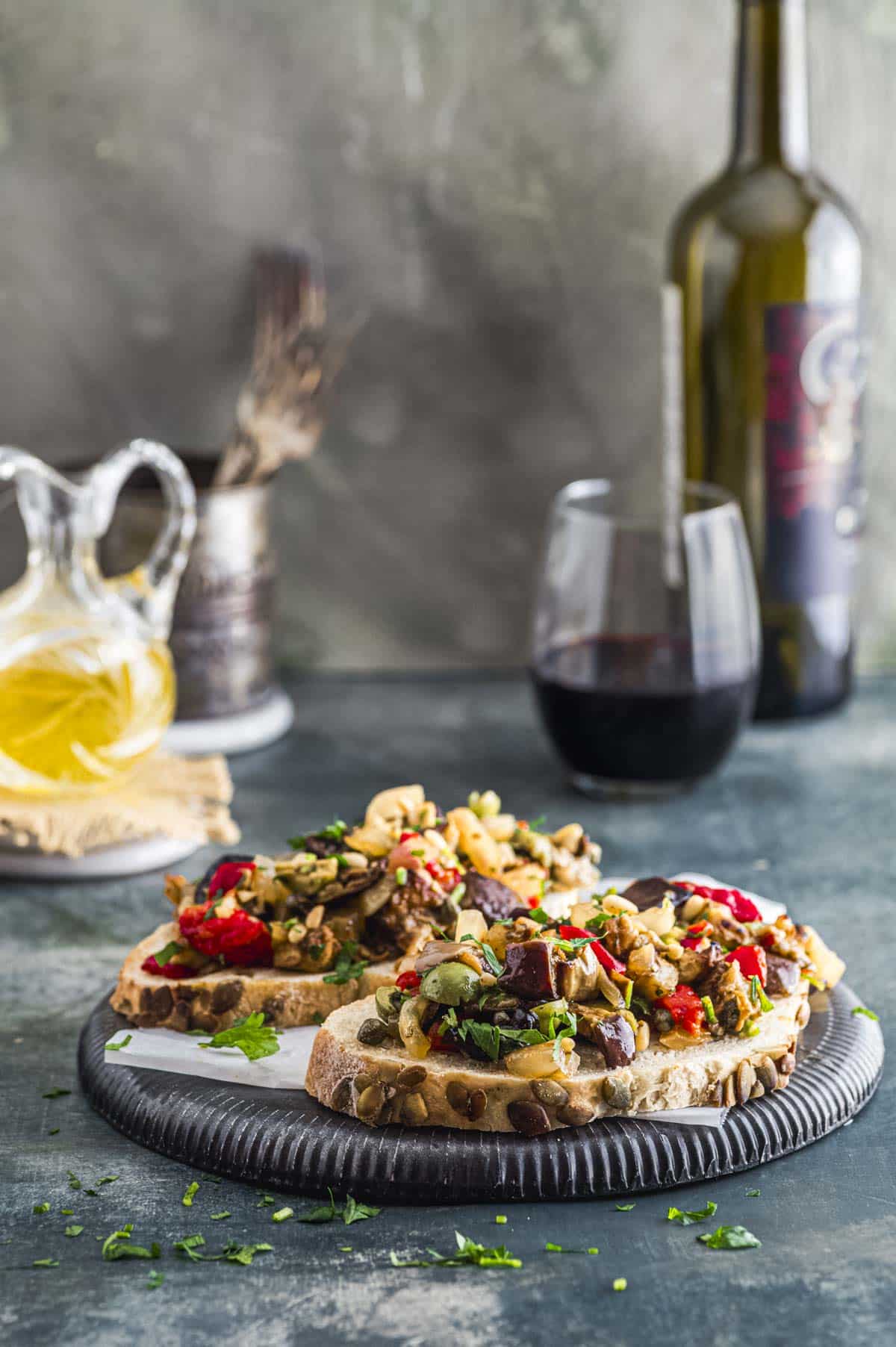 Caponata is one of the best eggplant recipes! Roasting the red peppers and eggplant brings out their incredible natural sweet flavors, and everything combines into the most flavorful dish on the table. You really cannot go wrong when serving this oven-roasted eggplant salad!
Caponata vs Ratatouille
Caponata and ratatouille are both traditional Mediterranean vegetable dishes that have their roots in Italian and French cuisines respectively. While they share some similarities, they also have distinct differences in terms of their ingredients, flavors, and preparation methods.
Caponata
Caponata is a Sicilian dish that combines cooked eggplant (aubergine), tomatoes, red bell peppers, onions, garlic, capers, and olives. The vegetables are often diced and then sautéed or fried individually before being combined and cooked together. Caponata is often served as a side dish, relish, or appetizer. Caponata has a sweet and sour flavor that comes from using vinegar and sometimes sugar or raisins.
Ratatouille is a French Provençal vegetable stew that traditionally includes ingredients like eggplant, zucchini, bell peppers, tomatoes, yellow onions, and various herbs like thyme and rosemary. The vegetables in ratatouille are typically diced and cooked together in a pot. Unlike caponata, ratatouille doesn't usually have a sweet and sour flavor profile. Instead, it's known for highlighting the natural flavors of the vegetables and herbs used. Ratatouille is often served as a main course and can be enjoyed on its own or with bread, rice, or pasta.
Some cooks make Caponata almost like an Italian version of Ratatouille, adding celery, and tomato paste, and the dish is simmered on the stove. We make our eggplant caponata recipe as a chunky salad, dip, or chutney that's best enjoyed on fresh sourdough bread, crackers, or as a topping for grilled tofu, vegetables, or pasta.
What is Caponata?
Caponata is a flavorful Sicilian eggplant dish. While many of the ingredients look similar to Ratatouille, it's prepared differently; ratatouille is like a stew that's best eaten warm over rice or pasta while Caponata can be enjoyed cold or warm as a side dish, or topping for fresh crusty bread or crackers. The capers, olives, and vinegar add a deliciously tangy finish.
Ingredients in Eggplant Caponata
Our eggplant Caponata features roasted eggplant and sauteed onions and garlic with the most flavorful cast of characters to complement them. It will make you smile at the first bite, and guests will ask for the recipe immediately!
Roasted eggplant - We have a lot of eggplant recipes, check them out and let us know your favorites.
Sauteed onions and garlic - The foundation of so many good dishes. Let's make your kitchen smell incredible!
Olives - We used both green olives and black cured olives for more flavor and color, and they add the briny, tangy flavor that Caponata is known for.
Capers - Salty, lemony capers add even more tang to this Caponata! Look for them by the pickles and condiment aisles in the grocery store.
Parsley - Fresh chopped parsley is best.
Roasted red peppers - You can find jarred roasted red peppers in most grocery stores, but it's very easy to make roasted red peppers at home and they taste better, too!
Vinegar - Since this is more of a salad than a stew, a splash of vinegar makes all the flavors shine!
Olive oil - We suggest using a higher-quality extra virgin olive oil since you'll be able to taste it in this delicious eggplant recipe.
Aleppo pepper or red pepper flakes - Adjust to your own preference for heat.
Pine nuts - A classic in so many Italian dishes! Pine nuts are tiny but packed with nutrients and a soft, nutty flavor.
How to Roast Eggplant for Caponata
The baked eggplant is kind of the star of the show in this Caponata recipe! Even if you feel intimidated by cooking with eggplant, give this recipe a try. Roasting eggplant it's the perfect way to bring out its mild-yet-rich flavor. We suggest leaving the skin on, tossing the eggplant in oil and spices, and providing plenty of space between each piece of eggplant on the pan. This will leave you with perfectly roasted eggplant!
How to Roast Peppers For Eggplant Caponata
We love having roasted red bell peppers on hand for recipes like this one! Roast peppers whole at high heat, move the hot peppers to a heat-proof bowl, cover them with plastic wrap and let them steam for about 20 minutes. This makes it incredibly easy to pull the skin away from the flesh of the peppers! Check out our roasted red peppers recipe for exact instructions. If you want to save time you can also use store-bought jarred roasted peppers.
How to Serve Caponata
Caponata is delicious when served as an antipasto with crispy toasted bread! It's a delicious appetizer to add to a cheeseboard. You could mix it in with cooked pasta for a tasty pasta salad, use it as a topping in your favorite sandwich or wrap, or make it a dinner by adding it to toasted rustic bread and placing a sunny-side-up egg on top.
Enjoy Caponata as a relish dished over your favorite grilled or roasted protein or grilled vegetables. We've even added it to eggs while making an omelet! It keeps really well in the refrigerator and we think the leftovers taste better. This makes it great to make ahead for parties, dinners, or barbeques!
Variations of Caponata
We've seen many Caponata recipes with a hint of sweetness, we prefer ours savory. If you prefer to add some sweetness you can add raisins, honey, or even just a spoonful of brown sugar. You could add fresh mint for some brightness! We suggest making any of these changes slowly with plenty of tasting in between to make sure you like where this dish is headed.
If you enjoyed this recipe, it would help us tremendously if you left us a star rating in the comments below or on the recipe card. Do you have any questions about the recipe? Do you need a swap for any of the ingredients? We are here to help, just leave us a question in the comments below.
Print
Eggplant Caponata
---
Author:

Vicky and Ruth

Total Time:

1 hour 10 minutes

Yield:

4 cups

1

x

Diet:

Vegan
Description
One of our favorite eggplant recipes is Caponata, a Sicilian dish that's created with a base of roasted eggplant and peppers. Serve it on crusty toasted bread or as a topping for your favorite protein!
---
1

large Italian eggplant, diced into 1.5" cubes ( you can also use Japanese eggplant)

3 tbsp

extra virgin olive oil, divided

1

medium onion, diced

2

cloves of garlic, minced or grated

2

-

3

tablespoon pine nuts

2

homemade roasted red peppers, or

4

jarred, chopped

12

green olives, pitted and sliced in thirds

12

black cured olives, pitted and cut in half

1 tbsp

capers

¼

cup

chopped fresh parsley

2 tbsp

red wine vinegar or apple cider vinegar (or to taste)

¼ tsp

salt (or to taste)

⅛ tsp

pepper (or to taste)

⅛ tsp

Aleppo pepper or hot red pepper flakes (or to taste)
---
Instructions
To Roast the eggplant
Preheat the oven to 425F. Line a large baking sheet with parchment paper
Place the diced eggplant in a large bowl. Add 2 tablespoons of the olive oil, 1 tablespoon at a time, tossing the eggplant after each addition
Arrange the eggplant on the baking sheet. Bake for 30 minutes or until tender
Remove the baking sheet from the oven and very carefully fold the parchment paper around the eggplant, so it wraps around all the pieces, to form a sealed package (be careful,it will be hot)
Let the eggplant sit for 20 minutes. This will allow the eggplant to soften further without drying it out
To make the caponata
While the eggplant is roasting, heat 1 tablespoon of the olive oil in a large skillet. Add the onions and garlic stir and cook over medium heat for about 6-7 minutes or until the onions are cooked and start to turn a golden color. Remove the cooked onions and garlic mixture and set them aside in a large bowl
To the same skillet add the pine nuts and cook over medium heat for 2-3 minutes or until they start to turn a golden color (don't leave the pine nuts unattended, they  can burn easily)
Place the roasted eggplant in the bowl with the cooked onions and garlic. Add the roasted red peppers, green and black olives, capers, and parsley and mix well
At this point taste the caponata and decide how much of the vinegar, salt, pepper, and Aleppo pepper you want to add to make it to your taste.  It's up to you how salty, tangy or spicy you want it to be. Top it with the toasted pine nuts before serving
Prep Time:

20

Eggplant Resting time:

20 minutes

Cook Time:

30

Category:

Dips and Condiments

Method:

oven-roasted

Cuisine:

Italian
Nutrition
Serving Size:

2 tablespoons

Calories:

41

Sugar:

1.4

Sodium:

122

Fat:

3.3

Saturated Fat:

.5

Unsaturated Fat:

2.7

Trans Fat:

0

Carbohydrates:

3

Fiber:

1.2

Protein:

.5

Cholesterol:

0
Keywords: gluten-free, kosher, dip, appetizer, party,