Thanksgiving 2022 is Thursday, November 24.
In the US Thanksgiving is celebrated on the last Thursday of November.
We've put together some of our best and favorite Vegan Thanksgiving recipes. Being vegan at Thanksgiving may be a challenge, especially if you share your Thanksgiving dinner table with family or friends that prefer to serve the traditional Thanksgiving Menu.
We are here to help, we suggest that you share these Thanksgiving recipes with your host or simply make a few recipes and bring them along with you. Everyone at the Thanksgiving dinner will love them
Then Thanksgiving vegan recipes you ou will find include appetizers, soups, salads, mains, sides, and desserts.
We hope you enjoy it just as much as we do! Whether you're having a traditional turkey dinner, or you're going meatless, these Vegan Thanksgiving recipes are an absolute crowd-pleaser!
Vegan Thanksgiving Appetizers
From finger foods to dips, to veggie meatballs, we've got your Thanksgiving covered!
This vegan crab rangoon Thanksgiving appetizer may not fit the definition of a Vegan Thanksgiving dinner, but we guarantee it will be a great success.
These Sweet Potato Veggie Meatballs are meatless, nutritious, and only take 5 to 10 minutes to prepare. Let the oven do the rest of the work!
A crunchy little finger food that is so good and satisfying that everyone will reach for seconds. If you are having a big crowd, we recommend you double the recipes for this vegan Thanksgiving appetizer.
Who says it is hard to cook for vegetarians or vegans? These simple and easy-to-make herbed seitan-filled vol au vents are so full of flavor you will not miss the meat.
There are appetizers… and then there are these Pumpkin Apple Turnovers with Everything Bagel Seasoning! Crunchy on the outside, velvety and buttery on the inside, wrapped in puff pastry, topped with everything bagel seasoning for a punch of flavor. A heavenly bite of Thanksgiving appetizer goodness!
Impress your guests with these cheesy, gooey vegan mac and cheese bites! Made with chickpea pasta and baked instead of fried.
These vegan cheesy pesto rolls will be ready to bake in 15 minutes, a fun way to celebrate a vegan Thanksgiving!
Vegan Thanksgiving Soups
Creamy, delicious, and cozy Thanksgiving soup will keep you warm and satisfied.
If you love butternut squash but hate having to peel and cut it, we have a great trick for you! It will save you a ton of trouble and will make this Roasted Butternut Squash Soup extra sweet and creamy. A really easy Thanksgiving soup recipe.
Creamy Vegan Pumpkin Soup with a unique. Warm, comforting with a crunchy savory granola topping, a real crowd-pleaser for Thanksgiving and all winter long.
This soup may not have the traditional Thanksgiving flavors, but it's stunning, nutrient-rich, and simple enough to serve at any weekday meal, but will also steal the show at your Thanksgiving dinner! A must-try Vegan Thankgiving Recipe!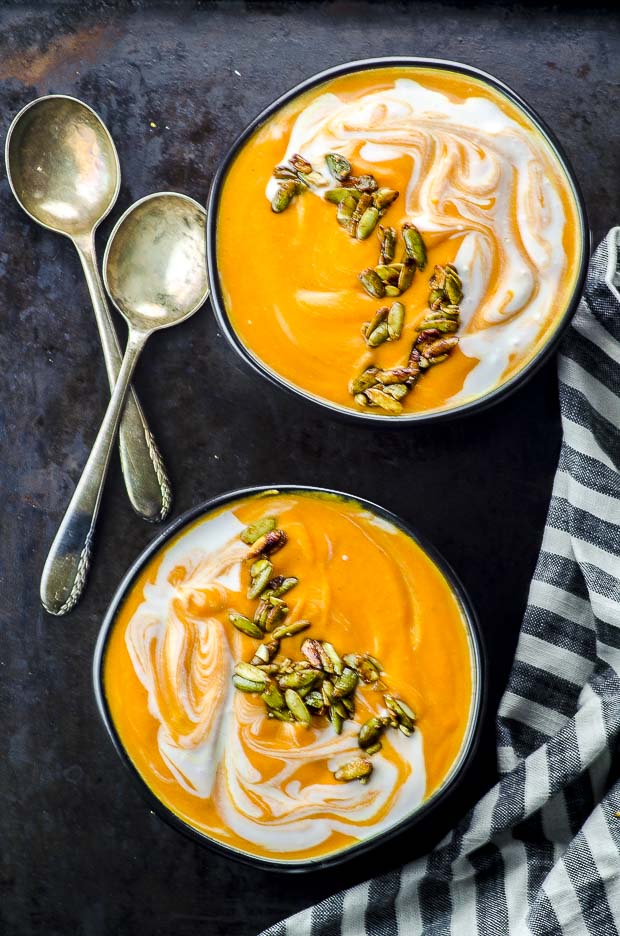 Sweet potatoes don't always have to be paired with marshmallows on Thanksgiving. This vegan sweet potato soup is a creamy combination of hearty sweet potatoes, healthy zucchini, and warming spices. It's an irresistibly delicious and light Thanksgiving soup.
Vegan Thanksgiving Dinner Main Dishes
If you're having vegan or vegetarian guests this Thanksgiving, these vegan Thanksgiving main dishes will take the stress out of planning what to make for them. Bonus: everyone will want to dig into these great Thanksgiving recipes!
This Vegan Shepherd's Pie is the ultimate vegan comfort food. Warm, delicious, comforting, and full of flavor. A great Vegan Thanksgiving recipe that can also be enjoyed all year long.
Need an easy, elegant, no-fuss meatless entree for your VeganThanksgiving dinner? Check out this Tempeh Wellington recipe! We think you'll love it!
This is a really simple dish that is creamy, comforting, and absolutely delicious! Make it as a weeknight dinner or include it on a Thanksgiving Dinner menu and watch it become an instant fall favorite.
Olive oil crust and white wine and Herbes de Provence "gravy" make these mini pot pies really flavorful and a little lighter than the traditional butter and cream-based version. You will not miss the turkey with this vegan Thanksgiving recipe.
Pumpkin Vegan Cannelloni with Cashew Cream is a super satisfying meatless dish to add to your Thanksgiving table! This recipe is high in protein, creamy, flavorful, vegan, gluten-free, and quick and easy to make.
This easy roasted butternut squash dish will take center stage at your Vegan Thanksgiving Dinner!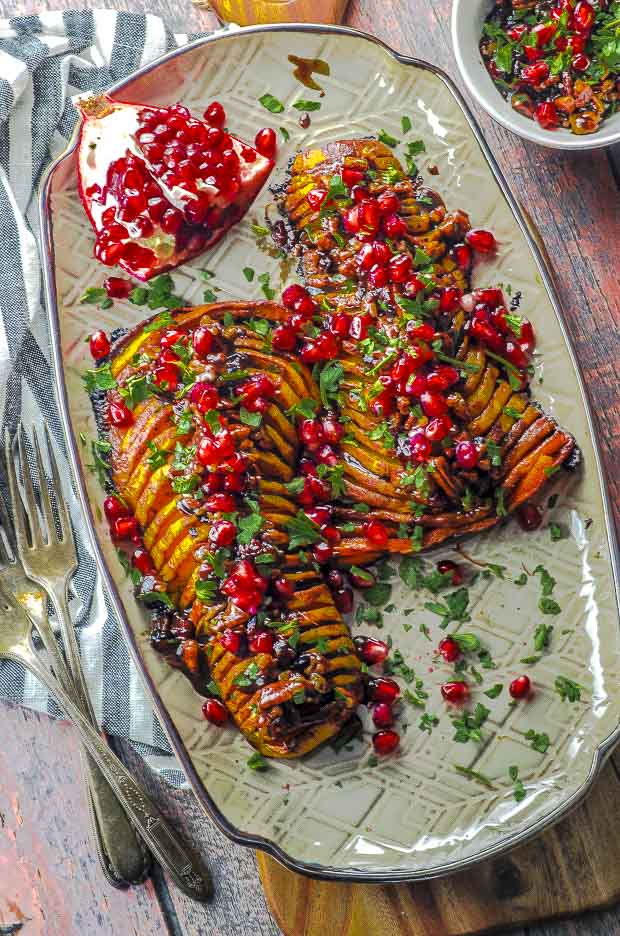 No turkey? No problem! Stuff these cute little pumpkins with a hearty mix of wild rice, vegan chorizo, squash, and veggies and you're all set!
A Vegan Thanksgiving main dish that even meat-eaters will enjoy!
A hearty vegan entrée for Thanksgiving, this savory Sweet Potato Shepherd's Pie brings together ingredients that are incredibly nutritious and comforting at the same time!
Vegan Thanksgiving Sides & Salads
Vegetables, stuffing, rolls, cornbread, sweet potatoes, and much more!
This Lemon Cranberry Vegan Cornbread is great for breakfast or as a side on your Vegan Thanksgiving holiday table.
Move over green bean casserole! There's a new (and healthier) side in town. Fresh, crunchy, nutty, and just delicious.
Spice up your holiday table with these Roasted Green Beans & Fresh cranberries with Dukkah, which are quick and easy to make.

This stress-free, grain-free, gluten-free, meat-free Thanksgiving Cauliflower Stuffing recipe might be just what you need to start the weekend...
These moist, slightly sweet vegan biscuits are a Southern favorite and are great when served for dinner and breakfast!
Creamy and comforting, this mashed cauliflower recipe can easily replace mashed potatoes on your Thanksgiving table! And the hearty herbed chestnut topping adds a wonderful punch of flavor. A favorite Vegan Thanksgiving Side.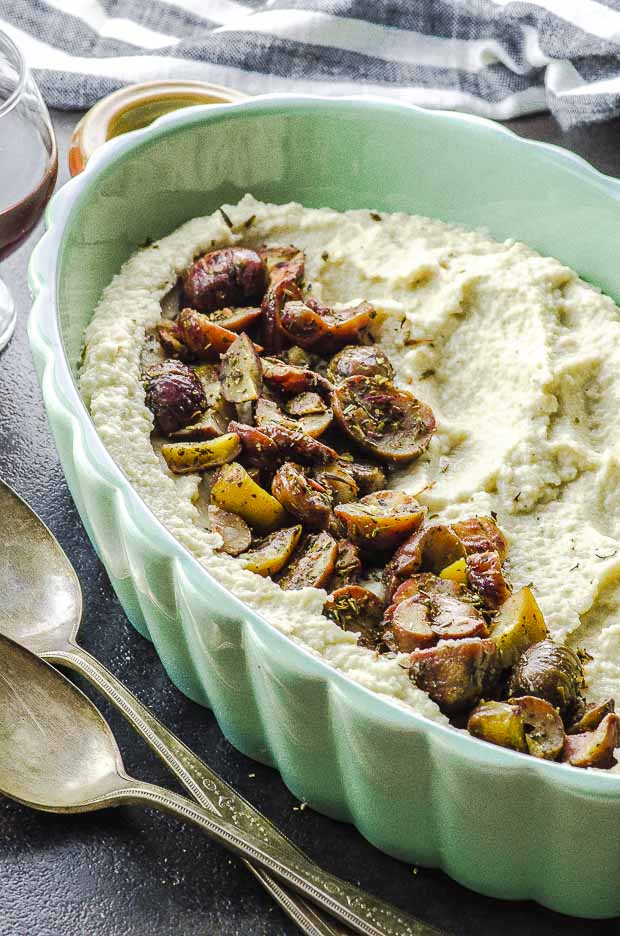 This delicious cornbread stuffing has great versatility and will fast become a family favorite at your Vegan Thanksgiving holiday meal.
Roasted Sweet potatoes stuffed with dried fruit and drizzled with a maple pomegranate reduction, a healthy and comforting side dish that everyone will enjoy.
Sweet, savory, creamy, and delicious sweet potato pie. Serve as a side dish or as a not-so-sweet dessert.
Adding Chianti wine and pears to fresh cranberries results in a bold-flavored chutney. A fun delicious twist on the classic cranberry sauce, perfect for your Vegan Thanksgiving Table.
Tired of serving the same old stuffing every year? Check out this Vegan Butternut Squash Apple Stuffing recipe and you'll surprise everyone at the Thanksgiving table!
A little twist on a Thanksgiving dinner favorite that your vegan and gluten-free guests will be thankful for!
This easy vegan mushroom gravy will make your non-vegan friends speechless, wondering if its time for them to give up meat!
Savory. Warm. Crunchy. Sweet. Not typically words you would associate with fennel salad, but in this case, it's all of that and more.
A powerhouse quinoa salad recipe that brings a double-dose of protein and antioxidants.
Looking for a great dish to entertain AND to wow your guest on your Vegan Thanksgiving Dinner? You'll love this Vegan Kale Caesar Salad With Mushroom Bacon Bits!
Use tahini instead of butter in these mashed potatoes. A Middle Eastern twist that is as creamy and delicious and will definitely surprise your guests!
Vegan Thanksgiving Desserts
We've got your dessert covered, from pies to mousse, ice cream, and cake!
This a super easy bourbon pecan pie recipe with an unusual ingredient that helps hold the filling together. Can you guess what it is? It will become the star dessert of your Vegan Thanksgiving dinner!
This vegan cranberry pear pie is the perfect way to end your Thanksgiving meal. With the right balance of sweet and tart, and pretty to look at!
If you're a pumpkin lover, you must try our pumpkin coffee cake! Super moist, with a sweet, crunchy tahini oat topping that is to die for.  Do you prefer traditional streusel? We give you that option as well!
This is a perfectly moist pumpkin bread that's totally vegan! It isn't overly sweet, but it's perfectly spiced and filled with pumpkin flavor and a sprinkle of mini chocolate chips. A Vegan Chocolate Chip Pumpkin Bread will become your favorite fall and winter breakfast, snack, or dessert bread.
All the flavors of pumpkin pie come together in this vegan pumpkin pie parfait. We made it dairy-free, vegan, and gluten-free, the perfect ending to your Vegan Thanksgiving dinner.
Do you wanna learn how to make vegan pumpkin pie from scratch? Check out this super easy recipe. So rich and creamy, who needs eggs or evaporated milk?
This Pumpkin Mousse Cashew Cheesecake has all the pumpkin pie flavors we all love and the creaminess and richness of a traditional cheesecake. All vegan, dairy and gluten-free!
Super creamy and luscious vegan pumpkin ice cream with a gluten-free topping and crunchy pecans. Heavenly Thanksgiving recipe!