Our delicious, protein-rich carnival squash recipe is perfect for a special brunch, lunch, or dinner. Wow your guests with a sweet and savory filling cooked right in the squash for a beautiful presentation that tastes as good as it looks. This is a vegetarian recipe you can be proud to serve.
What is Carnival Squash?
This beautiful winter squash variety is fairly new as it was first developed in 1991. The squash has a striped yellow and green appearance. It is firm on the outside when ripe and tender when baked. Carnival Squash is low-calorie, is high in vitamin A and is a good source of vitamin C as well.
What Carnival Squash Tastes Like
Roasted carnival squash has a buttery sweetness reminiscent of maple syrup, which is why it pairs so well with that ingredient. It also has a slightly nutty quality similar to other winter squashes in the same family.
Buying and Storing Carnival Squash
Winter squashes are in season in the Fall and Winter and can be kept in a cool dry location for up to one month. Do not keep them near a heat source or in direct sunlight.
How to Cook Carnival Squash
We have two different parts to this vegetarian carnival squash recipe. The first part is to roast it once, and the second is to roast it again with the stuffing in place. Each part requires different ingredients.
Ingredients in our Carnival Squash Recipe
Ingredients for the Roasted Carnival Squash
Carnival squash: Each squash will serve two people.
Maple Syrup: The perfect touch of sweetness and flavor.
Salt: Just a little to bring out flavor intensity. Salt to taste.
Cinnamon: This seasoning pairs so well with winter squash and highlights the naturally sweet, nutty flavor of the vegetable.
Ingredients for the Stuffed Carnival Squash Recipe
Beluga Lentils: You can use any other lentil of your choice if this one is difficult to find. Lentils give this dish a high protein value and I love the texture they bring to the table as well. Learn More about lentils in our Mujadara recipe post
Frozen Spinach: Frozen is almost as rich in nutritional value as fresh, and it keeps better until you are ready to use it.
Extra Virgin Olive Oil: Using EVOO brings even more healthy fats to this recipe, and also adds flavor. Don't waste your fat in this recipe using something flavorless.
Shallot or Small Onion: Either will work, not all grocery stores have shallots available year-round. Don't stress about that.
Trader Joes Sofrito Spice Blend: If you live near Trader Joe's, it's worth getting the spice blend. If not try using a spice blend with pepper, lemon peel, and herbs, or use lemon pepper and your favorite dry herbs.
Salt and Cumin: The perfect seasoning combo for this dish.
Balsamic Vinegar or Apple Cider Vinegar: We like the acidity that vinegar gives to the stuffed squash, you can omit it or drizzle some balsamic glaze before serving the carnival squash.
Sheep's Milk Feta Cheese: Or vegan feta cheese. We recommend Violife - and we are not sponsored to say that.
Step-By-Step Instructions for Cooking Carnival Squash
Before you begin, preheat your oven to 400º F. The lentils will take a while to cook through, so the first thing you will do is get your lentils going on the cooktop. While the lentils are cooking, begin the process of baking the squash for the first time.
To bake the carnival squash, you will cut each one in half, spread it with maple syrup, salt, and cinnamon, and bake these for about 45 minutes until the squash is tender.
While the squash is baking is the perfect time to start preparing the stuffing. Squeeze as much water as you can from the thawed spinach and set it aside. When the lentils are cooked tender, drain them with a colander and set those aside as well.
Heat the olive oil in a large skillet. Add the shallots and cook these over medium heat for 3-5 minutes or until translucent. Add the spinach, lentils, sofrito spice blend, salt, and cumin and cook over medium-low heat for 10-15 minutes or until the spinach is cooked and the flavors have blended together. Next, add the balsamic vinegar and mix well.
Taste and adjust seasoning as desired. Take into consideration that the lentils and spinach will be topped with feta cheese, which tends to add saltiness.
Fill each carnival squash half with a heaping half a cup of lentil filling
Sprinkle the crumbled feta cheese evenly on each squash half. Bake for 15-20 minutes or until the cheese is melted and bubbly or slightly browning.
Tips for the Best Results for this Twice Baked Carnival Squash
Check to make sure your squash hasn't developed soft spots or rot anywhere on the flesh. You want a firm, ripe but not soft outer flesh for best results.
Make sure to thaw the frozen spinach ahead of time so you can remove most of the water.
If you are tasting as you go, do not oversalt this dish. The feta is added at the very end and has a high salt content.
If you cannot find feta, you can use parmesan as a subsitute in this case.
FAQ
How long can I keep leftover stuffed carnival squash?
Leftovers of this sweet and savory stuffed carnival squash recipe will last for three to four days in the refrigerator and can be reheated in the microwave. However, they are best eaten straight from the oven, and you should be able to simply make one per person.
Can I freeze Roasted Carnival Squash?
While you can freeze roasted carnival squash without the filling, I recommend waiting to add the filling and continue the recipe to make these fresh right before serving.
Is the stuffed carnival squash recipe vegan?
No. However, you can make a vegan option easily enough by subbing in a Vegan cheese.
More Vegetarian Squash Recipes
Print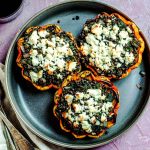 Roasted Carnival Squash with Spinach and Lentils
---
Description
Our delicious, protein-rich carnival squash recipe is perfect for a special brunch, lunch, or dinner. Wow your guests with a sweet and savory filling cooked right in the squash for a beautiful presentation that tastes as good as it looks. This is a vegetarian recipe you can be proud to serve.
---
2

Carnival squash

2 tbsp

maple syrup

¼ tsp

salt

¼ tsp

cinnamon
For the Stuffing
1

cup

uncooked beluga lentil (or any other lentil of your choice)

1

cup

frozen spinach, thawed

1 tbsp

extra virgin olive oil

1

shallot or small onion

1 ½ tsp

of Trader Joes Sofrito Spice Blend (See note #1)

½ tsp

of salt

¼ tsp

cumin

1 tbsp

balsamic vinegar or apple cider vinegar (See note #2)

4

oz

Sheep's Milk Feta Cheese (about ½ cup crumbled) or vegan feta cheese (we recommend Violife - not sponsored)
---
Instructions
Preheat the oven to 400F
Combine the lentils with 4 cups of water. Bring to a boil, lower the temperature and simmer for 20-30 minutes or until tender, but not mushy (you want the lentils to keep their shape. Cooking time will depend on the type of lentil used)
Cut each carnival squash in half width-wise. Scoop out the seeds and rub each half evenly with maple syrup, salt, and cinnamon. Bake for 45 minutes or until the acorn squash is tender (time will depend on the size of the squash). Remove them from the oven and let them cool slightly
While the squash is baking, start preparing the stuffing. Squeeze as much water as you can from the spinach and set it aside. When lentils are cooked, drain them with a colander and set them aside
Heat the olive oil in a large skillet. Add the shallots and cook over medium heat for 3-5 minutes or until translucent. Add spinach, lentils, sofrito spice blend, salt, and cumin and cook over medium-low heat for 10-15 minutes or until the spinach is cooked and the flavors have blended together. Add the balsamic vinegar and mix well
Taste and adjust seasoning as desired.  Take into consideration that the lentils and spinach will be topped with feta cheese, which tends to add saltiness
Fill each carnival squash half with a heaping half a cup of lentil filling
Sprinkle the crumbled feta cheese evenly on each squash half. Bake at 350F for 15-20 minutes or until the cheese is melted
Notes
If you live near Trader Joe's, it's worth getting the spice blend. If not try using a spice blend with pepper, lemon peel, and herbs, or use lemon pepper and your favorite dry herbs
We like the acidity that vinegar gives to the stuffed squash, you can omit it or drizzle some balsamic glaze before serving the carnival squash
Here's more information about the  nutritional value of carnival squash
Prep Time:

10

Cook Time:

90

Category:

Dinner

Method:

Oven

Cuisine:

Mediterranean
Nutrition
Serving Size:

1 carnival squash half

Calories:

341

Sugar:

12

Sodium:

707

Fat:

10.1

Saturated Fat:

4.8

Unsaturated Fat:

4.7

Trans Fat:

0

Carbohydrates:

49.6

Fiber:

6.8

Protein:

17.3

Cholesterol:

25.2
Keywords: vegan, gluten-free, vegan option, kosher,