We have over 500 vegan recipes on our blog you can find vegan dinner recipes, soups, chilis, tacos, bowls. desserts, and more. We have selected some of our most popular and best vegan recipes. Our colorful plant-based dishes are filled with flavorful healthy whole foods such as vegetables, beans, grains, fruits, and plant-based proteins. Enjoy!
A flavorful and authentic Homemade Falafel with Lemony Tahini Sauce that will blow your mind! Use fresh chickpeas and a muffin tin to create one of our most popular vegan recipes.
If you've never heard of Mujadara, you're in for a real treat! This traditional vegan Mediterranean dish is anything but fancy. It's affordable, easy to make, and so, so comforting. Super satisfying and filling this gluten-free and vegan recipe makes a perfect weeknight dinner!
Cauliflower Quinoa Vegetarian Meatless Meatballs in Coconut Turmeric Broth - A succulent vegan dinner idea and a great way to try some new vegan recipes.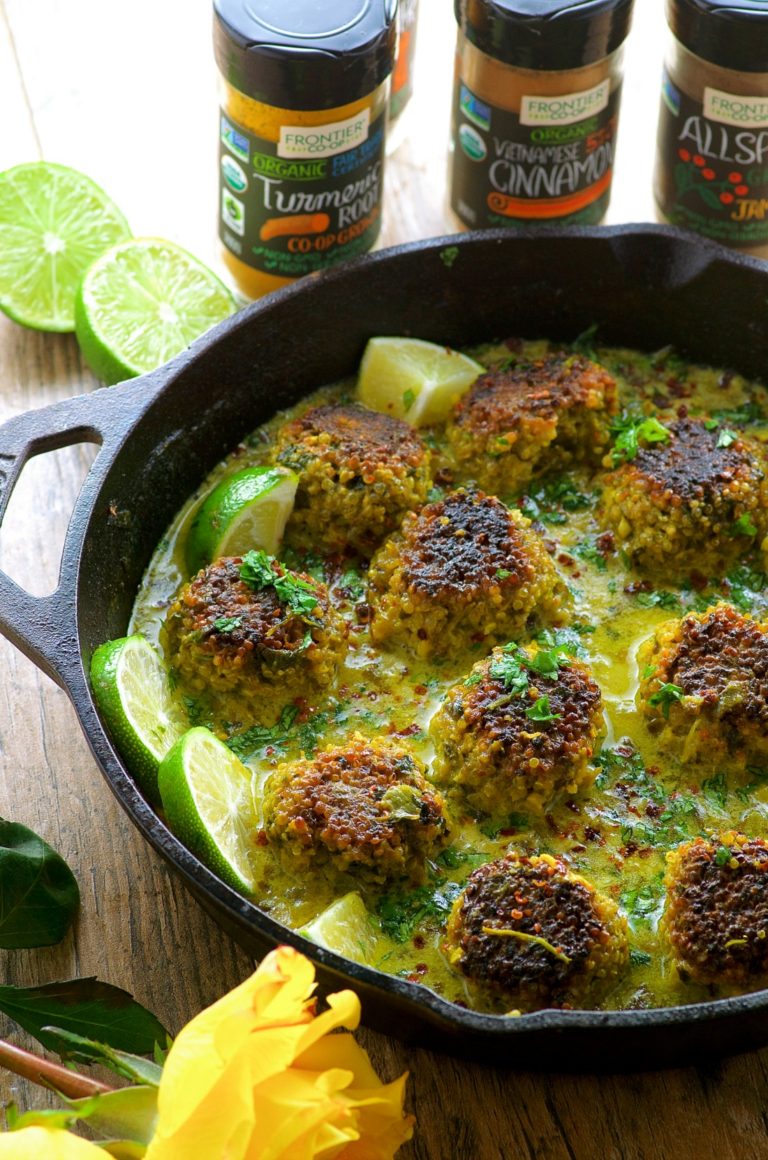 Bring the delicious flavors of your favorite Indian restaurant to your home with this super flavorful vegan eggplant and chickpea curry dinner recipe. Loaded with spices and incredibly easy to prepare.
Vegan Tacos for under 200 calories? Yes, please!! These tacos Al Pastor are bursting with flavor and wrapped in light and fluffy low cal whole wheat tortillas. A quick and easy vegan dinner recipe.
Our vegan black bean soup is hearty, warm, comforting and bursting with flavor. All you need are a few simple pantry ingredients, some veggies, and done! Bonus: it tastes even better the second day ( if you have leftovers, that is... ).
Not your everyday vegetable stew! Delicious vegetables, chickpeas, and our Moroccan inspired spice blend add a punch of flavor to this super comforting veggie-filled vegan dinner dish. One of our tastiest vegan recipes.
This Vegan Shepherd's Pie is the ultimate vegan comfort food. A few veggies, some chestnuts topped with creamy mashed potatoes is all you need to enjoy this warm, delicious and comforting vegan recipe.
A complete quick and easy to make vegan recipe. This meal in a bowl is loaded with chickpeas, black and kidney beans, and sweet potatoes. This vegan chili will be ready to eat in less than an hour.
Get all of your ingredients on one pan and dinner is served! This Veggie Loaded Tempeh Sheetpan Dinner with Tahini & Turmeric Sauce is a great vegan dinner idea when you are short on time.
Cannellini Bean, Quinoa and Kale Soup
Hearty, warm, filling and comforting, this vegan soup with kale, cannellini beans and quinoa will keep you full for hours. Vegan, gluten-free, and best of all, you'll only have one pot to clean up!
Roasted chickpeas are not only a super nutritious, healthy snack but also the star of this super simple, protein and fiber-packed vegan cauliflower bowl!
This quick and easy high-protein pasta puttanesca dish evokes the warmth and passion of Sicily, it makes an incredible vegan meal when paired with a fresh green salad.
Root vegetables, spices, chickpeas, and lentils come together beautifully in this Moroccan inspired Harira soup, a nutritious and filling, and one-pot meal. Vegan and gluten-free.
We created this vegan recipe to celebrate our Tahini and Turmeric Cookbook launch. This easy vegan recipe creates a magnificent dish in both taste and presentation. These Quinoa Lentil Meatballs are made with lentils, quinoa, a delicious sofrito, spices in a creamy Tahini and Turmeric Sauce.
Za'atar Roasted Sweet Potatoes with Tahini and Silan are a festive, beautiful, and delicious vegan side dish that looks perfect on weeknight and holiday tables! You'll find yourself making it all winter long and craving it constantly.
These incredible vegan tacos combine deep umami tastes of portabella mushrooms, Middle Eastern spices and luscious tahini guacamole.
This easy rigatoni with lentil bolognese is made very few ingredients that you most likely have hiding in your pantry! The simplicity of this vegan dish lets the flavor and heartiness of the lentils shine.
This Vegan Ramen Bowl is exactly what you need to get you through the winter, We are loading our immune system with weapons of mass germ destruction with this awesomely delicious bowl of vegan ramen. It is rich in immune-boosting ingredients and so tasty you'll want to make it every week!
Vegan Pot Pie with White Wine Gravy and Olive Oil Crust is filled with plant-based protein and rich flavors that create the most satisfying vegan main dish!
Move over take-out. This tahini miso eggplant vegan bowl is full of flavor, super easy to prepare and ready in 30 minutes!
This Roasted Stuffed Butternut Squash with Israeli Couscous and Veggie Sausage is a beautiful and easy vegan main dish.
This Vegan Tempeh Black Bean Burger is nutritious and filled with plant-based protein (18 grams per burger).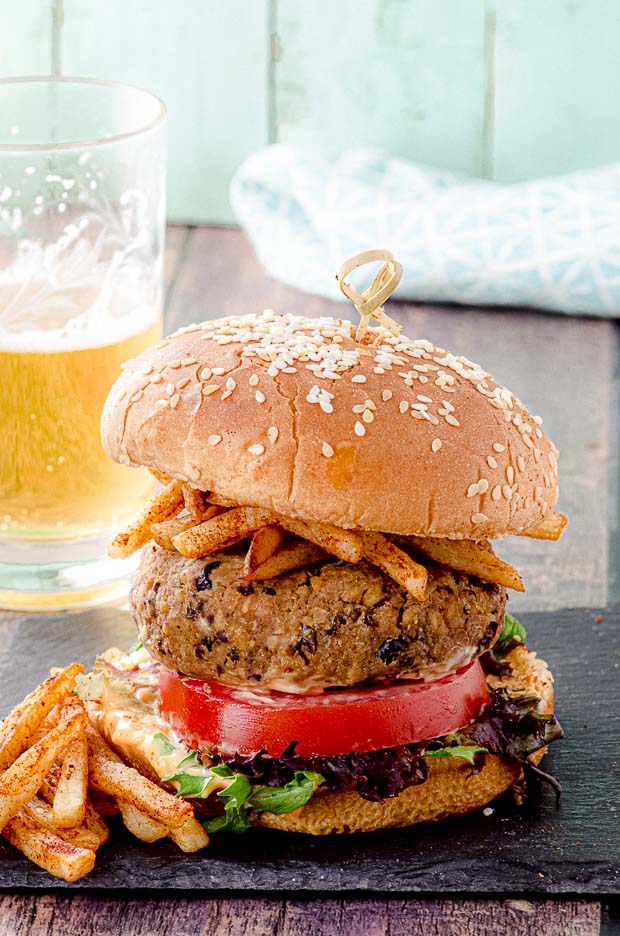 Delicious, exotic, and beautiful -- our recipe for gluten-free Singapore Noodles uses black bean vermicelli-style pasta, curry, and jewel-toned vegetables to create a wonderful interplay of flavors.
15-Minute High Protein Black Bean Noodle Vegetable Lo Mein - a quick, easy, nutritious and delicious vegan dish that is ready in a snap! 29 grams of plant-based protein per serving!
Ever wondered how to cook cranberry beans and what to do with them? Then this vegan recipe is perfect for you. It is quick, simple and super flavorful.
Tired of the same old muffins? Spice up your breakfast (or snack break) with these fragrant and unique ginger, turmeric pear vegan muffins.
This warm and comforting pear and blueberry crisp makes the perfect breakfast, snack, and even dessert! Nothing fancy or complicated, but it'll make your house smell as if you had been baking banana bread all day! No refined sugar added, vegan, gluten-free and grain-free.
This deliciously decadent and oh-so-easy Tahini Stuffed Date recipe dipped in decadent dark chocolate can be enjoyed as an afternoon treat, or as the most enchanting dessert.
Our delicious Chocolate Peanut Butter Chickpea Cookie Dough Balls are a portable, protein-packed energy vegan cookie that will give you a boost when you're on the go.
Once you try this super easy, fool-proof vegan banana bread, you won't want to use any other recipe! Sweetened with maple syrup and bananas, no mixer required!
Sweet potato brownies are the perfect chocolatey, rich and flavorful vegan, gluten-free dessert. And when you top these babies with nutty-sweet halva glaze, they're are hands-down delicious!
If you love chocolate, you'll go crazy over this Vegan Chocolate Cake! It's easy to prepare (no mixer needed!) and super fudgy and decadent!
This vegan blueberry crumble is like a huge scoop of summer on a plate! Takes less than 10 minutes to prepare, then the oven does the rest of the work! The perfect treat for blueberry lovers.
These vegan halva bars are definitely not your everyday dessert! Absolutely irresistible, strangely addictive and gluten free.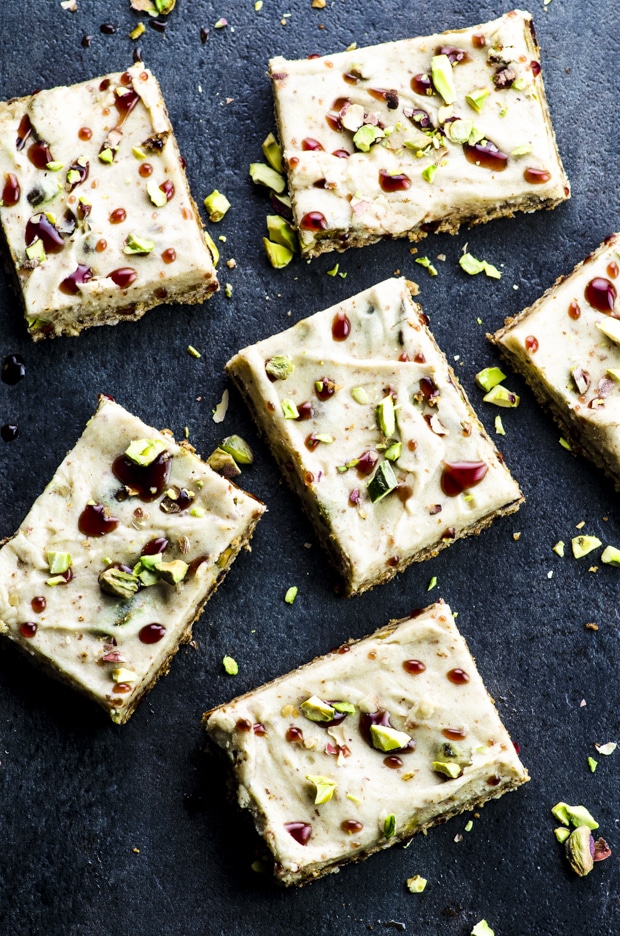 An awesome vegan lemon bars. Refreshing and not too sweet.
Vegan Tiramisu - home made vegan sponge cake,whipped topping, chocolate and coffee. Need we say more??
Deliciously nutty and sweet Tahini Cookies are made with nutty tahini, sweet silan (date syrup), and rolled in sesame seeds.
These fabulous cranberry coconut cookies dipped in rich dark chocolate are quick and easy to make. Just place all the ingredients in a food processor and let the oven do the rest of the work. They are so delicious you won't believe they are vegan and gluten-free. We suggest you make a double batch, they won't last long!
Maamoul is a buttery pistachio, date or walnut filled semolina cookie. Subtly scented with orange blossom, so decadent it scrumptiously melts in your mouth.
Check out some of our other vegan recipes.