These vegan recipes are for you if you are either looking to incorporate more vegan food into your diet, get new vegan dinner recipes, want to discover new easy vegan desserts or just want to eat more easy and healthy meals. From vegan dinners to sides, salads, soups, and desserts, we've got you covered! We have chosen some of our best vegan recipes for you to try. All super flavorful and nutritious, to guarantee you won't miss the meat!
BEST VEGAN DINNER RECIPES:
Cauliflower Quinoa Vegetarian Meatless Meatballs in Coconut Turmeric Broth - A succulent vegan dinner idea and a great way to try some new spices. One of our best vegan recipes with over 127K shares on Pinterest.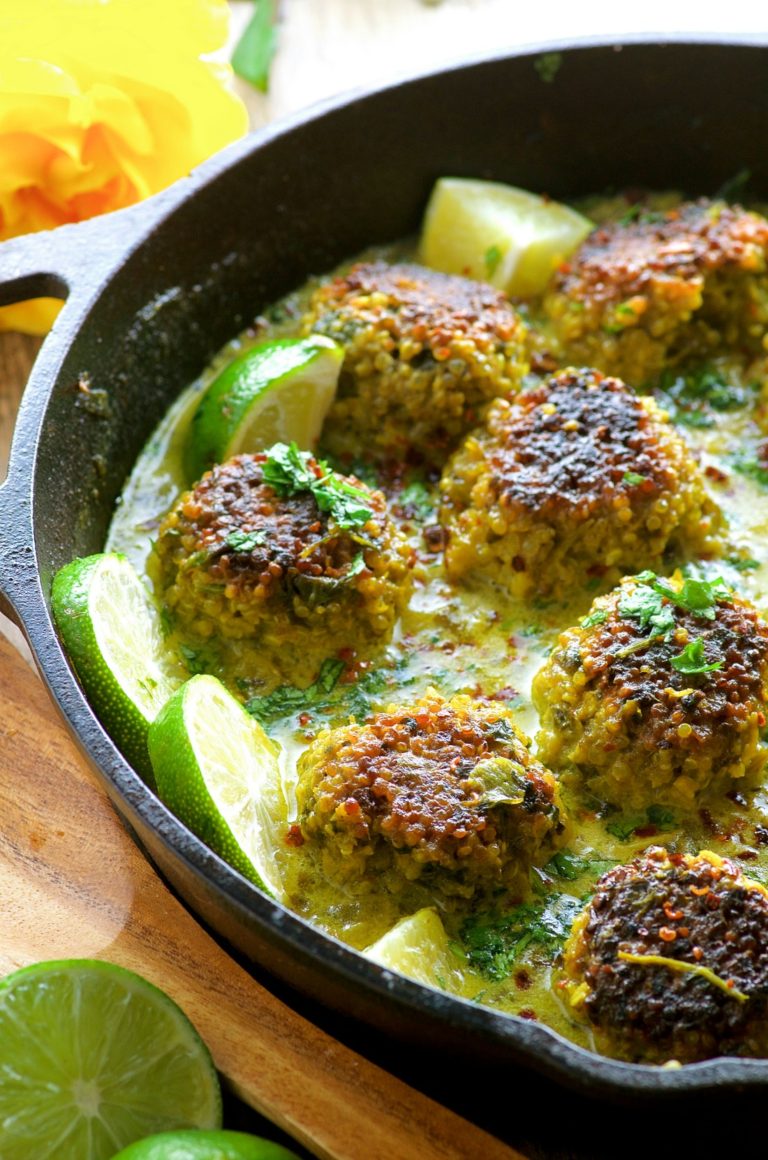 This Vegan Gluten Free Quinoa Paella is a delicious twist on the Spanish classic. Quick and easy to make, full of flavor and plant-based protein. A weeknight or holiday vegan dinner.
Forget take out! Bring the delicious flavors of your favorite Indian restaurant to your home with this super flavorful vegan eggplant and chickpea curry. Loaded with spices and incredibly easy to prepare. Who says vegan recipe lack flavor?
Tacos for under 200 calories? Yes, please!! These tacos Al Pastor a bursting with flavor and wrapped in light and fluffy low cal tortillas. This easy vegan recipe comes together is less than 30 minutes.
This super simple and nutritious quinoa fried rice is loaded with vegetables and bursting with flavor. An easy weeknight vegan dinner that everyone will love.
Served over rice, with a hint of coconut flavor, rich tomato sauce and lots of bold spices, this braised curried kale is hearty and a super tasty vegan recipe!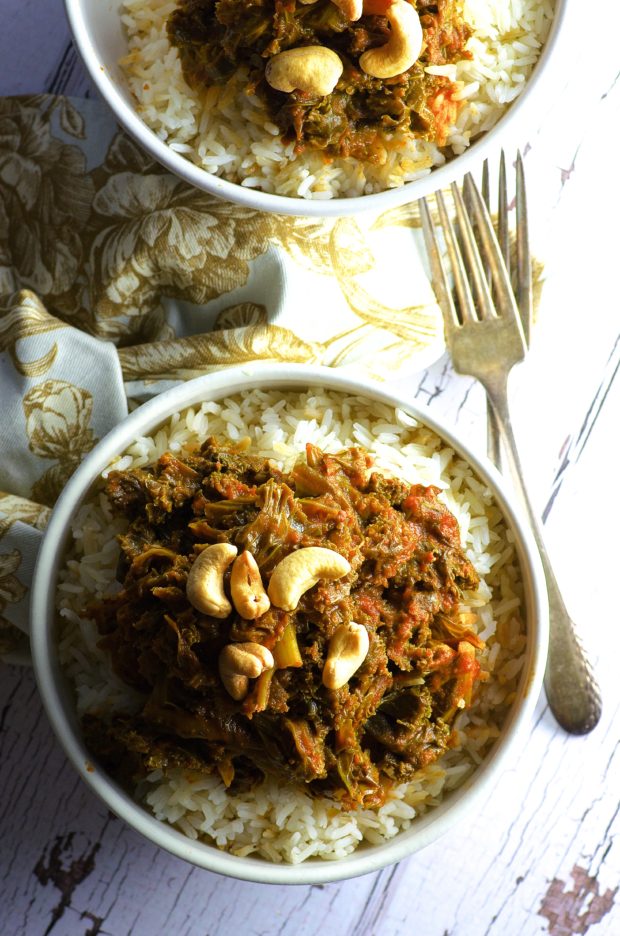 Shiitake mushrooms give this high protein fried rice a great umami flavor, and add a meaty texture, without the meat! Vegan and gluten-free dish!
BEST VEGAN SOUPS
This thick and hearty Vegan Lasagna Soup is packed with fiber plant-based protein. Vegan and gluten-free, is a comforting a satisfying vegan meal in a bowl!
A one-two punch of savory spicy goodness, this one-pot meal kale soup will please your senses and keep you satisfied for hours.
This Vegan Ramen Bowl is exactly what you need to get you through this nasty, frigid winter! Loaded with immune-boosting ingredients, you'll want to make it every week!
This beautiful orange-colored, nutrient-rich carrot ginger soup is simple enough to serve at any weekday meal, but will also steal the show at your holiday dinner! A simply awesome vegan soup!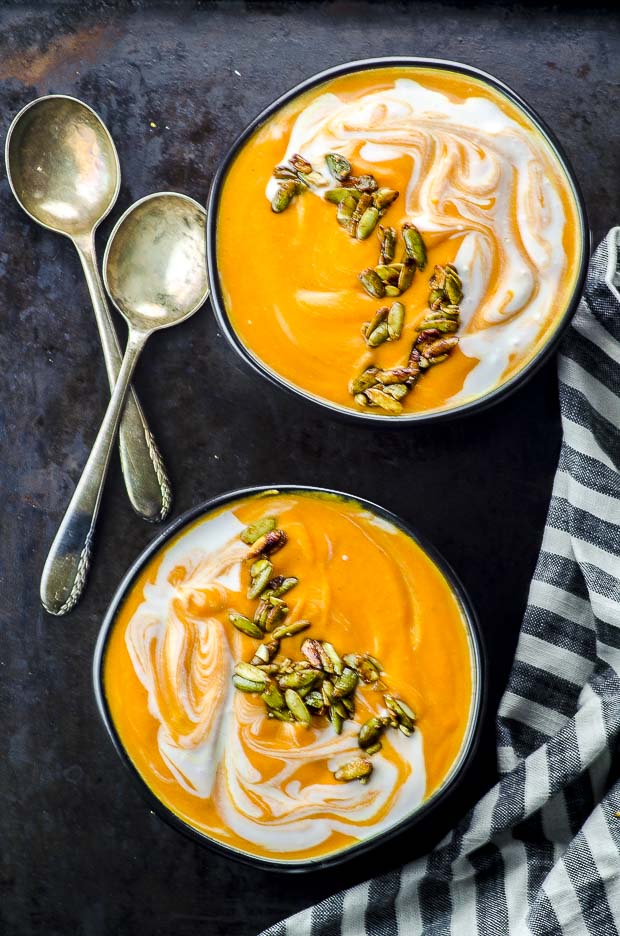 This tomato rice soup is quick and easy. It's perfect for those days when you don't have a lot of time to spend in the kitchen, but still want a warm, comforting, simple and yet delicious soup. All you need is a few common pantry ingredients and 30 minutes. Vegan and gluten-free.

Root vegetables, spices, chickpeas and lentils come together beautifully in this Moroccan inspired Harira soup, a nutritious and filling and one-pot meal. Vegan and gluten-free.
BEST VEGAN DESSERTS:
Creamy, rich, tangy and delicious vegan lemon bars. Have them for dessert, as a snack, they are a treat you'll fall in love with!
These vegan and gluten-free peanut butter oatmeal cookies are sweet, chewy and exploding with peanut butter flavor, simply delicious!
Once you try this super easy, fool-proof vegan banana bread, you won't want to use any other recipe! Sweetened with maple syrup and bananas, no mixer required! Easiest vegan dessert!
This vegan blueberry crumble is like a huge scoop of summer on a plate! Takes less than 10 minutes to prepare, then the oven does the rest of the work! The perfect treat for blueberry lovers.
This deliciously decadent and oh-so-easy Halva Stuffed Date recipe dipped in decadent dark chocolate can be served with afternoon coffee or tea, as a snack, or as the most enchanting vegan dessert.
The delightful texture, the rich and natural sweetness of dates, and the decadence of cocoa powder allow you to indulge in this chocolate chia pudding with absolutely no guilt.
Sweet potato brownies are the perfect chocolatey, rich and flavorful vegan, gluten-free and Passover-friendly dessert. And when you top these babies with nutty-sweet halva glaze, they're are hands-down delicious!
Vegan Double Chocolate Cake
If you love chocolate, you'll go crazy over this Vegan Chocolate Cake! It's easy to prepare (no mixer needed!) and super fudgy and decadent!
MORE EASY VEGAN RECIPES