Tired of the same old Rosh Hashanah Recipes? Are you looking for some Rosh Hashanah inspiration? Check out our Fabulous Rosh Hashanah recipes that everyone at your table will love!
18 Fabulous Rosh Hashanah Recipes that everyone will love
Meet our new favorite salad! Persimmon Fennel Salad with Pomegranate Seeds and Hazelnuts. A guaranteed crowd-pleaser with a wonderful balance of sweet and savory. One of our healthiest Rosh Hashanah recipes!
Rosh Hashanah Sweet Basmati Rice with Carrots & Raisins - This Sweet and fragrant basmati rice with carrots and raisins is the perfect vegetarian side dish for any holiday meal.  In our house, this is a Rosh Hashanah Favorite. Vegan and Gluten-Free and our most popular Rosh Hashanah Recipes!
Apples and Honey Challah for Rosh Hashanah. So soft, sweet and tempting, your guests will ask you: May I Have That Recipe?
This beautiful orange-colored, nutrient-rich carrot ginger soup is simple enough to serve at any weekday meal, but will also steal the show at your holiday dinner!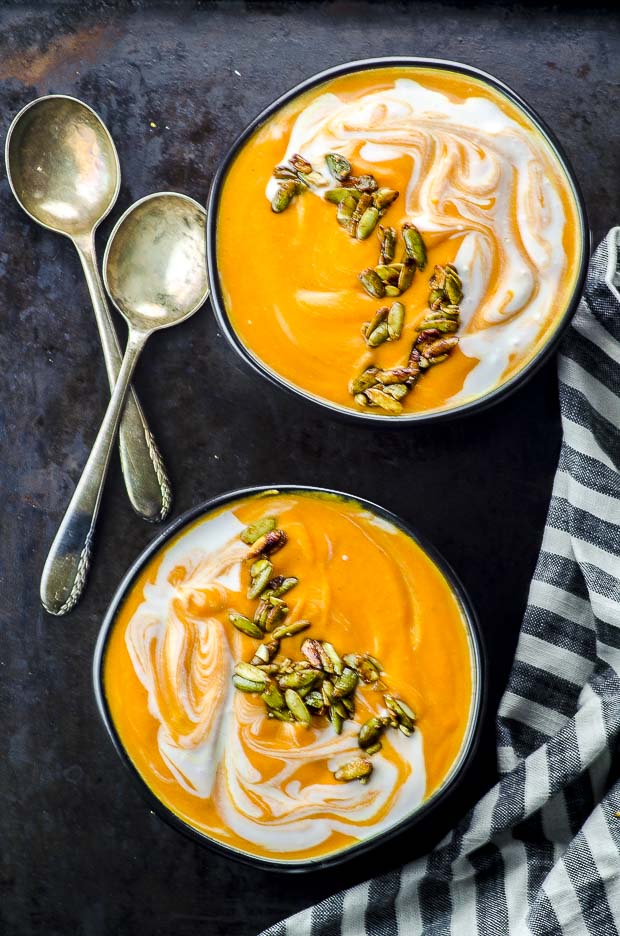 This super flavorful and comforting Vegetarian Matzo Ball Soup is just what you need this Rosh Hashanah. Made from scratch, no chicken, no boxed broth, no bouillon cubes needed! Our most creative Rosh Hashanah Recipe
A great side-dish that takes minutes to prepare, our Moroccan carrot salad has a beautiful presentation and it can be served with a casual supper or formal holiday meals.

This delicious Rosh Hashanah recipe and main course combines sweet and comforting mashed butternut squash with savory spiced chickpeas for an all-in-one meal that is perfect as a vegan entree or side dish for the cooling weather.
This easy roasted butternut squash dish will take center stage at any holiday meal.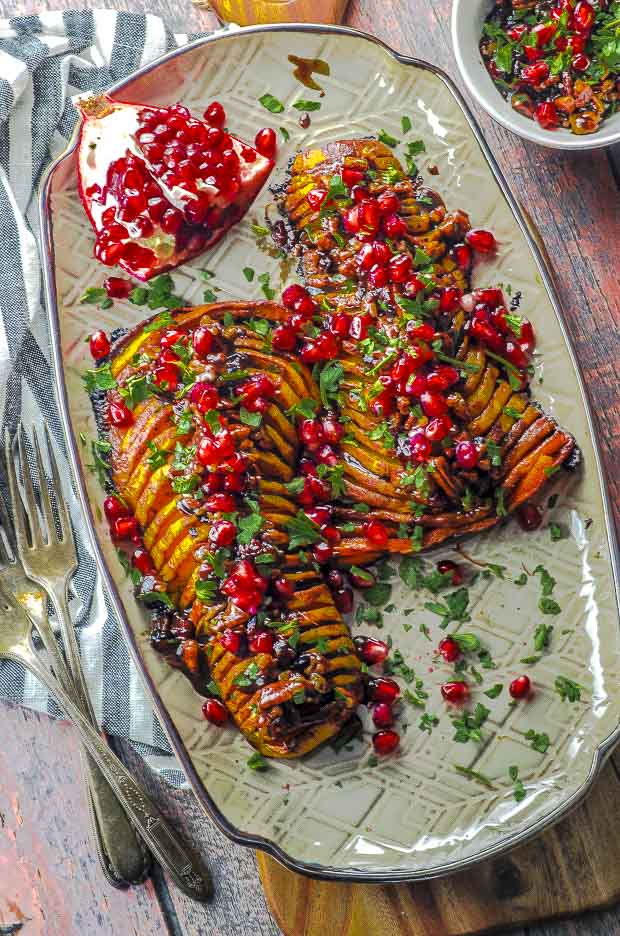 Bright, colorful and nutrient-packed, this super easy Quinoa Pomegranate Salad is the perfect dish to enjoy this fall. Serve it as a side, or make it a light lunch by adding your favorite protein!
We take the simple beet salad up a notch with caramelized roasted garlic and horseradish for an intensely-flavored side dish that everyone will love. This side dish will quickly become one of your favorite Rosh Hashanah Recipes.  You don't eat walnuts on Rosh Hashanah replaced them with pumpkin or sunflower seeds.
This deliciously decadent and oh-so-easy Halva Stuffed Date recipe can be served with afternoon tea, as a side dish, or as the most enchanting Rosh HaShanah dessert for the Jewish New Year.
Apple season is right around the corner, and we're welcoming it with this ooey-gooey semolina apple cake. One of our most unique Rosh Hashanah Recipes!
Treat your kids to these buttery, super comforting apple oat bars after the first day of school. They will love you for it (even more so than they already do! ). Vegan and gluten-free.