Tired of the same old Rosh Hashanah menu? Are you looking for some new Rosh Hashanah recipes ? Check these awesome Rosh Hashanah recipes.
Meet our new favorite salad! Persimmon Fennel Salad with Pomegranate Seeds and Hazelnuts. A guaranteed crowd pleaser with a wonderful balance of sweet and savory. One of our healthiest Rosh Hashanah recipes!
Rosh Hashanah Sweet Basmati Rice with Carrots & Raisins – This Sweet and fragrant basmati rice with carrots and raisins is the perfect vegetarian side dish for any holiday meal.  In our house, this is a Rosh Hashanah Favorite. Vegan and Gluten Free and our most popular Rosh Hashanah Recipes!
Apples and Honey Challah for Rosh Hashanah. So soft, sweet tempting, your guests will ask you: May I Have That Recipe?
A great side-dish that takes minutes to prepare, our Moroccan carrot salad has a beautiful presentation and it can be served with a casual supper or formal holiday meals.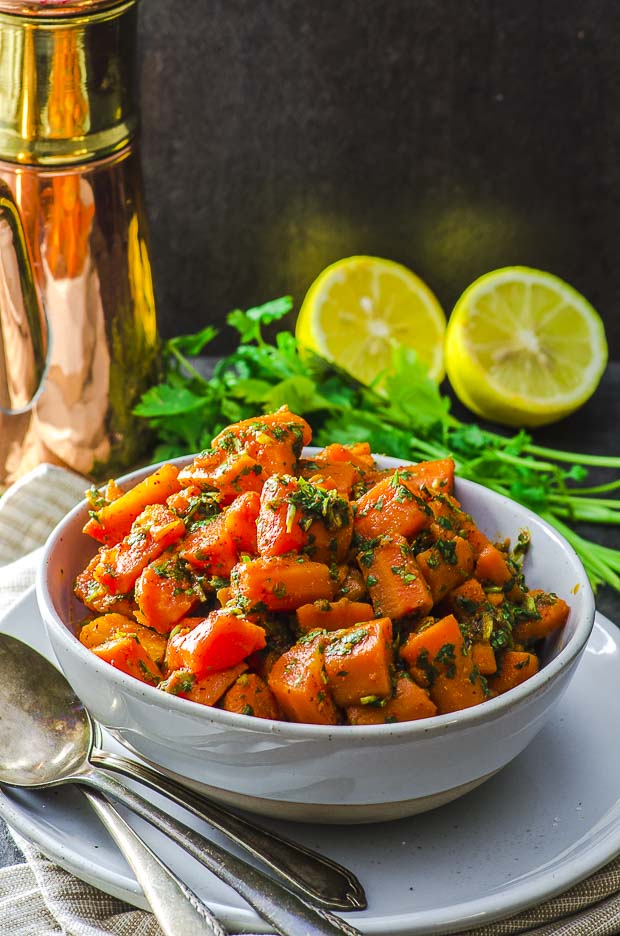 Bright, colorful and nutrient-packed, this super easy Quinoa Pomegranate Salad is the perfect dish to enjoy this fall. Serve it as a side, or make it a light lunch by adding your favorite protein!
This deliciously decadent and oh-so-easy Halva Stuffed Date recipe can be served with afternoon tea, as a side dish, or as the most enchanting Rosh HaShanah dessert for the Jewish New Year.
Sweet carrot and raisin basmati rice: https://mayihavethatrecipe.com/2012/09/11/a-rosh-hashana-family-favorite-sweet-basmati-rice-with-carrots-raisins/
Apples and Honey Challah: https://mayihavethatrecipe.com/2012/09/14/apples-and-honey-challah/
Beet carpaccio  and avocado salad with chia dressing: https://mayihavethatrecipe.com/2013/03/28/beet-carpaccio-with-avocado-chia-dressing/
Sweet stuffed grape leaves:  https://mayihavethatrecipe.com/2012/10/15/meatless-monday-stuffed-grape-leaves-with-dried-apricots/
Vegan Double chocolate cake: https://mayihavethatrecipe.com/2012/09/10/vegan-double-chocolate-yogurt-cake/
Apples and honey semolina cake: https://mayihavethatrecipe.com/2013/08/19/apples-honey-semolina-cake/
Spiced eggplant with pomegranate seeds: https://mayihavethatrecipe.com/2012/09/27/spiced-eggplant-with-pomegranate-seeds/
Rose water scented almond milk pudding: https://mayihavethatrecipe.com/2012/10/19/vegan-rose-water-almond-milk-pudding/