Stop what you're doing. Right now. Stop what you're doing and come check this out. Because whether you're a vegan or simply want to keep your diet as "clean" as possible, your life is about to get just a little bit easier… and a whole lot sweeter.
Just few weeks ago, as we were trying to come up with new vegan dessert recipes, we both had the same idea. We wanted to "veganize" one of our favorites: Tiramisu. An ambitious task, that's for sure. Because trying to recreate the creaminess and texture of  Mascarpone cheese and egg yolks? Not easy at all. Not to mention trying to make fluffy, spongy vegan ladyfingers!
We figured the best thing we could use to make the cream was some kind of whipped topping. Not exactly the same a Mascarpone of course, but pretty close texture wise. Instead of ladyfingers, we came up with a super simple recipe for a vegan sponge cake. So that was it, we got it!
Except, we didn't. Turns out the hardest task of all, was finding kosher, "clean" vegan whipped topping. Sounds kind of crazy, doesn't it? Everything we found either had some kind of dairy ingredient or was filled with chemicals.
Until, out of the blue, I stumbled upon a Facebook post from VegNews magazine, "introducing" the latest product from So Delicious: CocoWhip. A coconut based, clean, vegan whipped topping.
I had to laugh. Seriously, what are the odds??
We had to get our hands on some of it. And as soon as we did, courtesy of our friends at So Delicious, boom! Vegan tiramisu, done.
Now, if you think of all the super simple dessert recipes that, like us, you've always avoided  because they call for whipped topping, you'll understand why we're so excited about this product. And once you try it, we guarantee you'll be too.
Enjoy!
Print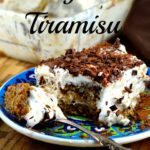 Vegan Tiramisu
---
Author:

https://mayihavethatrecipe.com

Prep Time:

20 mins

Cook Time:

30 mins

Total Time:

50 mins

Category:

Dessert

Cuisine:

Kosher / Vegan
Ingredients
1- 8×8 prepared vegan sponge cake (recipe follows)
1 cup coconut milk coffee beverage plus one tbsp instant coffee OR 1 cup strong brewed coffee (here we used So Delicious Cococcino )
1 tbsp coffee liqueur (or to taste)
1 tbsp whiskey (or to taste)
1 container vegan whipped topping, thawed (here we used So Delicious CocoWhip)
1 container vegan light whipped topping, thawed (here we used So Delicious CocoWhip Light)
1 tsp natural vanilla extract
Unsweetened cocoa powder and chocolate shavings for garnish
---
Instructions
Cut the cake in 3 strips. Slice each strip in half, lengthwise, so you have a total of 6 strips
Combine coffee beverage, coffee liqueur and whiskey in a wide bowl
Combine both whipped toppings in a large bowl. Add vanilla and fold until they are both well combined
Prepare a 6x8x2 glass container. Soak 3 cake strips in coffee mixture and place at the bottom of the container. Top with about 2/3 of the whipped topping mixture. Soak the remaining 3 strips of cake in coffee mixture, place on top and cover with the rest of the whipped topping mixture.
Top with cocoa powder and chocolate shavings
Refrigerate until ready to serve
Notes
Please not that depending on the temperature of your kitchen, the whipped topping might melt a little faster. If it becomes too liquid, once the tiramisu is ready freeze it for 30 to 45 minutes then transfer to the refrigerator
Print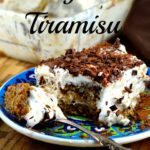 Vegan Sponge Cake
---
Author:

https://mayihavethatrecipe.com

Prep Time:

10 mins

Cook Time:

30 mins

Total Time:

40 mins

Yield:

1- 8x8 cake

Category:

Dessert

Cuisine:

Kosher / Vegan
Ingredients
1 cup plus 2 tbsp self rising flour
1/2 cup granulated sugar
2 tsp baking powder
Pinch of salt
1 cup unsweetened coconut milk beverage, lukewarm (here we used So Delicious )
1/4 cup coconut oil, melted
2 tbsp apple cider vinegar
1 1/2 tsp natural vanilla extract
---
Instructions
Preheat oven to 350F. Lightly grease a non stick 8×8 baking pan
In a large bowl, combine flour, sugar, baking powder and salt
In a small bowl, combine lukewarm coconut milk beverage, melted coconut oil, vinegar and vanilla. Mix well and slowly pour into flour mixture. Mix until just combined (do not overmix!)
Pour batter into baking pan and bake at 350F for 30-35 minutes
 This is NOT a sponsored post. all opinions are ours