Delicious chickpea recipes from salads, to soups, tacos, soups, veggie burgers and more. There are some many recipes you can make with chickpeas. Enjoy!
A flavorful and authentic Falafel Recipe with Tahini Sauce that will blow your mind! Use fresh chickpeas and a muffin tin to create one of the most popular dishes in the Middle East. One of our most popular chickpea recipes!
This is a savory and perfectly-spiced cauliflower salad is topped with Moroccan spiced chickpeas and a spicy tahini dressing. Put it all on a bed of peppery arugula, top it with crunchy almonds and juicy pomegranates and you will have the salad of your dreams! A Light and fresh chickpea recipe!
Over the years, we've created our fair share of veggie burgers. And each time, we think we've come up with the best, easiest, foolproof recipe... till the next one comes along. This time, we think we got it. For real. No chopping. No pre-cooking anything. Check out one of our most successful chickpea recipes!
You must really try this super comforting chickpea dinner made with healthy kale, spiced chickpeas in a warming sauce laced with delicious spices.
You are going to love this hummus recipe. It's really easy and simple to make at home. We're talking 5 minutes, a few ingredients, and just like that, you have the creamiest, dreamiest hummus. Top it with savory shawarma spiced mushrooms for a real treat! One of our easiest chickpea recipes!
Shakshuka it's been gaining popularity over the last few years and we're not surprised! It's a spicy and savory dish made with tomatoes, warm seasonings, and eggs all simmered together. We added chickpeas for an extra boost of protein and fiber. One of our quickest chickpea recipes!
Spiced chickpeas are a great addition to any salad, vegetarian entree or simply as a snack! We've kicked up ours a notch by using our Crazy Good Shawarma Mix. Prepare a few batches and keep them in your fridge. You'll thank us for it! One our amazing chickpea recipes!
This pasta with chickpeas, olives, and cheese is the grown-up healthier mac and cheese you didn't know you were missing! A perfect chickpea recipes for carb lovers!
Our wonderfully filling, gluten-free, vegan Chana Masala dish brings together chickpeas in a savory Indian garam masala tomato sauce served atop a generous helping of creamy Celeriac Puree. One of our most flavorful chickpea recipes.
Spiced Chickpeas are tossed with avocado and tomatoes in this amazing and easy chickpea salad. One of our most beautiful chickpea recipes!
This jewel-colored beet hummus takes an ordinary dip into an absolutely striking spread when served with fresh crudités, pita triangles, or your favorite crusty bread. One of our most stunning chickpea recipes!
Root vegetables, spices, chickpeas, and lentils come together beautifully in this Moroccan inspired Harira soup, a nutritious and filling, and one-pot meal. Vegan and gluten-free. One of our most comforting chickpea recipes!
This delicious main course combines sweet and comforting mashed butternut squash with savory spiced chickpeas for an all-in-one meal that is perfect as a vegan entree or side dish. One of our lightest chickpea recipes!
Boost your veggie intake with this super flavorful fennel and chickpea stew recipe. Seasoned with Herbes de Provence and just a touch of heat. One of our most comforting chickpea recipes!
Our homemade hummus recipe is simple, classic, super smooth, and creamy. The secret to a great and easy hummus is simply great quality tahini and chickpeas and freshly squeezed lemon juice. It only takes 5 minutes to make, once you've tried our homemade hummus you won't go back to store-bought.
This Easy Pasta Salad is easy to make and easy to love! It's packed with delicious Italian flavors and fresh summertime veggies that every guest at the table, picnic, BBQ or potluck will enjoy.
Topped with creamy cashew basil ricotta, arugula, tomatoes and spiced chickpeas and drizzled with a tangy pomegranate reduction, this Cashew Ricotta Pizza is like summer on a plate!
This vegan, gluten-free Shawarma Chickpea Nourish Rice Bowl is filled with warm spices and nourishing vegetables! It is sure to become your new favorite homemade Middle Eastern dishes.
This super colorful Falafel Bowl With Avocado, Sriracha & Tahini is a fun twist on the traditional sandwich. Lightened-up by baking the falafel instead of frying it.
Chickpea Stuffed Avocados, drizzled with Sriracha for a nice kick. A great addition to your Meatless Monday menu this summer and all year long!
Even meat-eaters will absolutely love these Vegan Gluten-Free Chickpea Tacos! A great addition to everyone's taco recipe repertoire 😉 Bright, colorful, finger-licking, chickpea tacos to brighten your day. All wrapped in a corn tortilla and topped with a garlicky coconut milk yogurt cilantro sauce.
This satisfying and body-warming Wheat Berry and Chickpea Soup feature antioxidant-rich chickpea, making it a great immune booster for the cold winter months. One of our most delicious chickpea recipes!
Not your everyday vegetable stew! Our Moroccan-inspired spice blend adds a punch of flavor to this super comforting veggie-filled dish. Warm-up this winter or anytime with our flavorful comforting mouth-satisfying Stew. One of our best chickpea reci
Forget take out! Bring the delicious flavors of your favorite Indian restaurant to your home with this super flavorful vegan eggplant and chickpea curry. Loaded with spices and incredibly easy to prepare.
Spiced Chickpeas are incredibly simple to make and have the most satisfying taste! They're full of flavorful spices and can be eaten as a snack or used as a topping on bowls, salads, baked potatoes, roasted sweet potatoes and even yogurt.
Roasted chickpeas are not only a super nutritious, healthy snack but also the star of this super simple, protein and fiber-packed cauliflower bowl!
Love sheet pan dinners? So do we! 5 minute of prep time, 30 minutes in the oven, and done. And the combinations are endless! We see a lot of these in our future... We're starting with a Cauliflower Chickpea Sheet Pan Dinner that packs so much flavor, it will knock your socks off.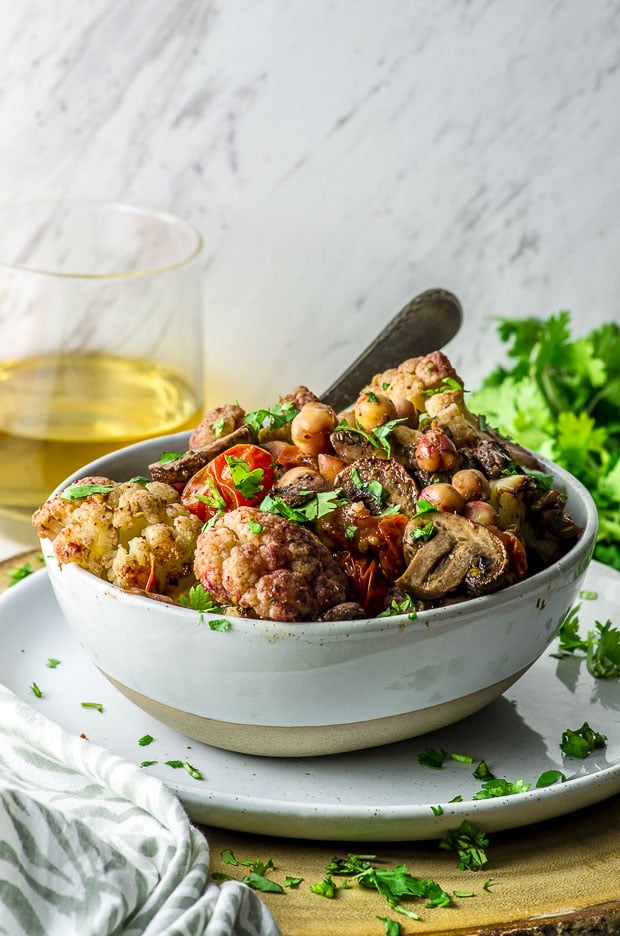 Chocolate Hummus - A Healthier Chocolate Spread
Our Chocolate Hummus recipe brings together the rich taste of chocolate with the creaminess of ground chickpeas for a sweet and healthy dessert-spread that's easy to prepare without any cooking time. One of our sweetest chickpea recipes!