Donuts and latkes are traditional Chanukah foods. Enjoy our best selection!
Tahini, pistachios and a touch of cardamom make these donuts absolutely irresistible… and make you wish you could celebrate  Chanukah all year long!
Do you wanna learn how to make the crispiest potato latkes you've ever tasted? Keep reading! We have some great tips, including some by one of the hottest chefs in the Philadelphia area!
Apple cinnamon baked vegan donuts with a sprinkle of cinnamon sugar, a sweet breakfast to start Chanukah with a good amount of energy!
Yukon gold potatoes with lots of cilantro and a touch of turmeric. No eggs here! (Cilantro haters, you can sub parsley or basil!)The best vegan potato latkes for Chanukah.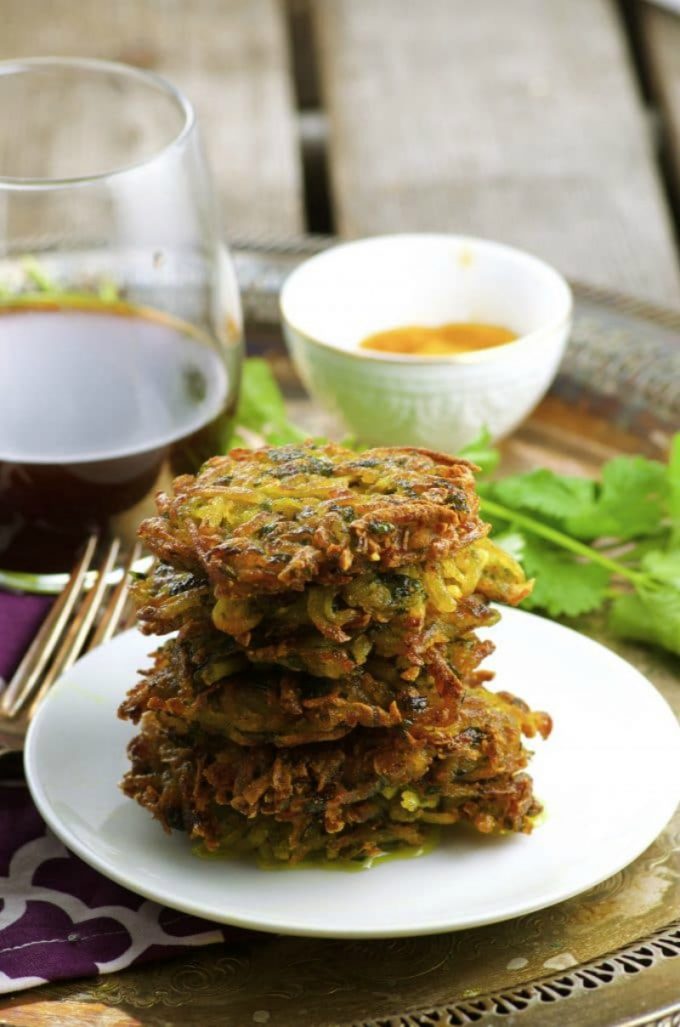 The easiest, moistest Chocolate banana bread donuts you will ever taste!
Apple Potato Latkes with Tahini Silan Sauce
https://mayihavethatrecipe.com/apple-potato-latkes-tahini-silan-sauce/ 

Shredded Yukon gold potatoes and apples fried to perfection. The dipping sauce is made with tahini and silan, the Middle Eastern peanut butter and jelly.  Your sweetest Chanuka latkes!
Delicious vegan cake donuts that combine the bright sweetness of Meyer lemons with juicy blueberries.
Carrot and Parsnip Latkes
Carrot and Parsnip Vegan Latkes
One more latke recipe before Hanukkah ends! These Vegan Latkes are a bit non-traditional, because they don't have any potatoes, but they are just as delicious. Super easy, one-bowl recipe!
Perfect for a holiday mashup!! These little bites of heaven are filled with homemade dairy-free eggnog cream, and homemade dulce de leche.
Salty, airy and slightly addictive, these bite-sized donuts are a great (and different) addition to your Chanukah.
These baked butternut squash latkes are beautifully infused with Asian flavors like ginger, sesame seeds and soy sauce