Perfect Rosh Hashanah side dish – The rice is infused with fragrant spices, sweetened with dried apricots, figs and cherries with a nice crunch form pomegranates and pistachios
As most of you know, we grew up in Barcelona, Spain. Not exactly the easiest place for Jewish upbringing… and while we loved the beautiful city, it was often difficult during the Jewish holidays. The only family we had around were our aunt and uncle and cousins. We became this sort of huge family, and managed to collect plenty of fun and warm memories, especially from our Holiday dinners: our oldest cousin constantly teasing his sister, all the girls just laughing for no apparent reason, our father trying to keep a straight face and our bellies so full, we couldn't even move from the table.
The main meal was always amazing, but believe it or not, the symbolic foods we ate at the beginning were our favorites. Our mom would make zucchini and spinach frittatas, cold leek soup "shots" and we would also eat dates, apples with sugar (yes, sugar, not honey!), pomegranates with rose water and head of fish or lamb (ok this part we really didn't like at all, but everything else was delicious!!)
So, as you can see, Rosh Hashanah at our home was never a simple affair.  For us it was the time of year we looked forward to, to spend time with family and enjoy the best food: lamb, kibbeh, meat sambusek, spiced roast with mushrooms, lots of salads and sweet rice ( you can guess we weren't vegetarian back then!).
The Syrian Lebanese cooking we grew up eating didn't usually include  sweet flavors in savory dishes.  However, in Rosh Hashanah, our mom would make an exception and make the most delicious sweet carrot and raisin rice.  It was always a big success and we brought the recipe with us when we moved to the US.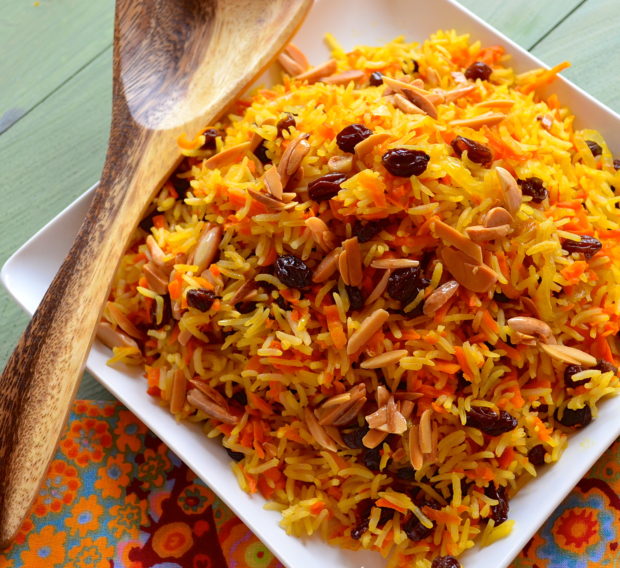 This year, we decided to change things around a little.  The first night of Rosh Hashanah we will make our moms carrot and raisin rice (just to keep the tradition). The second night, we will serve this sweet fragrant rice that includes our mom's favorite ingredients. Flavored with warm spices like paprika, turmeric and cumin and topped with dried apricots, figs and cherries.
For the recipe and to see our guest post on The Nosher ,  click here
What is your favorite Holiday (any Holiday!) dish?  Please share… We'd love to hear from you
Follow us on Instagram & Facebook  ! Leave us a comment or post a picture of your own version of our recipes. Tag us @mayihavethatrecipe .