Pan con tomate is one of our favorite things to make in the summer with fresh, juicy, tomatoes. Pan con tomate is a tapa from the Cataluña (Catalonia) region of Spain. Toasted crusty bread, fresh grated tomatoes, extra virgin olive oil, garlic, and salt. Comfort food, Barcelona Style!
What Is Pan Con Tomate?
Pan con Tomate translates into "bread with tomato." It is basically toasted rustic bread rubbed with a garlic clove topped with grated or rubbed tomato, drizzled with good quality olive oil, and sprinkled with salt. This beautiful bread is a simple dish but incredibly delicious and satisfying. Traditional Pan con Tomate originates in the Spanish region of Cataluña.
What Is Pan con Tomate Called In Catalonia?
In the Catalonia region of Spain, the traditional dish known as pan con tomate is called pà amb tomàquet in Catalan. In Catalonia (known as Cataluña in Spanish or Cataluyna in Catalan), the language spoken is Catalan. The Catalan term for pan con tomate is pà amb tomàquet. The word pà is translated as bread in Catalan, while tomàquet is tomato. In Spanish the word for bread is pan and the word for tomato is tomate.
Whenever we go back to Barcelona, the city where we were raised, it's the first thing we want to eat. In Barcelona, you can pretty much find it in any tapas bar or restaurant.
Ingredients for Pan con Tomate
Because the recipe is so easy and simple, the quality of the ingredients matters a lot. Fresh juicy, flavorful tomatoes are key; we love making pan con tomate in the summer when tomatoes are at their peak flavor. A Good quality olive oil also elevates this humble dish. A flaky sea salt, such as Maldon sea salt is a wonderful addition!
So the ingredients are bread, tomatoes, olive oil, garlic, and salt. That's it!
How to Make Pan con Tomate
Pan con Tomate is made by simply toasting or grilling crusty bread, rubbing a peeled clove of garlic on the bread first, then rubbing it with the cut side of the tomato, and adding a generous amount of olive oil and salt (no measurements needed here, just grab a spoon and drizzle on your EVOO and then sprinkle it with salt to taste.
Traditionally this dish is made by rubbing a ripe, juicy tomato into toasted bread. Our mom always grates the tomato using the large holes of a box grater so that we get more tomato flavor in every bite. This method has become popular, and many restaurants and tapas bars in Spain make it the way. Mami definitely found a way to improve on the classic process.
The secret is good tomatoes, excellent extra virgin olive oil, and beautiful toasted crusty bread! Don't let the simplicity of this Spanish tomato bread fool you. Once you taste it, you'll absolutely love it, guaranteed!
Grate fresh summer tomatoes into tomato pulp.
Peel and cut a clove of garlic in half, and rub it on the toasted bread.

Always use good quality extra virgin olive oil when making this pan con tomate, it makes a huge difference!
Spread freshly grated tomato on the toasted bread.
Serving Suggestion For Pan Con Tomate
Place the toasted bread in a tray next to a bowl of grated tomatoes, peeled garlic cloves, a bottle of good quality extra virgin olive oil, and some salt. Let each person build their own pa amb tomàquet.
Make sure to select good, ripe tomatoes! Find a farmer's market and buy them in season if you can. Nothing compares.
Alternatively, you can make a tomato mixture. In a bowl mix the tomato pulp, olive oil, and salt and it will be ready to spread on toasted bread.
What is the Best Bread for Pan Con Tomate?
We love good sliced country bread, a fresh loaf of ciabatta bread, sliced sourdough, and even a Fresh Baguette. Any beautiful crusty bread will work perfectly for this pa amb tomaquet. In Barcelona, you can ask for any sandwich with pan con tomate and they will rub a ripe tomato on the bread before assembling the sandwich.
What are tapas?
Tapas are little plates of food served in tapas bars thru-out Spain. Each region of Spain has its own specialty tapas, and pan con tomate is found mainly in the Spanish area of Catalonia. The food served in little rustic tapas plates can be hot or cold, and it can be as diverse as a couple of scoops of stew, to a slice of tortilla de patatas to a little plate of Marcona almonds or a plate of patatas bravas.
A little personal story...
Growing up, our dad would bring the most amazing fruits and veggies from his garden, especially during the summer. Super sweet tomatoes, giant watermelons, cherries, figs...
He still has that garden today, and whenever we go visit, we take our kid's fruit and veggie picking. They always have a blast (even now that they're grown!) and get super excited to eat what they pick. Do you want to get your kids excited about eating fruits and veggies? Show them where they come from and get them involved!
We used to pick tons of produce, but the best, and our favorite by far, were the tomatoes.
So sweet and juicy, you could eat them off the vine as if they were apples!! And just perfect for Pan con Tomate.
Frankly, pan con tomate is delicious on its own, but you can also top it with:
Manchego cheese
Roasted mushrooms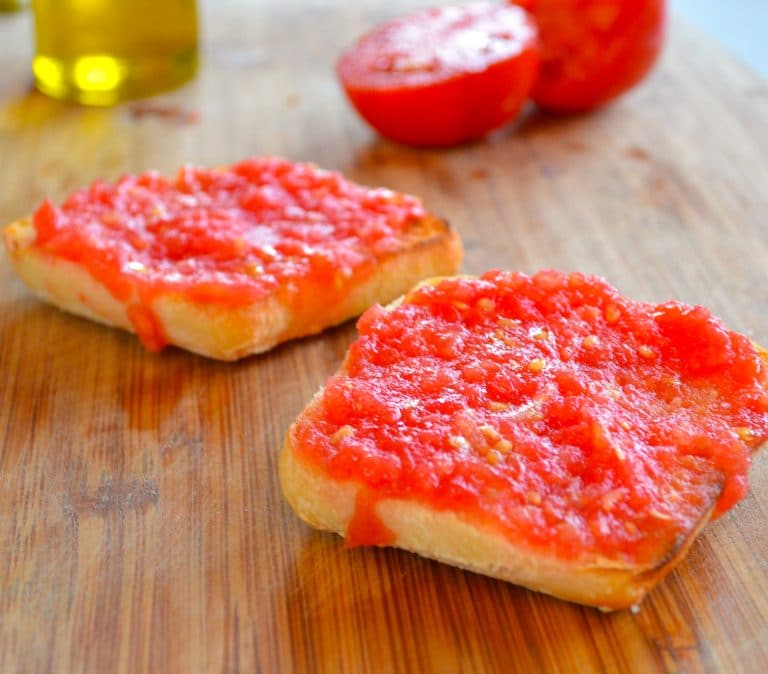 Did you like our pan con tomate recipe?
If you enjoyed this recipe, it would help us tremendously if you left us a star rating in the comments below or on the recipe card. Do you have any questions about the recipe or do you need a swap for any of the ingredients? We are here to help, just leave us a question in the comments below.
Print
Pan con tomate
---
Description
Pan con Tomate is the simplest most delicious tapa from Spain. Toasted bread, tomatoes, olive oil, garlic, and salt. Comfort food at its best.
---
Ciabatta, Baguette, or Sliced Crusty Rustic Bread, as much as you need
Ripe, flavorful tomatoes
Garlic cloves (optional)
Extra Virgin Olive oil
Salt
See Note regarding amounts
---
Instructions
Toast or grill the bread
Grate tomatoes in a large bowl (See Note 4)
Lightly rub the toasted bread with a garlic clove (if using garlic)
Drizzle bread with olive oil
Spread the grated tomato over the bread
Add salt to taste
Enjoy plain or with your favorite topping (some of our favorites are tortilla de patatas and Manchego cheese)
Notes
Use as much bread, tomatoes, olive oil, and salt as you need, depending on how many people you have at your table
If you like fresh garlic, peel and cut a clove of garlic in half and rub it on the toasted bread.
You may grate the tomatoes one day ahead and keep them in a glass airtight container in the fridge.  We wouldn't recommend grating the tomatoes more than one day ahead.
Drizzle olive oil and spread the tomato right before serving, to prevent the bread from getting soggy. You can also place the toasted bread in a tray next to a bowl of grated tomatoes, some peeled garlic cloves a good bottle of olive oil, and some salt. Let each person build their own " pan con tomate ". 
Alternatively, you can use the traditional method. Cut a tomato in half, rub the cut side into the toasted bread, drizzle with olive oil, and sprinkle with salt. 
This post was originally published in August 2012 and updated on June 23, 2020.
Prep Time:

5 mins

Cook Time:

10

Category:

Appetizer

Method:

raw

Cuisine:

Spain
Nutrition
Serving Size:

½ ciabatta roll

Calories:

136

Sugar:

3

Sodium:

223

Fat:

3.7

Saturated Fat:

.8

Unsaturated Fat:

1.8

Trans Fat:

0

Carbohydrates:

22

Fiber:

2

Protein:

5.2

Cholesterol:

0
Keywords: pan con tomate, bread, tomatoes, garlic, appetizer, summer, Spain, tapas,