These Low Carb Flax and Chia Seed Keto Crackers are paleo, vegan, gluten-free, and will satisfy your craving for crunchy foods when you're on a low-carb diet. They're nutty, savory, loaded with healthy fats and fiber, and best of all, crunchy! They are worth the time it takes to bake them.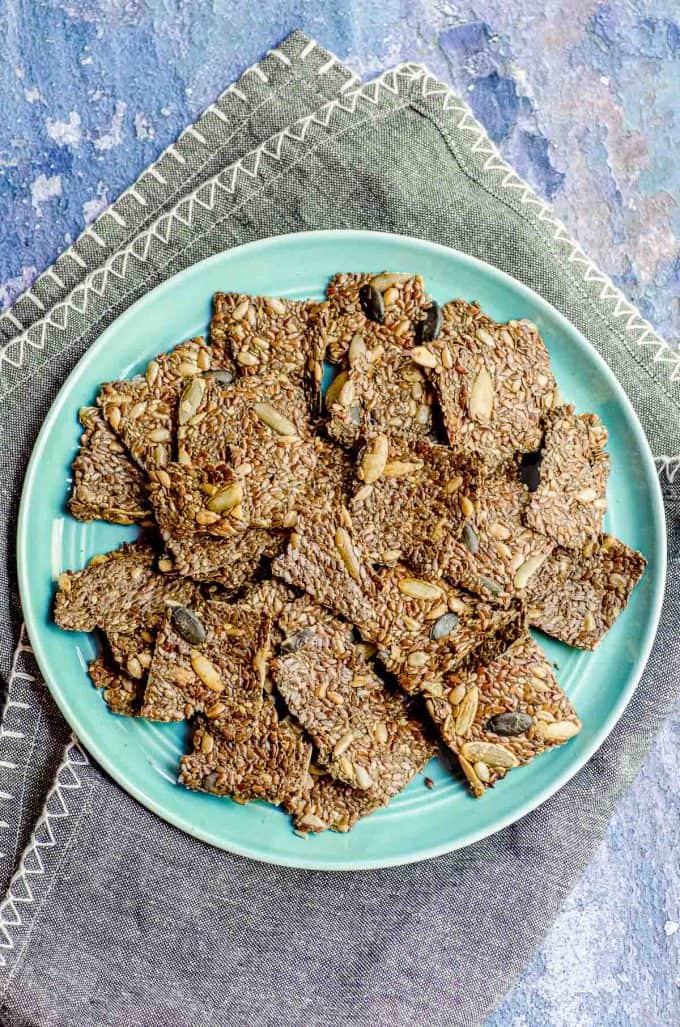 One of the first things people start to miss on a low-carb or keto diet is the crunch that you get in crackers, pretzels, toast, and all those carb-filled snack foods! With that in mind, we created these satisfying crackers with a great crunch that are perfect for dipping in guacamole, hummus, or eating on their own. These flaxseed crackers are a great low-carb, gluten-free, vegan, and Keto cracker option!
Low-Carb Cracker Ingredients
These nut-free crackers are filled mainly with seeds! This keeps them low in carbohydrates while being really flavorful and high in nutrients.
Flax seeds - These brown or golden seeds are heart-healthy and high in fiber.
Chia seeds - These black or white seeds are high in fiber, protein, and omega-3s (a healthy fat!)
Sunflower seeds - Sunflower seeds are an excellent source of vitamin E, folate, copper, magnesium, phosphorus, selenium, vitamin B6, iron and zinc.
Pumpkin seeds - They provide plant-based protein, plenty of fiber, omegas 3 and 6, and important minerals including iron and zinc.
Seasonings - Salt and za'atar, but if you don't have za'atar, any dry herb works well! Try oregano, herbes de provence, chili lime seasoning, Italian blend, Shawarma spice mix, or Garam Masala
This is a great way to change up the flavors each time you make these crackers!
What Are Chia Seeds?
Chia seeds are native to central and southern Mexico. They're tiny and oval in shape with a neutral flavor that makes them perfect for recipes like this because they absorb the other flavors in the recipe! You may see white or black chia seeds, but there's little difference between the two.
What Are Flax Benefits?
Flax (sometimes called linseed) is a flowering plant! Flax seeds are used in many different ways to add nutrients, most notably fiber, into different dishes and recipes. You can use them as simply as sprinkling them on top of oatmeal! For this recipe they're soaked in water with chia seeds before being baked.
How to Make Keto Crackers
First soak the flax and chia seeds in water. They will absorb the water, thicken and form a seed-based "dough"
Add more raw seeds like pumpkin and sunflower seeds. Another good option is to add raw sesame seeds.
Choose your favorite seasoning
Spread the mixture evenly on the lined baking sheet and bake at low and slow for 90 minutes. Flip it over and bake for another 90 minutes.
Let the crackers cook and enjoy!
For even size crackers, score the dough with a knife before baking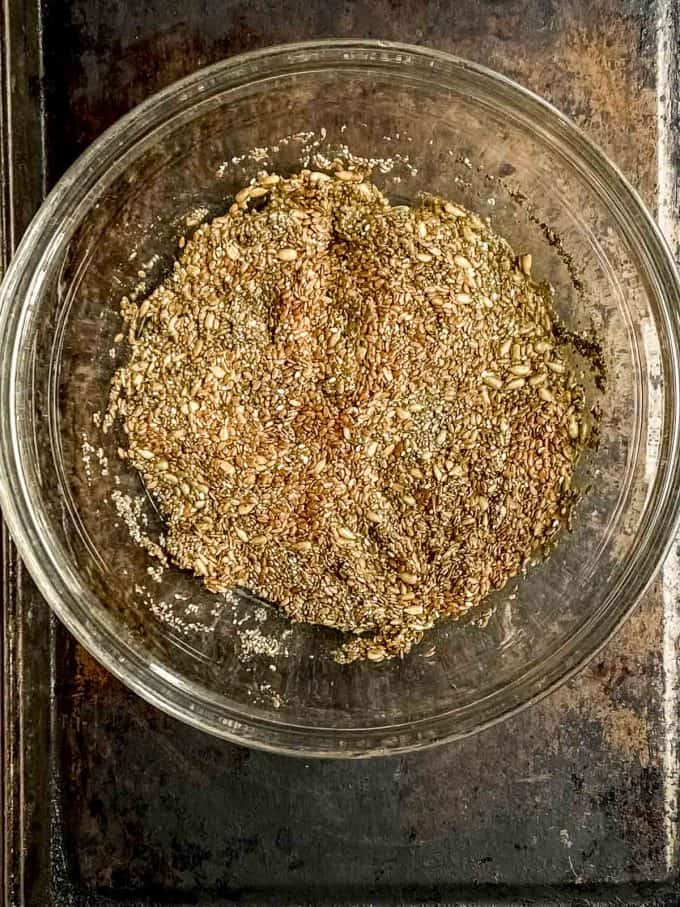 Tips On How to Make The Best Flax Chia Seed Crakers
These crackers are pretty simple to make, but there are a few tips that will make the process a bit easier!
Make sure you line the baking sheet with parchment paper to make flipping the crackers as easy as possible and to prevent them from sticking to the baking sheet.
Use raw sunflower and pumpkin seeds. Double check any packaging to make sure they aren't already roasted or they may burn.
Having wet hands makes spreading the "dough" out onto the sheet a lot easier!
Don't try to speed this process up! It takes a full 3 hours in the oven (flipping them after 90 minutes) to get perfectly crunchy crackers, and we promise it's worth it. You can make the dough a day ahead and keep it in the refrigerator before baking.
Your finished crackers can be kept in a cool pantry for 2-3 weeks or frozen up to 3 months.
More Cracker & Dip Recipes
Print
Flax Chia Seed Keto Crackers
---
Description
These Low Carb Flax and Chia Seed Crackers are Keto, paleo, vegan, gluten-free and will satisfy your craving for crunchy foods when you're on a low carb diet.
---
1 cup

flax seeds

3 tbsp

chia seeds

1 cup

water

3 tbsp

sunflower seeds

3 tbsp

pumpkin seeds

1 ½ tsp

salt (or to taste)

3 tbsp

za' atar (see note #1)

1 tbsp

date syrup (optional)
---
Instructions
Preheat the oven to 200F. Line a large baking sheet with parchment paper
Soak the flax and chia seeds in water in a large bowl for 15-20 minutes
After the seeds have been soaked, add the rest of the ingredients and mix well
Wet your hands and spread the mixture evenly on the lined baking sheet, pressing it it tightly
Bake at 200F for 90 minutes. In the meantime, prepare another same size baking sheet and line it with parchment
Remove the crackers from the oven and flip the baking sheet onto the second lined baking sheet. Peel the parchment paper from the top of the cracker dough and bake for an additional 90 minutes
Once cooled, break it into pieces (makes approximately 35) (see note #2)
Notes
If you don't have Za'atar you can use any dry herb you like.  We suggest:
Dried oregano
Italian blend
Rosemary and thyme
Herbes de Provence
Chili lime seasoning (adjust the salt amount if seasoning contains salt)
Garlic powder, onion powder, black pepper
      2. For even size crackers, score the dough with a knife before baking
Prep Time:

20 mins

Cook Time:

3 hours

Category:

snack

Method:

baked

Cuisine:

Keto
Nutrition
Serving Size:

1 cracker

Calories:

34

Sugar:

0

Sodium:

70

Fat:

2.5

Trans Fat:

0

Carbohydrates:

1.5

Fiber:

1.4

Protein:

1.8

Cholesterol:

0
Keywords: paleo, keto, vegan, gluten-free, crackers, seeds, seed crackers, kosher, flax seed crackers, chia seed crackers
This post was originally published on April 22, 2013 - The recipe has remained the same but the post has been updated.