We're so excited to bring you another recipe featuring Go Veggie! products! As most of you know, GO Veggie! is our non dairy cheese alternative of choice, for a number of reasons. From a recipe developer point of view, GO Veggie! products are very easy to work with, because of their versatility, taste and how similar they are to their dairy counterparts. From a nutrition point of view, they're gluten free, free of dairy and cholesterol, and lower in saturated fat and calories than dairy cream cheese and cheese. So they're the perfect option for anyone with dietary sensitivities or simply looking to improve their heart or overall health. Perfect to use in our vegan recipes!
As food bloggers, one of the questions we get a lot is, if not the most, is "What is your most popular recipe?". And we usually need a couple of minutes to answer that, but after this past Passover, our answer is clear: our Spinach Potato Nests
It's definitely one of our favorites, so we thought it would be fun to come up with another version of it. Same concept, just completely different ingredients. And since Memorial Day is right around the corner, we thought this would work perfectly.
We used Yuca instead of potatoes, and added GO Veggie! Dairy Free Mexican Style Shreds to add crispiness and lots of flavor. For the filling, we used home made guacamole for it's creaminess and well, because we love it.
If you're not familiar with Yuca, this is what it looks like:
Also known as Cassava, it's a super starchy root vegetable, rich in carbohydrates, calcium and vitamin C. When dried and powdered, it's known as tapioca (which might be more familiar with).
It's slightly sweet and can be used instead of potatoes to make fries ( our mom's favorite), mashed, in stews... If you've never had it before, give it a try!
Enjoy!
Print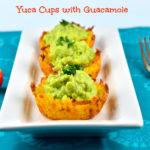 Yuca Cups with Guacamole
---
1

large yuca

2 tbsp

extra virgin olive oil
For the guacamole
1

Hass avocado, slightly firm

1 ½ tbsp

lime juice

¼ tsp

salt (or to taste)
---
Instructions
Preheat oven to 375F. Generously coat a 12 cup muffin pan with cooking spray
Peel the yuca and shred it using a food processor (makes about 2 cups)
Transfer to a large bowl. Add olive oil and salt and mix well using your hands, so the yuca is well coated with the olive oil. Add shreds and mix well
Arrange the mixture into each muffin cup, pressing against the bottom and up the sides.
Bake in the oven for 30 minutes or until they start to brown. Set aside to cool
In the meantime, prepare the guacamole. Slice the avocado in half. Remove the pit and scoop out the flesh. Mash it with a fork until creamy, add lime juice and salt and mix well
Fill the yuca cups with guacamole right before serving
Prep Time:

10 mins

Cook Time:

30 mins
This is a sponsored post. All opinions are ours and we do not promote or endorse products we do not like or use.