Forget boring potato salad! These Smashed Potatoes with Chimichurri are a delicious and fun side dish to enjoy this summer and all year long. Made with sweet roasted garlic, fresh cilantro and fruity olive oil, you'll want put this flavorful sauce on everything!
These Smashed Potatoes with Chimichurri are:
Tender on the inside and crispy on the outside
A crowd pleaser
Topped with a cilantro chimichurri sauce that explodes with vibrant flavor
Want to make vegan? Skip the egg
Great vegetarian side dish for your next BBQ
Fun and easy to make
Way tastier and healthier than the traditional potato salad!
Try our Smashed Potatoes with Chimichurri, with our Quinoa Beet Veggie Burger,  Quinoa Mushroom Sliders, Cauliflower Veggie Burger, Braised Eggplant in tomato sauce, Summer Rice Salad,  Spanish Gazpacho
If you need more potato recipe ideas, check out our Potatoes with Romesco, Tortilla de Patatas & Pastas Bravas !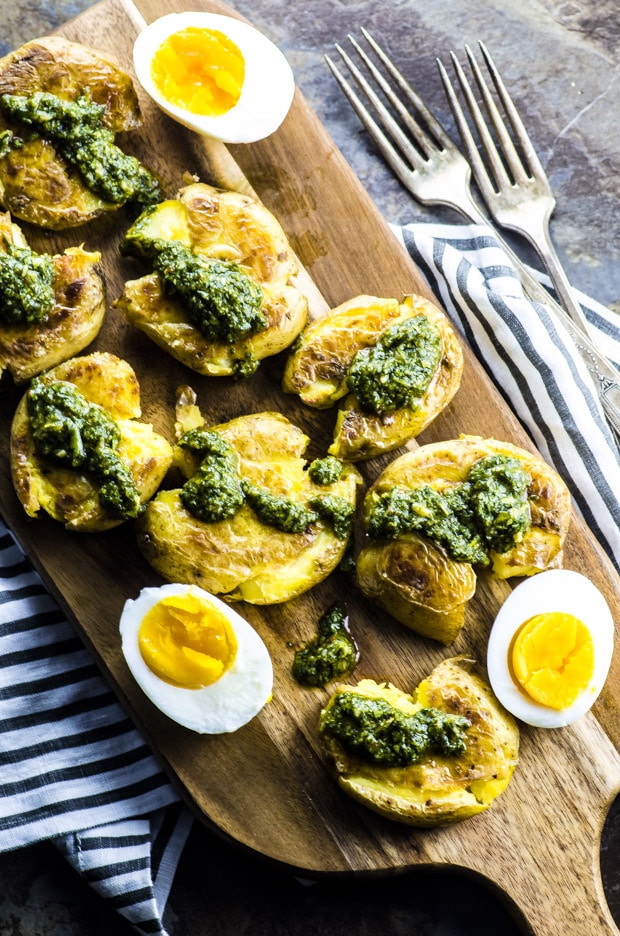 Smashed Potatoes with Chimichurri
Smashed Potatoes with Chimichurri
Author:
https://mayihavethatrecipe.com
Cuisine:
Kosher / Vegetarian
Ingredients
2 lbs medium organic Yukon gold potatoes, thoroughly washed (about 16 potatoes)
2 tbsp extra virgin olive oil, divided
½ tsp salt (or to taste)
3 - 4 hard boiled eggs , sliced in half (optional)
For the chimichurri sauce:
1 head of garlic
2 cups tightly packed cilantro (leaves and stems)
2-4 tbsp red wine vinegar, to taste
⅓ cup extra virgin olive oil
⅛ tsp red pepper flakes (or to taste)
½ tsp salt
Instructions
Preheat the oven to 400F. Line a large baking sheet with parchment paper and spread 1 tablespoon olive oil to cover the whole surface
Fill a large size pot with water. Add potatoes, making sure the water covers the potatoes by 2". Bring to a boil, reduce heat to medium and boil for 35-45 minutes until the potatoes are tender. Drain them let them cool until they are safe to handle
Arrange the potatoes on the lined baking sheet and gently smash them with the bottom of a heavy glass. Drizzle with 1 tablespoon of olive oil and sprinkle salt on top and bake for 10 -15 minutes
To prepare the chimichurri, start by roasting the garlic. Preheat the oven to 400F. Cut the bottom of the head of garlic, wrap it in aluminum foil and bake it for 30 minutes. Remove it from oven and let it cool
Combine all the chimichurri ingredients (including the roasted garlic) in a food processor and pulse until smooth
To prepare the hard boiled eggs, place them in a small sauce pan, cover them with water and bring to a boil. Remove from heat, cover and let them sit for 10 minutes. Run cold water to cool eggs. Peel eggs before serving.