Looking for a dish that will make your taste buds dance with joy? Try our Roasted Celeriac wedges on top of a bed of romesco sauce! This dinner recipe is so delicious, it'll have you doing a happy dance in the kitchen or licking the plate clean when no one is looking.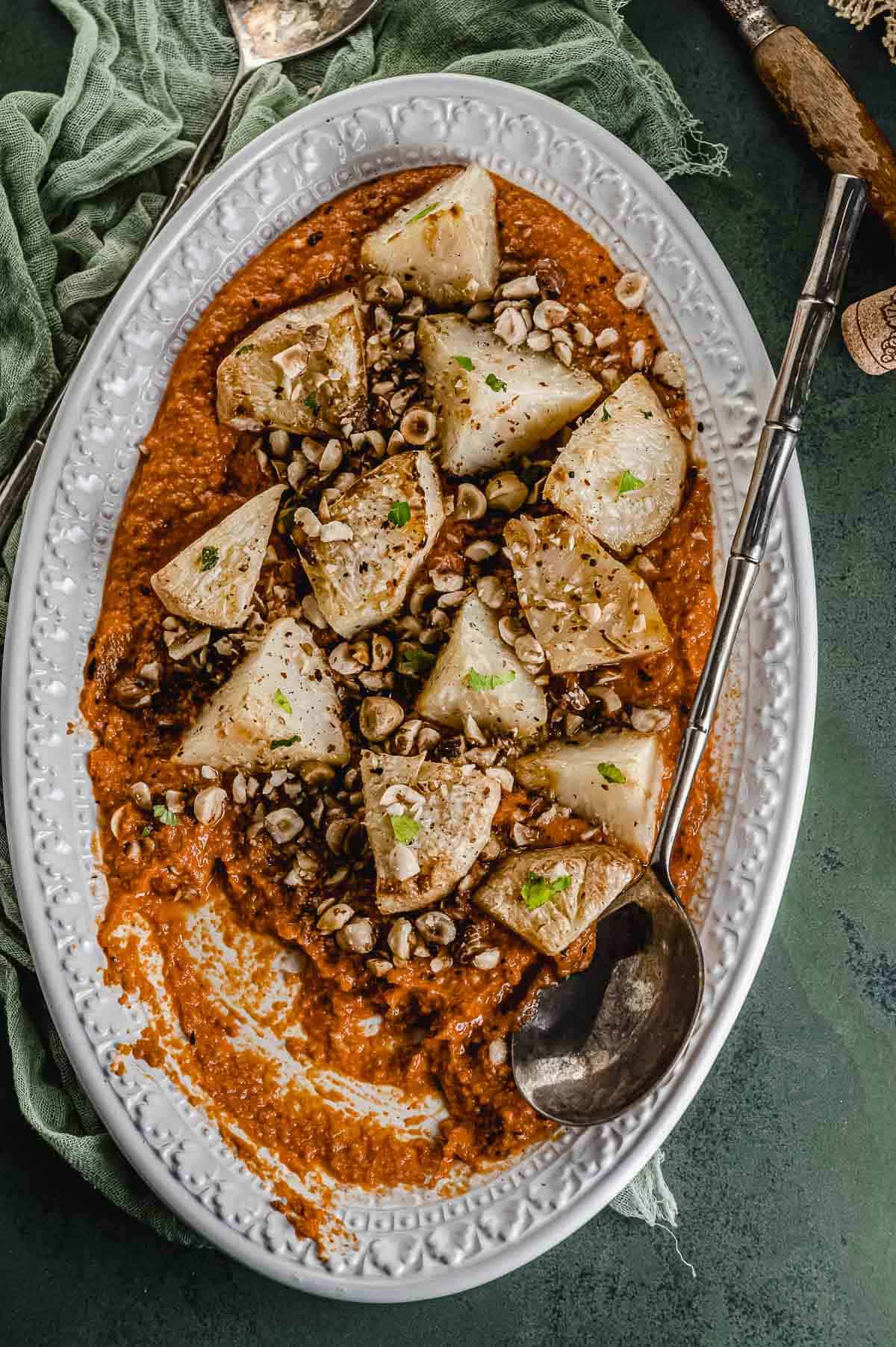 Not only is this vegan dish bursting with flavor, but it's also packed with nutrients, making it a healthy and satisfying meal. And let's be honest, who wouldn't want to eat a vegetable that tastes this good? Move over boring veggies, celeriac is here to steal the show!
Plus, the romesco sauce is so creamy and delicious, you'll want to pour it on everything. Seriously, try it on toast, pasta, or even as a dip for your favorite veggies. It's that good! Don't be surprised if you find yourself eating it straight out of the bowl with a spoon!
What's even better is that this dish is not only a great vegetarian passover recipe but also an amazing vegan Thanksgiving entree. Whether you're looking to impress your guests with a flavorful side dish, or looking for a filling and satisfying main dish, this recipe has got you covered.
What is Celeriac?
Celeriac, also known as celery root, is a delicious and healthy root vegetable that makes a great low-carb alternative to potatoes. It belongs to the same family as celery. It has a round, bulbous shape with a brown, knobby outer layer and a white, firm inner flesh. When roasted, it has a nutty and slightly sweet taste that is perfect as a side dish or added to salads. In this post, we'll explore the benefits of celeriac, share some tips on how to prepare and roast it, and show you how to make a delicious romesco sauce to serve with it.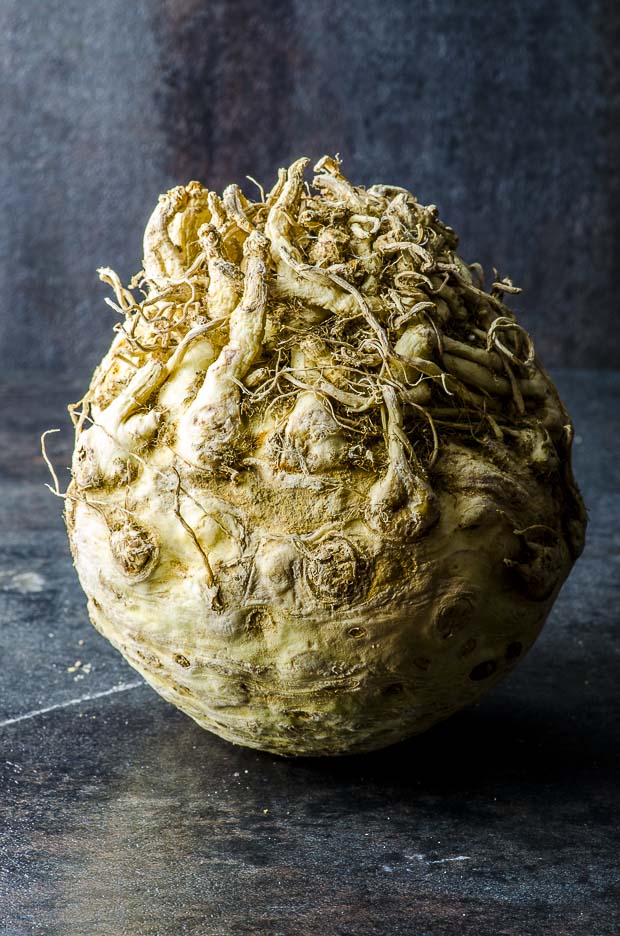 Benefits of Celeriac
Celeriac is a root vegetable that's low in carbs and calories but high in fiber, vitamins, and potassium. It's also a good source of antioxidants and it's a good addition to a healthy diet.
How to Choose a Celeriac
When choosing celeriac, look for a firm, heavy vegetable with smooth, light brown, unblemished skin that is free from cracks or soft spots. The size of the celeriac does not necessarily determine its quality, so choose one that suits your needs.
It's also a good idea to smell the celeriac before purchasing it. It should have a fresh, slightly sweet smell, and not be overly pungent or sour. If possible, buy celeriac with the greens still attached, as they can be used to make a flavorful garnish or added to soups and stews.
When storing celeriac, keep it in the fridge for up to 2 weeks. You can also freeze celeriac by peeling and chopping it into small pieces, blanching it in boiling water for 3 minutes, then freezing it in an airtight container or freezer bag for up to 6 months. When cooking with frozen celeriac, there is no need to thaw it beforehand, simply add it directly to the dish.
How to Peel and Cut Celeriac
Peeling and cutting celeriac can seem intimidating, but it's actually quite simple. Here's how to do it:
Wash the celeriac thoroughly to remove any dirt or debris.
Cut off the top and bottom of the celeriac, so that it can stand upright.
Use a sharp knife to slice off the skin in thin layers, working from top to bottom.
Once the celeriac is peeled, use a sharp knife to cut it into desired shapes, such as cubes, slices, or matchsticks.
To prevent the celeriac from browning, you can toss it in lemon juice or vinegar before cooking.
Remember to use a sharp knife when peeling and cutting celeriac, as it can be tough to cut through. With a little practice, you'll be able to prepare celeriac quickly and easily for a variety of dishes.
How to Cook Celeriac
Roasting: Preheat the oven to 400°F (200°C). Peel and chop the celeriac into small cubes, then toss with olive oil, salt, and pepper. Spread the celeriac in a single layer on a baking sheet and roast in the oven for 25-30 minutes, or until tender and golden brown.
Boiling: Peel and chop the celeriac into small pieces, then add to a pot of boiling water. Cook for 15-20 minutes, or until the celeriac is tender. Drain the water and mash the celeriac with butter, cream, or milk to make a delicious side dish.
Frying: Peel and slice the celeriac into thin rounds, then heat a few tablespoons of oil in a pan over medium-high heat. Fry the celeriac for 2-3 minutes on each side, or until crispy and golden brown. Serve as a tasty snack or appetizer.
No matter which method you choose, celeriac can be a delicious and healthy addition to your meals. Experiment with different cooking methods and flavor combinations to find your favorite way to cook celeriac.
How to Roast Celeriac Wedges for This Recipe
To get started, preheat your oven to 400ºF. While the oven is heating up, grab a large baking dish and place your celeriac wedges inside. Drizzle some olive oil over the top and sprinkle with salt. Mix everything together until all the celeriac pieces are coated with the oil.
Next, cover the baking dish with aluminum foil and pop it in the oven for 30 minutes. Once the timer goes off, remove the aluminum foil and increase the oven temperature to 425ºF. Bake for an additional 10 minutes to get a nice golden brown color.
When you're ready, take the baking dish out of the oven and flip the wedges of celery root. Pop the dish back in the oven for an extra 5 minutes to make sure everything is cooked to perfection. And voila! Your roasted celeriac wedges are ready to enjoy.
How to Eat Celeriac
Celeriac can be eaten raw or cooked and is a versatile ingredient that can be used in a variety of dishes. Here are some ways to eat celeriac:
Raw: Peel and slice the celeriac into thin rounds or matchsticks, then use it in salads or as a crunchy snack. Celeriac pairs well with citrus, apples, and other fresh fruits, as well as with nuts and seeds.
Cooked: Celeriac can be roasted, boiled, fried, or mashed as a low-carb alternative to mashed potatoes.
Soups: Celeriac is a great addition to soups and stews, and can add a unique flavor and texture. Try making adding chopped celeriac to vegetable soup for extra flavor and nutrition.
Salads: Celeriac can be added to salads for a crunchy and flavorful element. Try shaving raw celeriac with a mandoline or vegetable peeler and adding it to a salad with arugula, pomegranate seeds, and walnuts.
No matter how you eat it, celeriac is a nutritious and delicious vegetable that can add variety to your meals. Try incorporating celeriac into your next recipe and see how it adds flavor and texture.
What is Romesco?
Romesco sauce is a flavorful Spanish sauce that originated in Catalonia, a region in northeastern Spain. It is typically made with roasted red peppers, tomatoes, almonds, along with garlic, olive oil, and sherry vinegar for acidity. The ingredients are typically blended together until smooth, creating a creamy, nutty, and slightly tangy sauce that is perfect for dipping, spreading, or serving as a sauce for roasted vegetables.
The exact ingredients and preparation method can vary depending on the recipe and the region, but the result is always a delicious and versatile sauce that adds depth and flavor to any dish. Romesco sauce can be made ahead of time and stored in the fridge for up to a week, making it a convenient and delicious addition to any meal. It's also a great vegan sauce option that adds a bold flavor to any dish.
FAQ About Celeriac
What does Celeriac Taste Like?
Celeriac has a distinct flavor that is often described as a combination of celery, parsley, and nutty or earthy undertones. It has a slightly sweet taste that becomes more pronounced when it's cooked. Celeriac has a crunchy texture that is similar to that of apples, although it's less juicy. When roasted, celeriac takes on a nutty and slightly sweet taste, and when boiled or mashed, it has a creamy texture that is similar to potatoes. Overall, celeriac is a flavorful and versatile vegetable that can be used in a variety of dishes.
Can Celeriac Be Eaten Raw?
Yes, celeriac can be eaten raw. However, its tough and fibrous texture can be difficult to chew, so it's usually grated, julienned, or sliced very thinly when eaten raw. Raw celeriac has a crunchy texture and a slightly sweet and nutty flavor, similar to that of celery or parsley. Raw celeriac can be added to salads, slaws, and other raw dishes for added crunch and flavor. It can also be used as a low-carb alternative to crackers or bread for dips and spreads. If you're eating celeriac raw, it's important to wash and peel it thoroughly to remove any dirt or debris.
Can I Make Roasted Celeriac Ahead of Time?
Yes, you can roast the celeriac in advance and store it in an airtight container in the fridge for up to 3 days. Reheat in the oven at 250°F (120°C) for 10-15 minutes before serving.
Can I Freeze Roasted Celeriac?
Yes, you can freeze roasted celeriac in an airtight container. Thaw in the fridge overnight and reheat in the oven at 250°F (120°C) for 15-20 minutes before serving.
If you enjoyed this recipe, it would help us tremendously if you left us a star rating in the comments below or on the recipe card. Do you have any questions about the recipe? Do you need a swap for any of the ingredients? We are here to help, just leave us a question in the comments below.
Print
Roasted Celeriac with Romesco Sauce
---
Author:

Vicky and Ruth

Total Time:

1 hour 5 minutes

Yield:

5

servings

1

x

Diet:

Vegan
Description
If you're looking for a dish that's both healthy and indulgent, give our Roasted Celeriac wedges on top of a bed of romesco sauce a try. It's the perfect way to jazz up your dinner routine and impress your taste buds (and your dinner guests) in the process.
---
1

large celeriac peeled and cut into wedges (about

14

-

16

pieces)

2 tbsp

extra virgin olive oil

¼

salt

¼

cup

Roasted Hazelnuts, chopped
A couple of tablespoons of freshly chopped parsley (optional)
---
Instructions
Prepare the romesco sauce, get the recipe here
Preheat oven to 400ºF
In a large baking dish place celeriac wedges, drizzle with olive oil, and sprinkle will salt.  Mix well so all the celeriac pieces are coated with the oil.
Cover the baking dish with aluminum foil and bake covered for 30 minutes
Remove the aluminum foil,  increase the oven temperature to 425ºF and bake for 10 minutes
Remove the baking dish from the oven flip the wedges of celery root and bake for an additional 5 minutes.
To assemble the dish place romesco sauce at the bottom of a large serving dish. Arrange warm roasted celeriac on top and sprinkle with chopped hazelnuts and parsley.
Prep Time:

15

Cook Time:

50

Category:

Dinner

Method:

Oven

Cuisine:

Mediterranean
Nutrition
Serving Size:

3 wedges with sauce

Calories:

275

Sugar:

5.8 g

Sodium:

448.2 mg

Fat:

22.2 g

Saturated Fat:

2.5 g

Trans Fat:

0 g

Carbohydrates:

17.9 g

Fiber:

5.1 g

Protein:

5.2 g

Cholesterol:

0 mg
Keywords: passover, thanksgiving, gluten-free, kosher, vegetarian