Get your week's meal prep started with these fabulous vegan dinner recipes. Filling, nutritious and all under 300 calories per serving.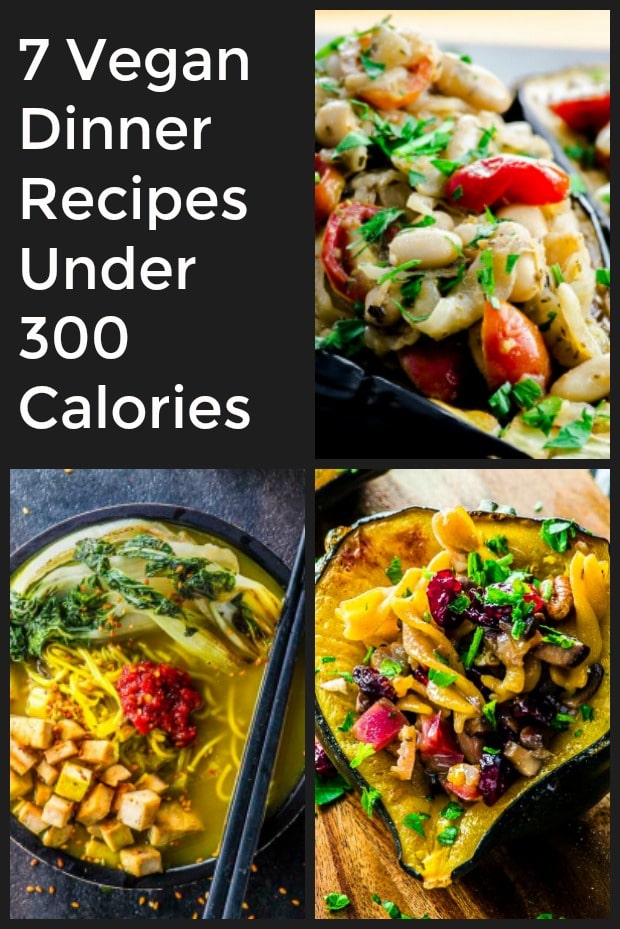 A rustic looking and fabulous tasting roasted stuffed eggplant with fennel and white beans. Serve it with a light soup or a generous piece of crunchy bread and you have a heavenly vegan dinner. A great and tasty vegan dinner recipe with 223 calories per serving
A light, spice and flavor filled dish that has the perfect balance of sweet, tangy and spicy. 237 calories per serving. One of the easiest vegan dinner recipes of this roundup.
Get a head start on your Healthy Taco Tuesday prep with these vegan Chipotle Hummus And Roasted Vegetable Tacos! With a nice spicy kick from home made chipotle hummus. Use your favorite tortillas and toppings to make them your own healthy tacos. 223 to 283 calories per taco, depending on the tortilla you use.
Topped with a generous drizzle of sriracha, for a nice spicy kick. 204 calories per half an avocado. A no-cook vegan dinner recipe.
Set up this Slow Cooker Light Mexican No Chicken Soup before you leave for work in the morning, and come home to a delicious, comforting meal, perfect for a cold winter night. 120 calories, without toppings.
This Vegan Ramen Bowl is exactly what you need to get you through a frigid winter! Loaded with immune boosting ingredients, you'll want to make it every week! 266 calories per serving. One of our healthies vegan dinner recipes.
This Baked Stuffed Acorn Squash recipe is easy to prepare and can be served as a vegan, gluten free entree on your holiday table or as a weeknight vegan dinner ! The acorn squash is stuffed with mushrooms, apples, cranberries pecans and chickpea pasta. The chickpea pasta adds plant based protein, making it a balanced dish. 266 calories per half.