10 Chocolate Recipes to satisfy everyone. From guilt free truffles to light hot chocolate to super decadent ganache filled chocolate peanut butter tart!
All you need is 15 minutes and a handful on ingredients to prepare this smooth, velvety and light mouse. Made with vegan whipped topping and coconut yogurt, and sweetened with maple syrup. One of our easiest chocolate recipes.
At slightly under 60 calories per truffle, these treats are the best way to indulge responsibly. One of our lightest chocolate recipes.
If you love chocolate, you'll go crazy over this Vegan Chocolate Cake! It's easy to prepare (no mixer needed!) and super fudgy and decadent! One of our most indulgent chocolate recipes.
The ultimate indulgence: homemade pastry, creamy chocolate filling and slated caramel.
Chocolate cake, chocolate filling, and chocolate frosting, with stout, whiskey, and homemade vegan Irish cream. Need we say more? One of our most creative chocolate recipes.
Not your everyday hot chocolate! Super thick and decadent, all you need is a tiny mug to satisfy your chocolate craving.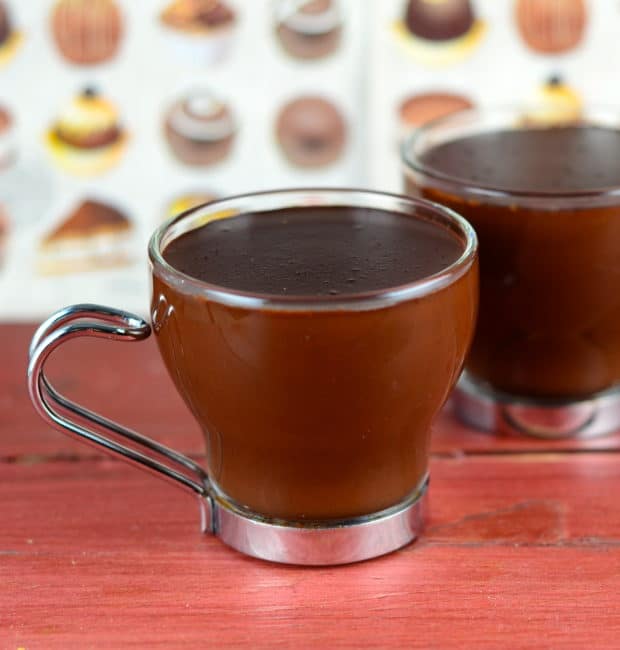 Rich and decadent, filled with dark chocolate ganache and a touch of tahini and topped with beautiful fresh figs.
Pretty in pink! Rich and moist chocolate cake topped with creamy tahini and pomegranate molasses icing. One of our most creative chocolate recipe.
In serious need of comfort food, but want to keep it healthy? Enter Peanut Butter Banana Vegan Hot Chocolate. No sugar added, dairy free and nutritious!
You won't believe how easy is to make this tart is! All you need is pretzels, peanut butter, coconut oil, coconut milk and chocolate!