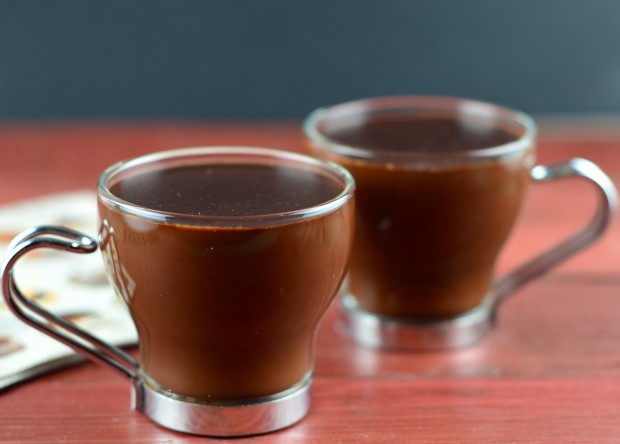 "Good things come in small packages". Couldn't agree more. And in our opinion, this is particularly true when it comes to desserts and sweet stuff.
As we learned at a very young age, when something is good, really good, a small portion is plenty to satisfy a sweet craving.
Take this hot chocolate ("Chocolate Caliente", as we call it in Spain) for instance, a very popular drink people enjoy all year long. It's  so rich and intense,  a little 4oz mug is really all you need. Not too sweet and packed with antioxidants. Doesn't get any  better than that.
Dedicated to all of you, fellow chocolate lovers :).
Hope you enjoy it!
Super Decadent Hot Chocolate, Barcelona Style
Ingredients
5 tbsp good quality pure unsweetened cocoa powder (we like mixing 2 different brands to add complexity to the flavor. Here we used Navitas and Lake Champlain unsweetened cocoa powder)
4 tbsp sugar
½ tbsp corn starch
1 tsp pure vanilla extract (optional)
1 cup water
Instructions
Combine both cocoa powders, sugar and corn starch in a small bowl
Pour COLD water into a small sauce pan, add vanilla extract (if using) cocoa mixture and start cooking at medium low heat, stirring constantly
Cook until it thickens and serve immediately in two small mugs
ENJOY! From May I have that recipe