This 20 Minute Cayenne Chocolate Vegan Chili is quick, easy and kid approved!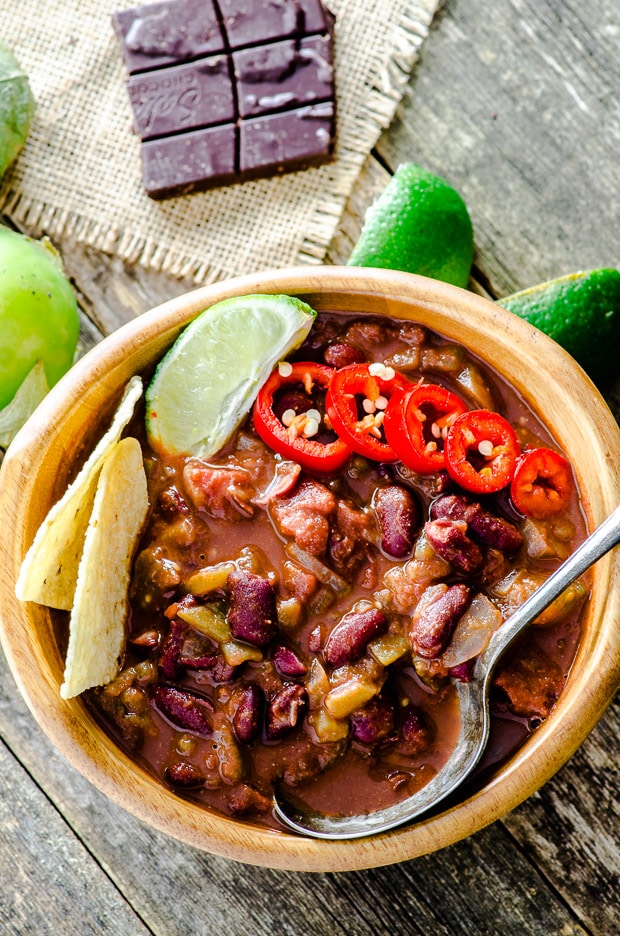 Do you ever feel like you're being pulled in 20 different directions? Like, you have so many things you have to take care of, you wish you had a cloning machine in your basement? If you're a woman (and especially if you're a mom) my guess is, the answer is yes.
I personally don't mind it too much. I get bored very easily, so being constantly busy is actually a good thing for me. The problem is, I'm one of those people who cannot shut off their brain once it gets going. And for me, that translates mostly into waking up in the middle of the night and not being able to fall back to sleep.  So, for the past couple of months, my internal alarm clock has been set between 3:30 and 4 am. That's when my brain decides it has had enough rest and needs to get moving.
Upside, the amount of work I get accomplished by 9 am is truly amazing. And as odd as it sounds, I'm incredibly energized throughout the day ( running on pure adrenaline I'm guessing).
The downside, no matter how much your brain tries to tell you can keep going, your body eventually says "nope!", and quits on you, without notice. And if you've ever been there, you probably know it is NOT fun, at all.
So the trick is, being able to identify when your body is about to go on strike and do something about it before it's too late! And we all have different ways of doing that of course, but I've found that there are a couple of things that seem to work for me:
Allowing myself to have some ME time, as often as I can. For me, it's going for a run outside ( which is definitely a challenge during the winter months, but hey, that's why layers were invented, right?)
"Clock out" at a certain time at night. Around 8 pm, when I put my son to bed, I close the laptop and don't open it again till... 4 am!
Find time-saving shortcuts whenever possible. And for me, having a list of go-to quick and easy recipes I can whip up for dinner in no time, is extremely helpful!
I made this 20 Minute Cayenne Chocolate Vegan Chili on one of those nights when I was dealing with 10 different things at the same time and with a very hungry 10-year-old. He happens to LOVE chili, but when I told him it had chocolate in it, he went crazy! And said it was the best chili he ever had... ( that's the power of chocolate I guess!).
Hope you enjoy it... and don't forget to hit pause every now and then, and breathe 😉
Other Vegetarian Chili Recipes You Will Also Enjoy
Print
20 minutes Cayenne Chocolate Vegan Chili
---
Description
This 20 Minute Cayenne Chocolate Vegan Chili is quick, easy and kid approved!
---
2 tbsp

extra virgin olive oil

1

red onion, diced

3

tomatillos, diced

2 tsp

cumin, divided

1 tsp

chili powder

½ tsp

salt

28 oz

canned diced tomatoes

8oz

canned diced green chilies

2

-

15.5

oz cans red kidney beans, rinsed and drained

1.5oz

dark chocolate with cayenne pepper ( here we usedthis one )

1 tsp

smoked paprika
---
Instructions
Heat the olive oil in a large soup pot. Add the onions and cook over medium heat for about 4 minutes, stirring often
Add the tomatillos, 1 teaspoon of cumin, chili powder and salt and continue cooking for another 4 minutes
Add the canned tomatoes, chilies and beans and cook for 10-12 minutes, stirring often
Add the chocolate, 1 teaspoon of cumin and smoked paprika and stir well. Cover, reduce the heat to low and cook for another 10 minutes
Prep Time:

5 mins

Cook Time:

30 mins

Category:

Entree

Method:

Stove top

Cuisine:

Vegan
Nutrition
Serving Size:

1 ½

Calories:

232

Sugar:

10.7

Sodium:

613

Fat:

9

Saturated Fat:

4

Unsaturated Fat:

4

Trans Fat:

0

Carbohydrates:

31.7

Fiber:

9

Protein:

8

Cholesterol:

0
Keywords: Chili, vegan, chocolate, cayenne, beans, quick, easy, dinner