Our savory granola recipe is great when you want a grab-and-go snack that isn't sweet. Eat it plain, over yogurt or simply sprinkle it over soups and salads for extra crunch! All you need is one bowl a few simple ingredients, some spices and you are all set!
How to make granola at home ( sweet or savory)
Making granola is easy, one bowl, one baking sheet, and a few simple ingredients. The best part is that you can customize it any way you like. In this case, we though out of the box and made our granola savory by adding salt and spices.  If you give it a try let us know what you think.
 Basic ingredients to make granola at home:
Oats
Fat
Sweetener
Nuts or seeds
Dried fruit
Tips on how to make great granola at home:
Start by using the same amount of fat as sweetener and then adjust it to your taste.  We tend to use more fat than sweetener.
Use old fashioned oats, not quick oats.
Use a liquid fat like vegetable oil we like grape seeds, avocado or melted coconut oil.
Use a liquid sweetener like honey, maple syrup, agave, etc.  Using a liquid sweetener allows the oats to get evenly coated.
Use raw nuts, like pecans, walnuts, pistachios, almonds, hazelnuts, etc since they will toast in the oven.
If you want to make nut-free granola use seeds like sesame, sunflower, pumpkin, chia, etc instead of nuts.
Always add dried fruit after the granola is cooked, if not they will get tough and possibly burn.
Bake granola at a low temperature for 45-50minutes stirring every 15 minutes so it cooks evenly and doesn't burn.
Watch your granola carefully while in the oven, it can go from done to burnt in a couple of minutes.
Store in an airtight container, we love to use glass jars.
Granola freezes really well, it can be kept in the fridge or on the counter if planning to finish it within a week or less.
Steps on how to make granola at home
In a large bowl mix oil and sweetener.
Add oats and nuts making sure they are well coated.
Bake at 275F for 55 minutes, stirring every 15 minutes.
Add-ons to homemade granola
Chocolate chips (add after baking)
Coconut flakes or shredded coconut
Vanilla extract
Sweet spices as cinnamon, cloves, etc
Savory spices for a savory granola
Our Savory granola recipe is great on top of yogurt, soup, salad and right out of the jar
Easy
Nutty
Crunchy
Heavenly spiced
Versatile
Satisfying
Savory
Step by step images on how to make our spiced savory granola
Stir the spices into the oil and maple syrup and mix well until the mixture turns a reddish color 
2. Pour the oil/spice mixture into the oats, nuts, and seeds and mix well until the oats are coated. The best way to get the oats to pick up all the flavor from the spices is to use your hands, so go for it!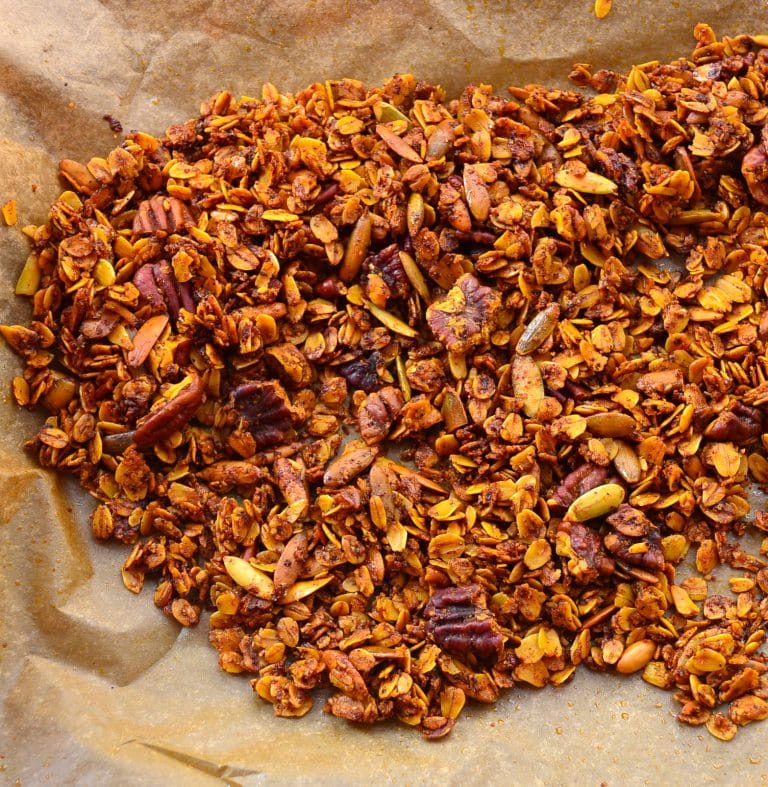 3. Bake the savory granola, checking and stirring it often so it bakes evenly and remember, every oven is different! You'll know it's ready when golden brown and your house smells yummy!
Did you like this savory granola recipe? Leave us a rating! Did you love it? Share it or leave us a comment on Twitter or Facebook! Wanna see more? Subscribe to our blog and remember to follow us on Pinterest!
Print
Spiced Savory Granola Recipe
---
Description
Our savory granola recipe is great when you want a grab-and-go snack that isn't sweet. Eat it plain, or sprinkle it over soups and salads for extra crunch!
---
1 cup

rolled oats (we use Bob's Red Mill)

¼ cup

grapeseed oil (or any other oil with neutral flavor)

3 tbsp

maple syrup

½ tsp

salt (or to taste)

½ tsp

coriander

½ tsp

turmeric

1 tsp

smoked paprika

1 ¼ tsp

chili powder

¼ tsp

cayenne pepper (or to taste)

½ tsp

ginger powder

2 tbsp

raw pumpkin seeds

¼ cup

raw pecans
---
Instructions
Preheat oven to 275F. Line a large baking sheet with parchment paper
In a medium bowl, combine oil, maple syrup, salt, coriander, turmeric, smoked paprika, chili powder, cayenne, and ginger and mix well.
In a large bowl, combine oats, pumpkin seeds, and pecans
Pour oil and spice mixture over the oats, mixing well with a wooden spoon or with your hand, so the oats are well coated
Spread the mixture in one even layer on the prepared baking sheet and bake at 275F for 55 minutes until golden brown, stirring every 15-20 minutes so it bakes evenly
Let it cool completely and store it in a cool, dry place.
Notes
Stir the spices into the oil and maple syrup and mix well until the mixture turns a reddish color
Pour the oil/spice mixture into the oats and mix well until the oats are coated. The best way to get the oats to pick up all the flavor from the spices is to use your hands, so go for it!
Check and stir the granola often so it bakes evenly and remember, every oven is different! You'll know it's ready when golden brown
Prep Time:

5 mins

Cook Time:

55 mins

Category:

snack / salad and soup topping

Method:

Baked

Cuisine:

Vegan
Nutrition
Serving Size:

¼ cup

Calories:

120

Sugar:

3.7

Sodium:

117

Fat:

8

Saturated Fat:

0.8

Unsaturated Fat:

7

Trans Fat:

0

Carbohydrates:

9.9

Fiber:

1.1

Protein:

1.7

Cholesterol:

0