Things that might happen while sitting at Starbucks, trying to write about King Oyster Mushroom & Mango Avocado Salsa Cups:
– Someone having a very loud, not-so-private-anymore phone conversation will sit on the table in front of you
-A couple of girls having a very loud, no-so-private-anymore conversation (usually filled with "OMGs,", "seriously-s" and "like-s" ) will sit on the table behind you
– Random dude will try to strike up a conversation while you wait in line to order your drink. Opening line being "Getting some work done? What do you sell?" (head scratch)
– You will suddenly become someone named "Liz", thanks to the barista at the register taking your order
– The very nice barista preparing your drink, who knows exactly how you like it, won't call you Liz, cause she knows that's not your name
– (Different) random dude will sit at your table while you're waiting for your drink and will act surprised when you come back and sit down: "Oh, did I sit at your table? I'm sorry". No sir, empty tables usually have laptops on them (head scratch).
– Same random dude will continue to sit at your table for another 10 minutes, also trying to strike up conversation (eye roll)
– Nice random gentleman witnessing the whole scene will shake his head and give you a sympathetic smile (sigh of relief)
– You will start thinking about changing the title of your blog post from "King Oyster Mushroom & Mango Avocado Salsa Cups" to "The Starbucks Chronicles"
Either way, enjoy! 🙂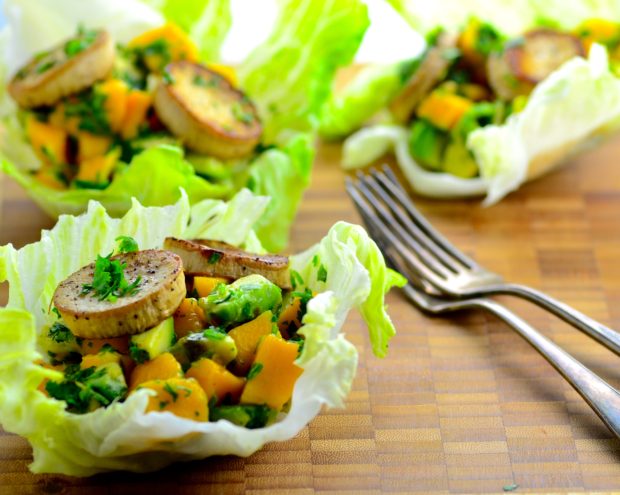 Print
King Oyster Mushroom & Mango Avocado Salsa Cups
---
Author:

Prep Time:

15 mins

Cook Time:

10 mins

Total Time:

25 mins

Yield:

4

1

x
Category:

Entree

Cuisine:

Kosher / Vegan
Ingredients
1

large mango, diced ( about

1 1/2 cup

s)

1

large avocado, diced (about

1 cup

)

1/2 cup

fresh chopped cilantro (you can also use basil or parsley if you don't like cilantro)

1

–

2

tbsp fresh lemon juice (to taste)

1/2 tsp

salt or to taste

3

large king oyster mushroom stems
Salt and pepper to taste

2 tbsp

extra virgin olive oil, divided

4

Iceberg lettuce leaves to make the cups (you can also use q different type of lettuce)
---
Instructions
To prepare the avocado and mango salsa, combine diced avocado, mango, chopped cilantro, lemon juice and 1/2 teaspoon salt in a medium size bowl. Toss well and refrigerate until ready to use
Cut the stems of the mushroom into thick slices (you'll get approximately 4 slices per mushroom, 12 slices total). Season with salt and pepper to taste on both sides
Heat 1 tablespoon of olive oil in a non stick skillet. Cook mushrooms slices on high for 5 minutes
Drizzle the remaining tablespoon of olive oil over each slice and turn them over. Cook for another 5 minutes
While the mushrooms cook, fill the lettuce "cups" with salsa. Top each one with 3 slices of mushroom and serve immediately