Stubbornness is one of those things that can either be a valuable asset, or your biggest downfall.
Being a considerable stubborn person myself, I can say for sure I've experienced both sides.
I've been teaching indoor cycling for about 7 years now. Because of my naturally shy personality, being up on a podium in front of 20 people wasn't exactly my cup of tea... but I got over it. I had to!!  What I refused to do however, was use a microphone to teach. So for six and half years, I had to scream from the top of my lungs during every class, to make sure every one heard me. And although several people kept trying to convince me that it would be a lot easier to use a microphone, I absolutely refused to do it.
Until, my boss made it mandatory. After almost seven years, now I had to change the way I taught. Needless to say, I panicked. I had anxiety for weeks. I had no idea how I was going to do it. But when the day came, I did it. And you know what? Nothing happened! I fact, it made teaching a lot easier!! The thing I was so terrified of, wasn't as bad as I thought it would be. I was just... well, too stubborn to even give it a try. Lesson learned.
But like I said, stubbornness can also be a good thing, if you know how to apply it properly. Like, when you try to come up with a recipe and takes several tries to perfect.
And this one, is the perfect example.
As you probably know by now, Vicky put the family in a "sugar detox" right after Passover. I have to say, I'm very impressed with how everyone has been following it, especially my brother in law, who has a weakness for sweets. Especially on the weekends.
Because of my constant need of pleasing people (another one of those asset/downfall things), I was determined to come up with a "clean", no sugar added dessert for him. And voilà, this ice cream was born. And it couldn't be any easier! Four ingredients, no sugar added and no ice cream maker needed.
The lesson here? Life is full of things that can work for or against you. It all comes down to how you decide to use them.
Hope you enjoy the fruits of my stubbornness 🙂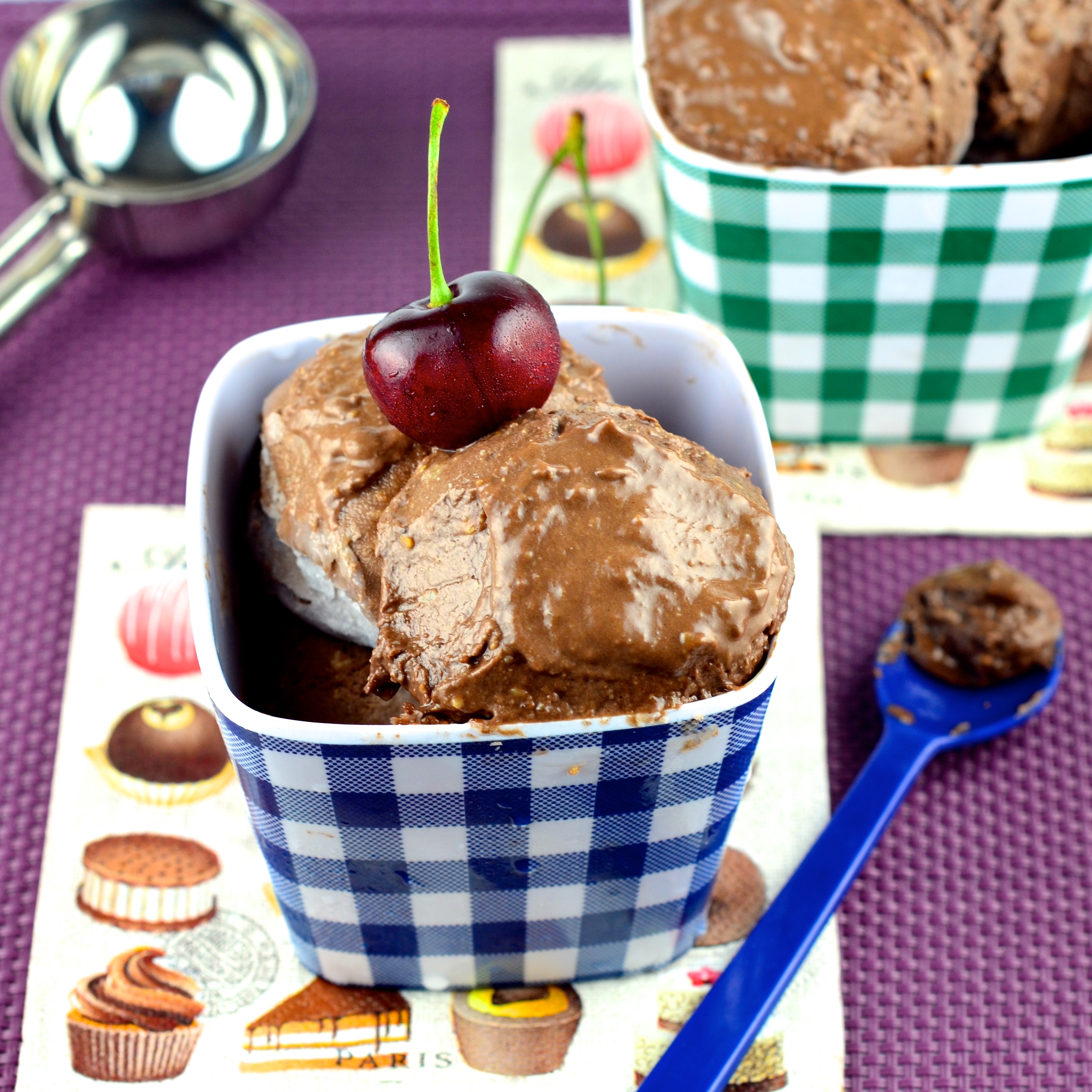 Print
Vegan Chocolate Peanut Butter Nicecream
---
Author:

Prep Time:

5 mins

Total Time:

5 mins

Yield:

1 Pint

1

x
3

large frozen bananas, cut into pieces

½ cup

all natural peanut butter or all natural almond butter

3 tbsp

unsweetened cocoa powder

3 tbsp

unsweetened vanilla almond milk
---
Instructions
Combine all ingredients in a food processor. Pulse several times until creamy.
Better if served immediately