Enjoy stuffed portobello mushrooms packed with mashed potatoes, fragrant garlic, capers, and sundried tomatoes. The perfect meatless recipe!
From the delicate, oversized mushrooms to the fluffy mashed potatoes that melt in your mouth, this is the ultimate stuffed Portobello mushrooms recipe.
Every single layer gives you another reason to fall in love with these large stuffed mushrooms. They're hearty enough to be a main dish and we love how easy they are to make. Grab a couple of portobellos and let's make something delicious!
What Are Portobello Mushrooms?
These are massive, edible mushrooms that you've probably seen in the grocery store before! Because of their size, they're a wonderful substitution for grilled meats. Portobello mushrooms also have a natural cavity that works perfectly to fill with tasty ingredients (in this case, mashed potatoes!). Choose the largest mushrooms you can find, keeping in mind that they shrink considerably during baking, and remove the gills before filling them.
Tips For Baking Portobello Mushrooms
This is a fairly simple recipe, but please follow these tips when you make them. It will help them go from delicious to palate perfection!
For the best results, you should pick the largest Portobello mushrooms that you can. As you can see in the picture below, they shrink when they bake, so the larger the better.
As they bake, they will release liquid into the pan. Discard all of this liquid before you serve them.
How To Make Meatless Stuffed Portobello Mushrooms
All of the exact steps for the recipe are in the printable recipe card at the bottom of the post.
First, here are some photos of each step of the process so you can see how I made them. I'll even include extra tips along the way too.
How to Remove Portobello Mushroom Gills
The very first thing you'll do is prepare the portobello mushrooms. Cut off the stems and use a spoon to gently scrape out the gills that line the cap of the portobellos. Be careful not to crack or puncture the mushroom or your filling might leak out! You can do this step in advance if you want to meal prep a little bit and save some time before cooking. To wash portobellos, gently wipe them with a damp paper towel to remove dirt and then rinse them in cold water.
This is a very important step because you are turning the mushrooms into a bowl that will hold the mashed potato filling.
Then, we baked the mushrooms before we stuffed them. Brush the tops of the mushrooms with olive oil and place them stem-down on a baking sheet, like in the photo above.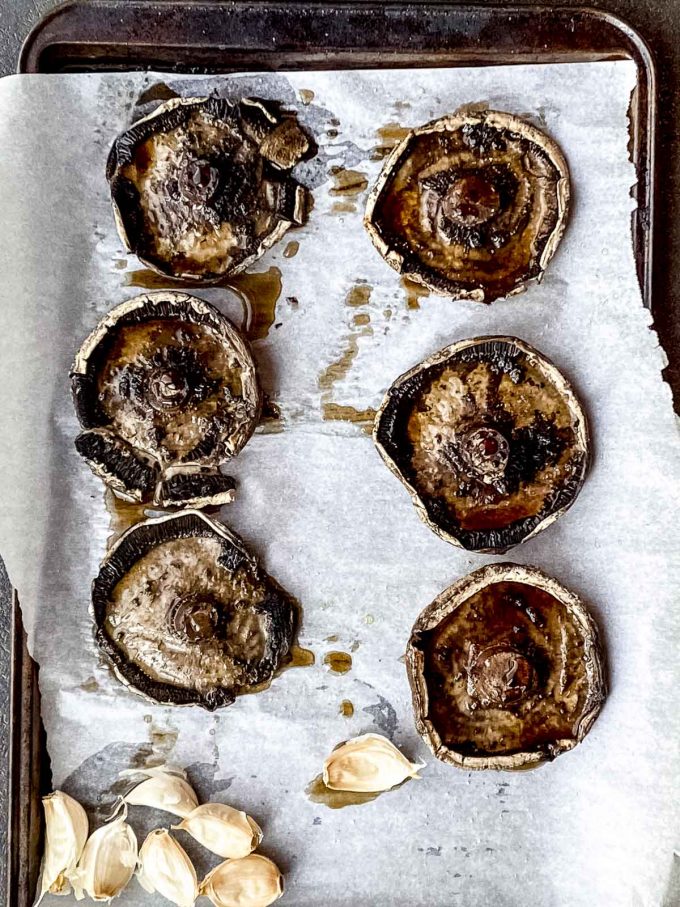 Roast unpeeled garlic at the same time as the mushrooms. Wrap the garlic cloves in aluminum foil and place them on the baking sheet with the mushrooms.
This is when you will notice liquid in the pan. Remove the mushrooms and discard the liquid, and then put the garlic cloves back in the oven to roast for about 15 more minutes.
Make The Mashed Potato Filling
Start prepping the mashed potato filling while the mushrooms are cooking.
Peel the potatoes completely so that you won't have any bits of potato skin in the filling.
Then, cut them up into 2-inch large pieces. The smaller the pieces, the faster they will soften as they boil.
Place the potatoes into a saucepan and put water at least 2 inches above the potatoes. This water should be very salty - We used ½ teaspoon of salt in it.
After the potatoes are nice and soft, keep about 1 cup of the potato water and then drain the potatoes.
Do this next part very quickly. The potatoes will mash better when they are nice and hot! Add the peeled roasted garlic cloves, salt, and pepper.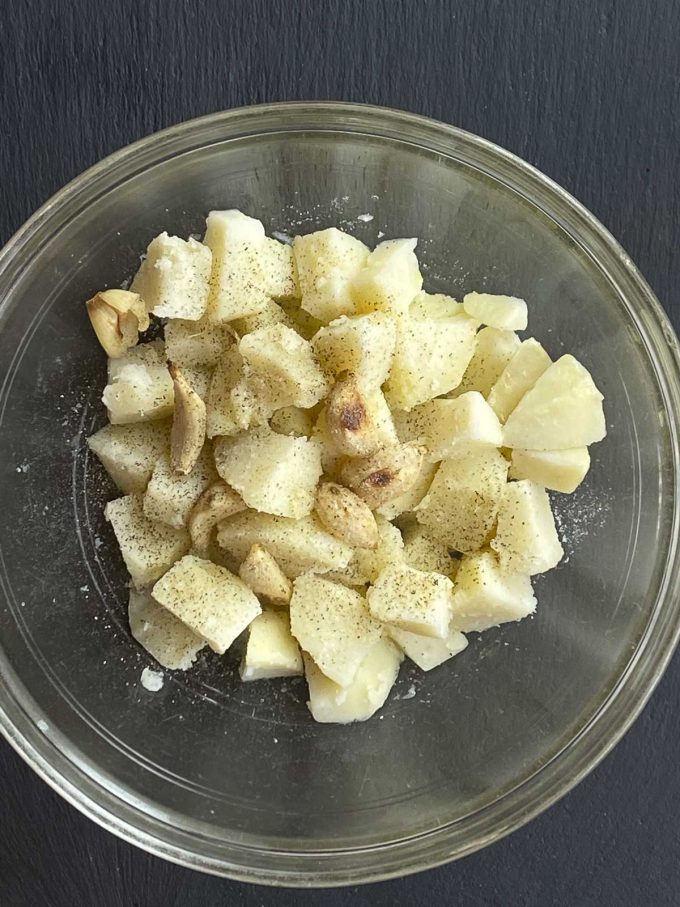 Add the potato water a little at a time. This prevents the mashed potatoes from becoming too runny. Make sure to add liquid to the mashed potatoes a little bit at a time so they aren't too loose. They should be thick and creamy, not runny or watery!
Alternatively, you can use an unsweetened, non-vanilla plant-based milk to thin the potatoes too.
After your mashed potatoes have the consistency you want, add the capers and sundried tomatoes and mix them together really well. Instead of capers, you can use olives.
Fill The Mushrooms & Add Toppings
Now you are ready to place the filling into the Portobello mushrooms. Top the mashed potatoes with either store-bought marinara sauce, spaghetti sauce, or pizza sauce. Add some shredded mozzarella cheese and feta cheese.
Bake it again for 15 minutes - just long enough for the cheese to melt! Perfection.
Vegan Stuffed Portobello Mushroom Recipe
To create vegan mashed potatoes, add any kind of unsweetened (non-vanilla!) plant-based milk. Regular milk works fine if you aren't avoiding dairy. Mash the potatoes while they're still hot to create the fluffiest, creamiest vegan filling! You could also choose to fill the portobellos with Carrot Raisin Quinoa for a more veggie-packed spin on this recipe, or make portobello pizzas with tomato sauce, cheese, and oregano on top.
Other Recipes With Portobello Mushrooms
Portobello mushrooms are a family-favorite in this house. Here are some more of our favorite recipes that use them.
Print
Stuffed Portobello Mushrooms
---
Author:

Prep Time:

15

Cook Time:

45

Total Time:

1 hour

Yield:

6

stuffed mushrooms

1

x

Diet:

Vegetarian
Description
Enjoy stuffed portobello mushrooms packed with mashed potatoes, fragrant garlic, capers, and sundried tomatoes. The perfect meatless recipe!
---
6

very large portobello mushroom

6

garlic cloves, unpeeled

2

large Yukon gold potatoes, about (

1 ½

lbs or

660

gr), you may use any other potato you have

2 tablespoons

of extra virgin olive oil

¼

-

½

tsp salt 

⅛ tsp

ground black pepper

3 tbsp

capers, you can use olives if you don't like capers

3 tbsp

sundried tomatoes in oil, chopped small or sundried tomatoes soaked in hot water, chopped small
Optional

¼ cup

plant-based milk ( almond, cashew coconut, oat) or save some of the potato cooking water

¾ cup

of store-bought marinara sauce, spaghetti sauce, or pizza sauce

¾ cup

shredded mozzarella cheese

6 tbsp

crumbled feta cheese
 
---
Instructions
Heat oven to 400F. Line a large baking sheet with parchment paper
Remove stems from mushrooms and using a small spoon carefully scrape the gills of the mushrooms making sure the mushrooms don't break.  You are creating a cavity for the mushroom stuffing
Brush each portobello mushroom top with some olive oil and place the stem down on the baking sheet lined with parchment paper. Wrap the unpeeled garlic cloves with aluminum foil and place them on the baking sheet next to the portobello mushrooms. Bake for 12 minutes for regular size portobello and 15 minutes for extra-large portobello mushrooms. 
Remove the baking sheet from the oven, carefully transfer the mushroom to a large plate, discard any water that may have puddled on the mushrooms and return the baking sheet to the oven to continue cooking the garlic cloves for an additional 15 minutes.  Do not turn off the oven after you take out the garlic.
While the mushrooms are cooking, peel the potatoes cut them into 2" pieces, and place them in a large saucepan with abundant salted water ( at least 2" of water above the potatoes).  Boil for 15-25 minutes or until the potatoes are tender. The smaller the pieces of potatoes the faster they will cook
Once the potatoes are done reserve about 1 cup of the potato cooking water and set it aside, you won't need to use it all.
Drain potatoes and place them in a large bowl, peel or squeeze out the roasted garlic cloves and add them to the potatoes with the salt and black pepper.
While the potatoes are hot, mash them with a potato masher or a fork, add the olive oil, and as much potato cooking water as needed to get a thick creamy consistency. Make sure the potatoes are not runny, so add liquid a little at a time. Alternatively, you may add unsweetened non-vanilla plant-based milk or regular milk to make the mashed potatoes creamy.
Add capers, and sundried tomatoes and mix well.
Place a clean piece of parchment paper on the baking sheet you used to bake the mushrooms.
Place mushrooms on the baking sheet. fill each mushroom cavity with a heaping pile of mashed potatoes ( the amount will depend on the size of the mushrooms), pour the marinara sauce, top with mozzarella cheese and crumbled feta, and bake for 15 minutes.
Category:

Dinner

Method:

Baked

Cuisine:

American
Nutrition
Serving Size:

1 stuffed portobello mushrooms

Calories:

228

Sugar:

5

Sodium:

300

Fat:

8

Saturated Fat:

2.4

Unsaturated Fat:

5

Trans Fat:

0

Carbohydrates:

30.5

Fiber:

5

Protein:

11.3

Cholesterol:

10.9
Keywords: vegetarian, gluten-free, kosher, passover, Shavuot
DID YOU LIKE OUR STUFFED PORTOBELLO MUSHROOM RECIPE?
Scroll down to the comments and leave us a star rating! Your comments inspire us to keep creating recipes! You want to make it, but you have questions? We're here to help! Connect with us via Instagram, Twitter, Pinterest, or Facebook! We want to get to know you! Wanna see more recipes?  Subscribe here.