A smashing gluten-free veggie sandwich full of Asian-inspired flavors and the nutrients you need to keep you full and satisfied for hours!
The Earl of Sandwich may have been looking for a quick meal, but he could never have imagined a veggie sandwich as exotic and delicious as our Asian inspired sesame crusted tofu veggie sandwich
We begin with Canyon Bakehouse Gluten Free Heritage Style Whole Grain Bread. A hearty, delicious big loaf made with whole grain amaranth, teff, and quinoa, perfect to pile up your sandwich ingredients. Then we add an ample serving of our delicious Asian-inspired baked tofu, that has been smothered with a mixture of nutritional yeast, back sesame seeds, and freshly grated ginger before baking, revealing an incredibly tasty crust.  We find that firm and extra firm varieties of tofu make the best veggie sandwich fillings and hold up to generous toppings without crumbling into pieces before baking.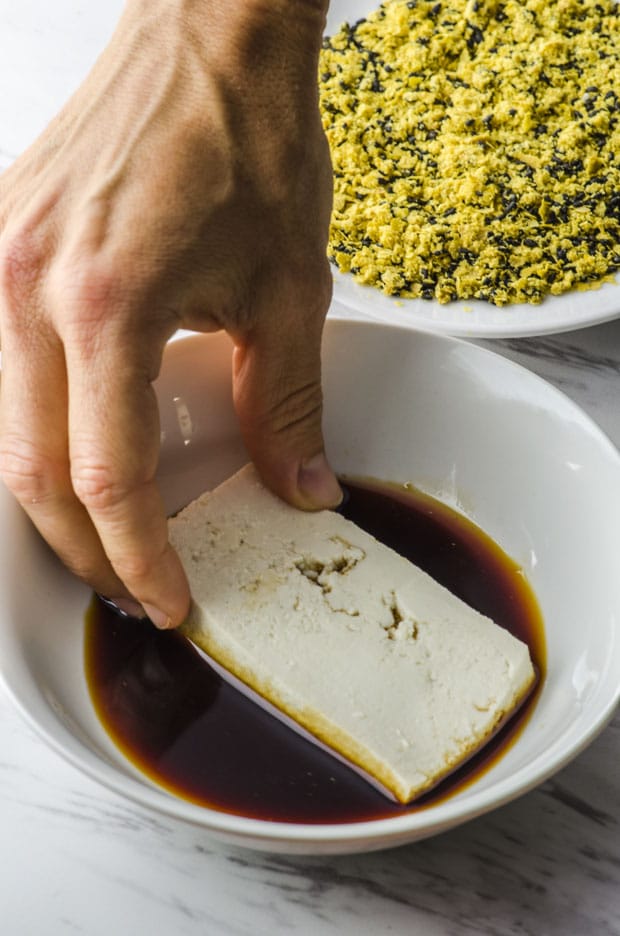 Coat the Whole Grain Bread slices with our special sauce -- a blend of mayonnaise and Korean gochujang, the sweet and spicy red chili paste made from fermented chilies and rice. We encourage you to find this savory condiment in Asian markets or health food stores, so you can enjoy its complex taste. You may also use sriracha sauce (now available in most supermarkets) if gochujang is unavailable near you.
To build your veggie sandwich, add a slice of Asian tofu to one slice of the mayo-gochujang spread bread and top it with a generous helping of Asian slaw made with purple cabbage, toasted sesame oil, rice vinegar, tamari, and a few sesame seeds. Add your second piece of bread and enjoy!
Adventurous veggie sandwich lovers can experiment with these changes to the recipe:
Add thin slices of avocado & cucumber
Replace mayo with hummus or tahini
Add fresh bean or alfalfa sprouts
Add a layer of fresh kale or romaine lettuce
Add pickled jalapeño or hot peppers
Toast the Heritage Style Whole Grain Bread

This is a sponsored post. All opinions are ours. Thank you for supporting the brands that keep the May I Have That Recipe sisters cooking!
Did you like this Asian-inspired veggie sandwich? Leave us a rating! Did you love it? Share it or leave us a comment on Twitter or Facebook! Wanna see more? Subscribe to our blog and remember to follow us on Pinterest!
Print
Asian Inspired Sesame Crusted Tofu Veggie Sandwich
---
For the tofu:
7oz extra firm tofu, cut into 1-inch slices

¼ cup nutritional yeast

2 tbsp black sesame seeds (you can use white toasted sesame seeds instead)

2-inch piece of fresh ginger, grated

3 tbsp tamari (gluten free soy sauce)

For the slaw:
1 cup shredded red cabbage

1 ½ tsp toasted sesame oil

3 tsp rice vinegar

1 tsp tamari

For the Gochujang mayo:
3 tbsp mayo

¾ tsp Gochujang

For the sandwich:
4 slices Canyon Bakehouse Heritage Style Whole Grain Bread

2-3 lettuce leaves

1 small tomato, sliced thin
---
Instructions
To prepare the tofu, preheat the oven to 375F. Line a baking sheet with parchment paper
Combine the nutritional yeast, sesame seeds and grated ginger in a small bowl and mix well
Place 3 tablespoons of tamari in a separate small bowl
Dip each slice of tofu in tamari sauce, then place them in the bowl with the nutritional yeast mixture, pressing lightly to make sure the tofu is evenly coated on all sides. Place the slices on the lined baking sheet and bake for 20 minutes
In the meantime, prepare the slaw. Combine the shredded cabbage, sesame oil, rice vinegar and tamari in a medium bowl and toss well. Set aside until ready to use
To prepare the Gochujang mayo, whisk the ingredients together until well combined
To assemble the sandwiches, spread the mayo on all 4 slices of bread. Layer the lettuce, tomato, slaw and tofu on two of the slices, and top each one with the remaining bread
Nutrition
Serving Size:

1 sandwich

Calories:

587

Sugar:

8.3

Sodium:

1152

Fat:

30.7

Saturated Fat:

4.2

Unsaturated Fat:

23.6

Trans Fat:

0

Carbohydrates:

55

Fiber:

7.2

Protein:

22.4

Cholesterol:

28.7