An authentic Spanish dish known as Tortilla de Patatas or Tortilla Española is perfect for breakfast, lunch, dinner, or snacks. If you've ever heard of a Spanish omelette or tortilla de patatas, this is it! You'll love this simple, filling meal of Spanish Tortilla served with a salad and crusty bread.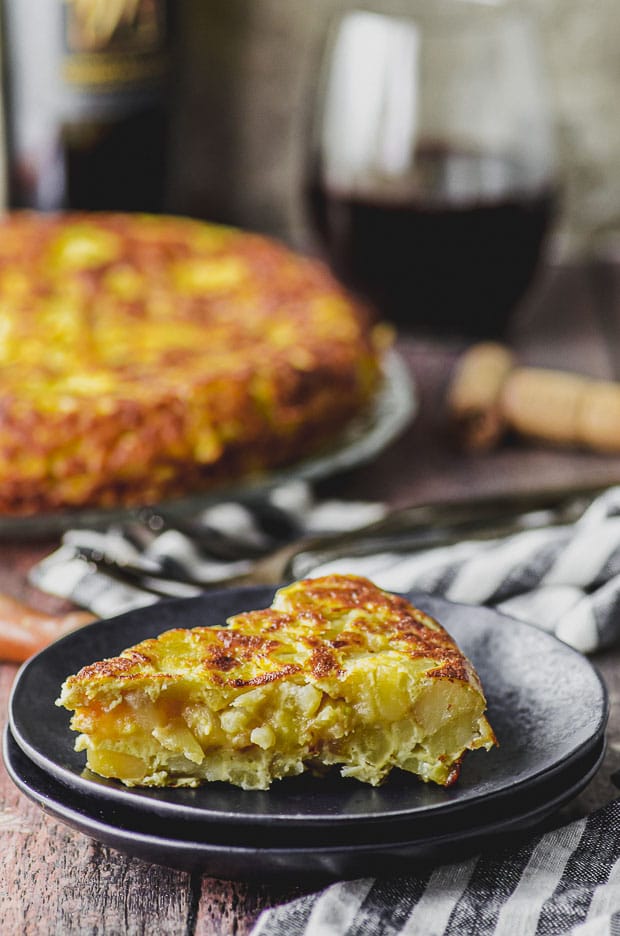 Would you like step-by-step instructions for making tortilla de Patatas? We've even included a quick video to show you how to flip your tortilla de Patatas, just keep scrolling!
What is Tortilla de Patatas?
Tortilla de Patatas also called Tortilla Española in Spain is a Spanish potato and onion frittata and a traditional tapa from Spain. Made with 3 simple ingredients potatoes, onions, and eggs; it's vegetarian and gluten-free. Perfect for breakfast, lunch, dinner, and Passover too!
Tortilla means omelette or frittata in Spanish (from Spain also called Castillian).
Patatas are potatoes in Spanish (from Spain), in Latin American potatoes are called papas.
Barcelona. Home, sweet home . . .
In honor of our heritage growing up in Barcelona, we're sharing a recipe that's 100% Spain, and it's one of the most popular tapas: Tortilla de Patatas. No matter how you choose to call it, Tortilla de Patatas, Tortilla Española, Spanish Tortilla, Spanish Potato Omelet, Spanish Omelet, Tortilla Española, Spanish Frittata, or even a Tortilla de Papas in other countries, Tortilla de Patatas is a family favorite!
Tortilla De Patatas is so versatile. In Spain, it's served for breakfast, in a sandwich for lunch, and as tapas for dinner. It can be eaten hot, cold, or lukewarm. Our tortilla espanola recipe can be used for brunch and will be the star of the meal. You could serve it by itself or serve it with bread and salad. You can even eat yours on bread as a sandwich! Every time we make a tortilla española, it takes us right back home.
Ingredients for Tortilla de Patatas
Extra Virgin Olive Oil.
Potatoes: we prefer Yukon gold.
Onions: Try to find Sweet onions or Spanish onions if possible.
Eggs: You'll need a half dozen.
Salt: I use sea salt. If you are using regular table salt, you will want to lessen the amount.
How to make Tortilla de Patatas
Slice onions and dice potatoes into medium-sized pieces. Make sure to cut the potatoes small, or they will take a long time to cook. For the potatoes, cube them small or slice them thin. Both options will work. You can even use a mandolin to make the Spanish tortilla recipe easier on your hands.
Heat the olive oil in a large 12" skillet for which you have a lid and add potatoes and onions. We used a ¼ cup of oil for this recipe, and that is considered a lighter version. Traditionally the potatoes will cook in a lot more oil; we kept it a little lighter by covering the skillet while the potatoes are cooking. This way, they cook faster, and less oil can be used to cook them. If you don't mind using more oil, go ahead and double the amount of oil and fry the potatoes and onions in batches until tender.
Cooked covered until the potatoes are cooked.
Let the cooked potatoes and onions cool. Beat eggs in a large bowl, add cooled potatoes and onions, and return the egg mixture to a 10-inch skillet on medium-high heat. Make sure you have a lid that fits that skillet so that you can flip the tortilla de patatas.
Cook the Tortilla de Patatas well on one side before flipping it to the other side. Watch this 5-second video showing how to flip a tortilla de patatas. It's not nearly as hard as it seems with this simple technique.
Slide the tortilla de patatas back into the skillet after flipping it.
Cook the other side of the Tortilla de Patatas.
When done, place in a plate in slice into 8 even wedges.
Tips for a Perfect Spanish Frittata
Cut the potatoes into small cubes or thin potato slices so they cook faster.
We used less oil than a traditional recipe would call for, but don't skip it completely, or you'll have a very dry tortilla de patatas.
Be patient and make sure the potatoes are cooked all the way through before you add the eggs.
Do not turn up the heat to try and speed up this process. High heat will just burn the outside edges without actually cooking the inside.
When flipping the tortilla, make sure you use oven mitts to prevent burns if any of the hot eggs dripping.
Flip the potato frittata over a bowl; in case it falls out of the pan, you won't lose it, and you can just scramble it if that happens.
You can use a sharp knife, a large metal spatula, or a large pizza cutter to cut your omelet into slices for serving.
If you want to reheat a leftover slice, start with ten or fifteen seconds in the microwave and add a few more seconds if it is not quite warm enough. Or enjoy yours at room temperature or even cold.
What to do with Leftovers
You can keep your leftovers in the fridge for several days if kept in an airtight container or freezer-quality zipper bag. This delicious dish will also freeze well. Wrap in parchment paper and place in a freezer-quality zipper bag to freeze.
Check out these other authentic recipes from Spain
Having grown up in Spain, this is how we learned to cook! In fact, our parents still live in Barcelona. It is part of our heritage. I have many favorite Spanish dishes on the website. Here are a few of my favorites.
Other Frittata Recipes You Will Surely Enjoy:
Did you like this Tortilla De Patatas?
If you enjoyed this recipe, it would help us tremendously if you left us a star rating in the comments below or on the recipe card. Do you have any questions about the recipe? Do you need a swap for any of the ingredients? We are here to help, just leave us a question in the comments below.
Print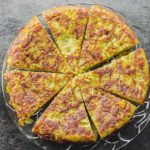 Tortilla de Patatas- Spanish Potato Omelet,
---
Description
Tortilla de Patatas or Spanish frittata is a traditional tapa from Spain. Made with 3 simple ingredients potatoes, onions and eggs, it's vegetarian and gluten-free. Perfect for breakfast, lunch, dinner, and Passover too!
---
¼

cup

extra virgin olive oil, plus 2 tablespoons ( See Note 1)

5

large Yukon gold potatoes, peeled and diced small (about

6 cups

, diced) (See Note 2)

1

large Spanish onion, sliced thin

6

eggs

1

-

2

teaspoon Sea Salt to taste (use only

1 tsp

if using table salt)
---
Instructions
FOR STEP-BY-STEP IMAGES AND A VERY SHORT VIDEO ON HOW TO MAKE TORTILLA DE PATATAS CHECK OUT THE IMAGES ABOVE
Peel and cube the potatoes into small size pieces or thin slices.
Thinly slice the Spanish onion.
In a large 12" nonstick skillet fitted with a lid, heat ¼ cup of the olive oil.
Add the potatoes, onions, and salt cook covered over medium heat, until soft and tender. About 15-20 minutes or longer depending on the potatoes. Taste potatoes now and adjust salt if necessary.
Remove from heat and let them cool slightly.
In the meantime, beat the eggs in a medium bowl. Add the potatoes and mix well.
Heat the remaining 2 tablespoons of olive oil in the same skillet.
Pour the egg/potato mixture and cook on one side, over medium heat, until the bottom starts to brown about 5-7 minutes or longer if necessary.
Wearing oven mitts, place a lid on the skillet. Remove from heat and flip the skillet quickly, to turn the omelet around over a large heat-proof bowl. Slowly slide the uncooked side onto the skillet and return to heat. Make sure you flip the tortilla de patatas over a bowl in case some of the mixture falls off the skillet.  (See Note 3)
Prick to top of the omelet with a fork, to allow it to cook a little bit faster and to check when the eggs are cooked all the way through. Cook until eggs are no longer runny, about another 5-7 minutes or longer if necessary.
Notes
We know it seems like we are using a lot of oil, but this dish needs it. Traditional recipes use a lot more oil since the potatoes and onions are fried.
You can slice the potatoes instead of dicing them if you prefer. They will cook faster. You can use a mandoline if you have one.
Be very careful not to burn yourself while flipping the Spanish tortilla. We recommend using oven mitts or a towel. However, if you do not feel comfortable flipping the omelet this way, place the skillet in the oven and bake at 350F until set. Make sure you use an ovenproof skillet!)
Prep Time:

15

Cook Time:

35 mins

Category:

Tapas

Method:

stovetop

Cuisine:

Spain
Nutrition
Serving Size:

1 wedge

Calories:

229

Sugar:

2.3 g

Sodium:

362.7 mg

Fat:

14.2 g

Saturated Fat:

2.7 g

Trans Fat:

0 g

Carbohydrates:

19.8 g

Fiber:

3 g

Protein:

6.8 g

Cholesterol:

139.5 mg
Keywords: how to make tortilla de patatas, what is tortilla de patatas, where is tortilla de patatas from