I've been in complete denial about the weather. We've been dealing with below freezing temps and snow storms for the past couple of weeks, but in my head, I didn't want to believe winter was coming so soon. I've been walking around at work wearing a million layers and shivering constantly. I even wore a beanie in public the other day when I went out for a run. Me. A beanie. IN PUBLIC! Believe me when I tell you, that means it's been REALLY cold.
But in my head I was like: " No, it's not officially winter yet. This is going to change, it can't stay like this till spring". But it kept getting worse... So I finally realized that I had no choice but to accept it.  I don't like it but, unless I move somewhere that is warm all year long, it's the way it is.
And then... This past weekend happened. Temperatures in the 60s and even reaching the low 70s. Right on the first day of winter. Really Mother Nature? Really? I mean, I'm not complaining but, my body is all confused! It's 80 degrees in my apartment and I can't get the temperature to go down. I went out yesterday wearing flip flops and a t-shirt! And that's all good, except, the forecast for the rest of the week is low 40s and a chance of snow. Which means, back to layers, beanies and shivering. Like I said. Confusing.
Come on, make up your mind already. Please.
Because, when I'm sitting here at home literally sweating, and it's the end of December, my whole game plan changes, especially when it comes to food. I don't want warm soups, or heavy hearty meals! I want something light, cool and refreshing.
Like, these little bites here.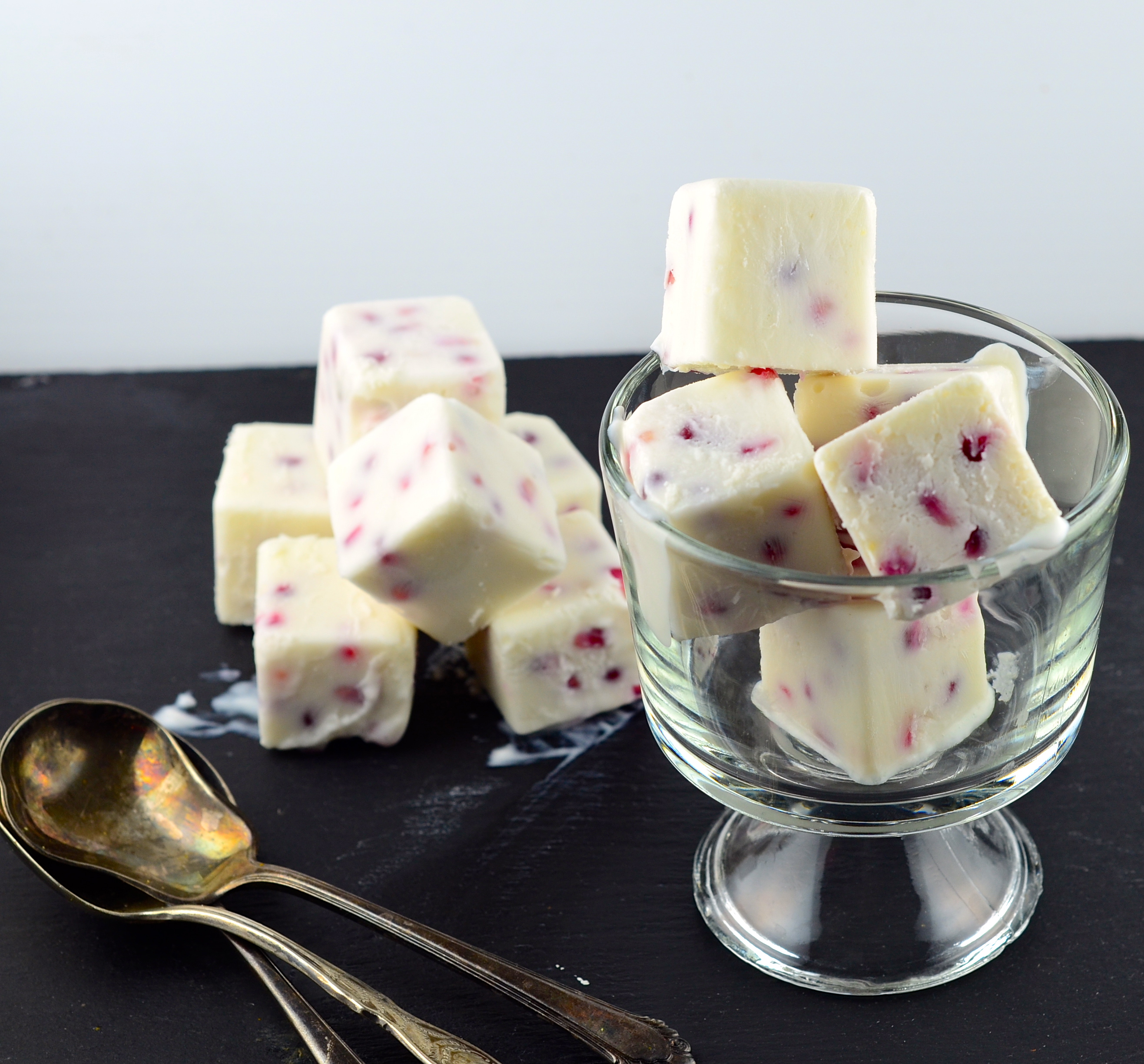 And you know what's great about them? Even when the weather has another mood swing and it turns cold again, they're fancy and pretty enough to serve at your Holiday dinner, as a light dessert you can enjoy by the fireplace.
Happy Holidays everyone, if you're celebrating... And stay warm (or cool. Whatever)
Print
Frozen Greek Yogurt and Pomegranate Bites
---
Author:

Total Time:

15 mins

Yield:

24

cubes

1

x
2 cups

2% plain Greek yogurt

1 cups

powdered sugar

2 cups

pomegranate seeds (about

2

pomegranates)
---
Instructions
In a large bowl whisk well yogurt and sugar until creamy. Add pomegranate seeds and mix well
Pour mixtures into square ice tray cubes ( We used these)
Place trays in the freezer for 2 - 3 hours until frozen
Prep Time:

15 mins

Category:

Dessert

Cuisine:

Mediterranean